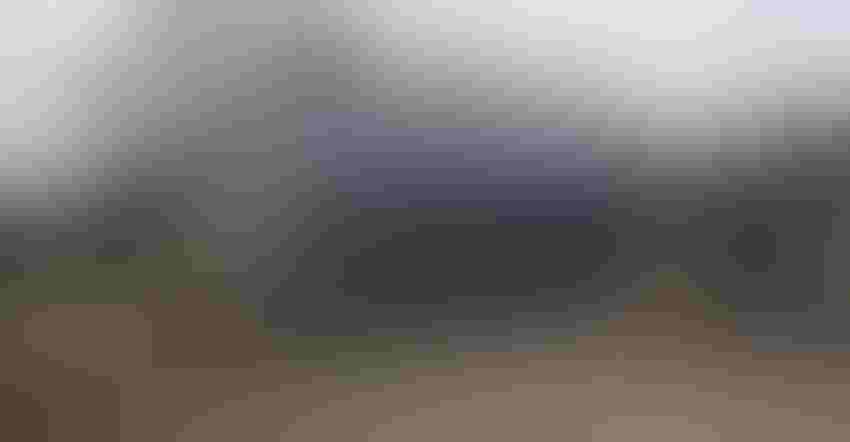 TWO-SIDED: This is one of the rarer two-sided Mail Pouch barns, It's in Wayne County, Ohio.
Photos by Pamela Whitney Gray
Anyone who has traveled the byways of America over the last century cannot help but remember the iconic black barns with large yellow and white letters. These barns were sprinkled across the rural landscape from coast to coast. 
Billboard barns were the brainchild of Aaron and Samuel Bloch, founders of Mail Pouch Tobacco Company of Wheeling, W.Va. Even before the age of the automobile, the Bloch brothers started advertising on the broad sides of rural barns in 1890. The advertisements were large, simple and eye-catching.
Related: The boom in billboard barns
This method was chosen to introduce the brothers' new product, chewing tobacco. Well-traveled routes were chosen, and barns with sides devoid of obstructions such as windows and louvers were selected. If it could be seen from more than one direction, that was a plus.
UNUSUAL: Watch for this unusual barn that is a little worse for wear on State Route 62 in Knox County.
Being a barn ad painter
Two of the most famous barn painters were Ohio men, Maurice Zimmerman and Harley Warrick. Zimmerman started his 30-year career in 1925 at age 19, painting more than 12,000 Mail Pouch barns.
Warrick started his barn painting career as an apprentice under Zimmerman, after returning home from World War II in 1947. Over the course of 45 years, he painted over 22,000 barns, until his retirement in 1992.
The starting pay rate was $28 per week plus all the product the painters could chew. An incentive of "per square foot painted" could boost the pay to $32 per week. The employee had to pay his own room and board. Most crews could paint and/or repaint two to three barns a day. This averaged 7,000 to 8,000 square feet per week, and it rounded out to around 700 barns per year. Travel was about 2,000 miles per month.
There were many two- and three-man painting crews assigned to regions in multiple states. They worked year-round. Of the more than 50,000 Mail Pouch barns, most can be found in Ohio. West Virginia and Pennsylvania have the second- and third-most, respectively. Multisided Mail Pouch barns are rare and were only painted when they could be seen from more than one direction.
RARE RED BARN: All early Mail Pouch advertisements were painted with a black background. Red barns with Mail Pouch ads are rare, because red paint did not weather as well as black.
The most common Mail Pouch sign was developed in 1910. It had large yellow "Mail Pouch" block lettering, and just below in smaller yellow letters, "Tobacco." Above the yellow letters appeared the word "Chew" in white, and at the bottom of the sign, "Treat yourself to the best" in white. The whole sign was bordered in light blue with a black background. There were other, more elaborate designs, but the one described here was used most frequently.
How barn ads were painted
Barn painters did not use templates, as many may have thought. Instead, they stood back to take in the full picture. A center line was established, and each line of text was started from the middle letter and spaced out by eye in both directions. Chalk lines were used to keep the tops and bottoms of letters level. Each sign was hand-spaced and painted, with the painter standing on a scaffold 2 feet wide and 20 feet long that was suspended by ropes.
Advance men drove the countryside ahead of the paint crews, searching for just the right locations and barns. They would approach the owners with a lease for one side of the barn to be painted for free. Sometimes the owners were paid $1 to $10 per year, or offered free chew to sweeten the deal.
DANVILLE BARN: Here's another barn that can be found on State Route 62 north of Danville.
An original sign painted on bare barnwood could last three to four years. If the lease was renewed, the sign was repainted. In these circumstances, signs could be around for up to 30 or 40 years.
End of the era
In October 1962, however, Lady Bird Johnson suggested to her husband, President Lyndon B. Johnson, that he propose a Highway Beautification Act. When it passed in 1965, the golden age of billboard barns was over.
Most barn painting contracts were canceled. However, Warrick continued to work the back roads, not affected by the legislation. He found his own barns and did business on a handshake. In 1974, the beautification bill was revised to include large signs painted on the sides of rural barns, establishing them as "folk heritage barns".
When Harley Warrick died Nov. 26, 2000, at age 76, billboard barn advertising was truly over. His death ended the most successful and oldest continuous advertising campaign, leaving the iconic images of the past century to wither away with the beautiful barns they once graced.
For further reading on billboard barns, William O. Simmons has published a beautiful and informative book on advertising barns, "Advertising Barns: Vanishing American Landmarks." It is available online from the Antiquarian Booksellers' Association of America, abaa.org; and at Kenneth Mallory Bookseller, mallorybooks.com.
Contact Pamela Whitney Gray, the "lady barn consultant," with other interesting barn stories at [email protected] or 740-263-1369.
Subscribe to receive top agriculture news
Be informed daily with these free e-newsletters
You May Also Like
---