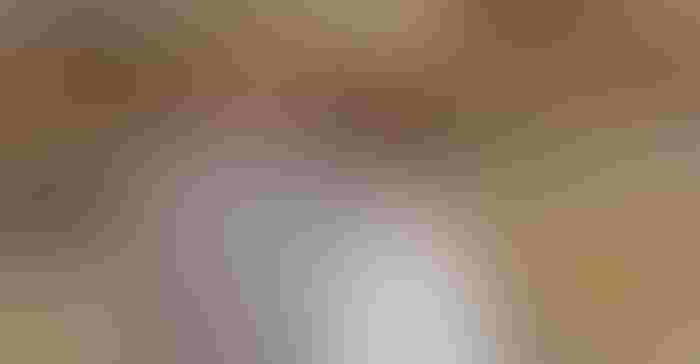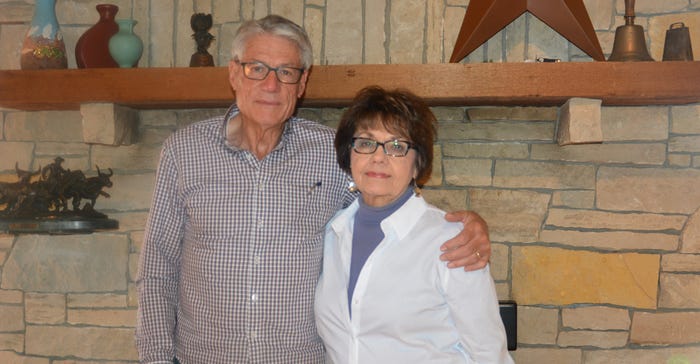 Editor's note: This is the third story in a series about the 2019 Class of Kansas Master Farmers.
The need for conservation and the importance of irrigation were both impressed on Doug McGraw from the time he first started driving the tractor to help his dad on the family farm near Pierceville in Finney County at the age of 8.
"My dad grew up in the Dust Bowl," Doug says. "The Sand Hills of Finney County were sage brush growing in sand are were very susceptible to wind erosion. They produced a lot of 'blow bumps' and a lot of farm foreclosures. My dad bought some of this land for $4 an acre the year I was born."
His father started "strip farming," alternating 350-foot strips of summer fallow and crops. He also converted from using a one-way disc plow to a sweep plow to control weeds in the summer fallow, which left crop residue on the soil surface.
When Doug graduated from Kansas State University with a degree in Agriculture Economics in December of 1964, he and his wife, Saundra, were married and returned to the family farm to form a partnership with his dad and began to develop their sandy land for sprinkler irrigation, using a scraper to level off the knobs created by blowing sand. When his dad retired in 1976, Doug and Saundra bought out his share of the partnership.
"Over the years, we went to minimum till, ridge-till for row crops and then no-till," Doug says. "No-till has made a big difference in helping maintain residue, preventing wind erosion and promoting water retention."
The McGraws also had a livestock operation that included a cow herd, a stocker program and a growing lot.
Doug served on the Soil Conservation Board from 1969 to 1978 and was a delegate to the National Association of Conservation Districts in Washington, D.C. In 1992, he was recognized with the Conservation Award for Irrigation. He also served as a Finney County Fair Board member and was serving as chairman the year a new 4,200-seat grandstand and plaza were completed.
Use for a plow
Even though he remains a committed no-tiller, Doug was able to find a use for a plow.
"I noticed something that I call the pipeline effect," he says. "In the area of the field where there was an underground gas pipeline, the crop was taller and greener. It occurred to me that was probably because trenching out for the pipeline brought the clay subsoil to the surface. So, in 2007, I set out to build a two-way deep plow that would go deep enough to bring that clay up to mis with the sandy soil on top."
He did a "test plowing" on one field, plowing 28 inches deep. The next wheat crop showed an 8 bushel to the acre increase in yield over his unplowed fields.
"After that, I came back to plow just about every field," Doug says. "I plow just once and then go back to no-till. You need to plow right after a rain, so the ground doesn't lay bare for very long. But it really does help that sandy soil to mix it with a shot of the underlying clay."
Saundra completed her nursing degree the year before she and Doug got married, and she worked as a registered nurse at St. Catherine Hospital in Garden City until the first of their four children, Jeffrey, was born. After she became a stay-at-home mom, and Doug jokes she also became "the unofficial Finney County health nurse" as their children Jennifer, Joanna and Jera came along.
Faith is guiding light
Doug and Saundra stress that the guiding influence of their lives is their deep faith and involvement in the church and community. Doug has been a church board member, a longtime high school Sunday school teacher and has gone on mission building trips to Belize and Haiti. He was also the project manager for building additions to the local church and served 21 years on the National Village Missions Board.
Recently, Doug set out to help redevelop Pierceville, buying rundown properties and developing them. One of the most recent has been a tavern in Ingalls that he remodeled into a Country Chapel. He has a friend who provides the program. Services are held on Thursday evenings to allow the farmers and dairy workers in the area who have to work Sundays to have an opportunity to attend church services.
Saundra is a long-time adult Sunday school teacher and enjoys being part of the music ministry, playing both piano and organ along with the keyboard. She has guided Bible studies in Garden City with women of different churches. The McGraws together made a 30-year tradition of hosting a Christmas party for all the adults in their church.
The children's stories
All of the McGraw children were involved in 4-H and helped on the farm throughout high school.
Jeff had an early love of anything mechanical and began working on his private pilot's license when he was 16. He completed his license a year later. He graduated from Kansas State University with a degree in ag economics in 1988. He spent the summer before his senior year as an intern for then-Rep. Pat Roberts in Washington.
After college, he completed instrument, commercial, twin-engine and flight instructor ratings and had a career as a flight instruction and pilot, working for private clients and for FedEx. He also started a business erecting commercial metal buildings and is now involved in real estate in Denver.
Jennifer was born in 1969. She was interested in art from an early age and became an excellent seamstress. During the summer before her senior year in high school she began decorating cakes and advertised in the local newspaper. She got eight orders for cakes and went on to decorate wedding cakes for several years.
Jennifer graduated from Kansas State University with a bachelor's degree in human development and family studies and went on to earn a master's degree in family life education and consultation. She also worked as a home agent for Kansas State University Extension in Edwards County from 1994 to 1998. She married Marty Gleason in 1996.They have a beef herd and raise wheat. Jennifer now operates a cellphone franchise and has a retail gift store in Kinsley where she sells pottery, watercolor paintings and embellished serving utensils that she creates. Marty is currently an Extension agent in Edwards County.
Joanna was born in 1974. From childhood, horses were her passion. She had her own pony and showed him in 4-H as a small child, winning the Junior Grand Showman Contest at 9 years old.
She graduated from Kansas State University with a degree in animal science. She has judged a number of fairs and horse shows and gave riding lessons as well as serving as the county horse superintendent in Finney County. She now raises colts and sells them to reining horse breeders. She married Brian Schmeeckle in 1996. In 2010, they leased the farm, allowing Doug and Saundra to retire.
The youngest daughter, Jera, is the family musician, singing a vocal solo to win a blue ribbon at the age of 8. She continued to participate in vocal music and theater in high school.
She graduated from Kansas State University with a bachelor's in and Literature in 1998, then went on to Colorado Christian University to receive a master's degree in professional counseling. She worked several years as a counselor in to junior and senior high girls in Denver, did extensive world travel and came back to work at Compass Area Mental Health in Garden City.
In 2011, she married Ryan Brady, and they have a diversified farming operation and an extensive bison herd near Ingalls.
The McGraws have seven grandchildren.
Subscribe to receive top agriculture news
Be informed daily with these free e-newsletters
You May Also Like
---