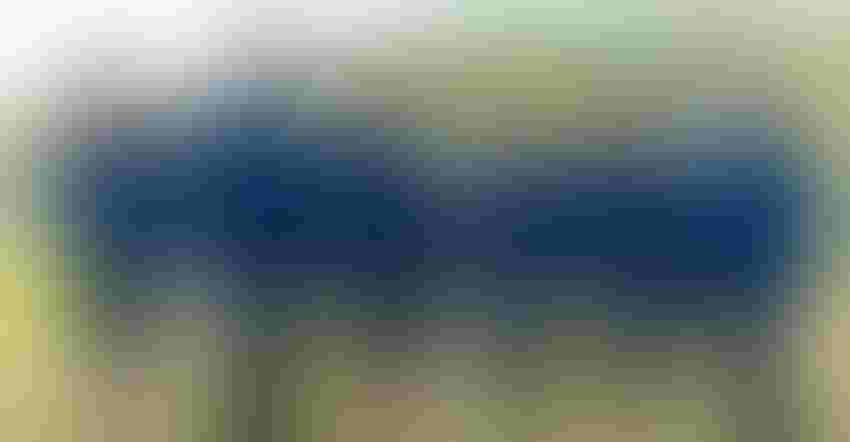 LEADERSHIP IN ACTION: Minnesota state FFA officers are helping develop and deliver a new program within the state FFA called "Cultivate the Difference." Leading the effort are Anna Ridenour (left), Triton, state reporter; Kyle Thomas, Rockford, state treasurer; Baleigh Peterson, Gibbon Fairfax Winthrop, state sentinel; Emily Matejka, Martin County West, state president; Nicole Koziolek, Randolph, state secretary; and Wyatt Halvorson, Thief River Falls, state vice president.
Courtesy of Matt Addington
If there ever was a time for focusing on and developing positive traits and values of leadership and life, it is now.
And Minnesota FFA is leading the way.
After an unsettling experience at the National FFA Convention in October, when some students wearing their blue jackets acted in ways unbecoming of FFA, Minnesota FFA leadership knew something need to happen.
"Our students knew something wasn't right at the convention, but they weren't sure how to step in and change it," says Juleah Tolosky, executive director of the Minnesota FFA. At the national convention, some students were disrespectful and chanted inappropriate remarks during meetings. Some displayed what were considered offensive behaviors. The actions at the time caught adults and students off guard.
In the aftermath of the event, state FFA members, leadership and alumni discussed what happened, what to do and how to respond, if at all. Ultimately, the decision was made to provide a way for FFA members to further explore key leadership values and how to incorporate them into everyday living. Those leadership qualities are respect; compassion; reliability, integrity and trust; pride and belonging; confidence; and professionalism.
Cultivating good qualities
Enter Cultivate the Difference, a new Minnesota FFA Association leadership series that is currently being introduced in chapters across the state. While the main audience is FFA members, FFA supporters — adults and students — are welcome to participate, to tap into learning and to share perspective and expertise. Over the next several months, a different quality or value will be discussed in depth via video, in the classroom, in small groups and via YouTube and social media.
CORE VALUES FOR LIFE: In the Minnesota FFA Cultivate the Difference series, core leadership qualities will be highlighted over a six-month period in chapters across the state. A short introductory video will be offered monthly, along with resources to do a deep dive into learning.
The goal is to further engage youth and adults to represent the best of FFA, as they embrace leadership qualities to better serve their communities and develop their career and personal goals. Overall, the hope is that the series will inspire FFA members to continue making a positive difference in the lives of fellow students.
Those values have always been important, notes Wyatt Halvorson, Minnesota FFA state vice president. However, given the last few years of polarizing politics and dealing with COVID-19, these values are worthy of review.
"[The series] is a way to relearn how to be a respectful citizen," he says.
Emily Matejka, Minnesota FFA state president, agrees and adds that the series offers a good way for student-leaders to have a refresher, too, on important skills, and to learn about them from other perspectives. Hearing and learning from others will be a key component of the series.
Master classes
Each value will be explored and taught as a "master class," explains Anna Ridenour, Minnesota state reporter. Ridenour served as lead in developing the first video, which is being shared with FFA'ers across the state. Each state officer will take a turn at producing key value content.
"In the intro video [about respect] , we compare the 'Cultivate' series to a master class, which is where you take a class with an expert in that profession or area, so students are able to meet experts in these values," Ridenour says. In the respect video, for example, people are featured who experienced both respect and disrespect. The experiences shared allow students to identify the value in themselves, she adds.
Along with the video and discussion, each month the "Cultivate" series will offer additional options to further engage students to build the qualities in the series within themselves. Those range from watching TED talks or reading books on the topics, to taking an active role in a community or classroom project that reflects the value. Students also will be working on each value as a cohort to further deepen understanding and learning.
Ultimately, the state officers envision the series as a way to reaffirm what FFA is all about —developing leadership, allowing for personal growth and enhancing career success.
"This series helps push [FFA's mission statement] one step further," says Nicole Koziolek, FFA state secretary. "It is a personal journey to grow and learn how to act and look in the world and the workplace. We want leaders respectful of everybody and [who have] the confidence to do what they need to do."
Having that base foundation of core values is important to guide FFA members as they explore their own journeys, adds Kyle Thomas, FFA state treasurer.
State FFA sentinel Baleigh Peterson agrees.
"If we've done our job [in FFA], then we have members that feel respected and know how to respect others; they feel confident in professional skills, and they have skills on how to have compassion with each other and how to have integrity with each other," Peterson says. "It's just well-rounded FFA members, like we always strive for."
To learn more about Cultivate the Difference, visit the Minnesota FFA Facebook site. at Minnesota FFA Facebook website.
To learn more about the Minnesota FFA, visit its website.
About the Author(s) Paula Mohr has been editor of The Farmer since 2004. She enjoys covering a wide range of topics that are of interest to Minnesota producers.
Subscribe to receive top agriculture news
Be informed daily with these free e-newsletters
You May Also Like
---