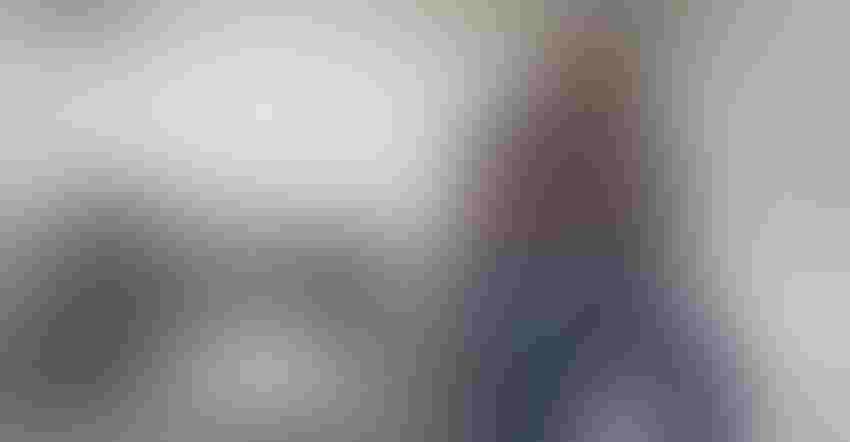 UP AND IN: Ryan Buck's new seat lift, made by Life Essentials in Indiana, allows him the independence and flexibility of driving to the field in his truck and getting in and out of the tractor or combine cab.
Courtesy of Ryan Buck
After a snowmobile accident 12 years ago in February left him paralyzed from the waist down, Ryan Buck has been tenacious in his quest to learn about adaptive equipment and work as independently as possible on his family's corn and soybean farm near Goodhue, Minn.
Buck farms around 2,000 acres with his wife, Lauren, and Lauren's parents, Steve and Linnae Carlson.
When it was time to do fieldwork, Buck relied on a special seat they made on the farm that attached to the end of a forklift, allowing the operator to set him close to the tractor or combine door where he could then lift himself into the cab.
The challenge with this setup, though, was that Buck was always waiting on someone to help him get up and down from the cab.
As he researched for ideas and ways to do things easier, Buck learned about a company called Life Essentials in Wolcott, Ind., that sells ag mobility equipment such as hand controls and seat lifts. The company also offers a special product — a flatbed-based remote-controlled seat lift — that lifts and moves the user next to machinery or whatever chore the user wants to do.
THREE-QUARTER MINIMUM: Ryan Buck had his new flatbed lift installed on his three-quarter-ton truck — the minimum size needed for this equipment installation.
Buck talked with company reps and other farmers who had the lift seat. He liked what he heard so he decided to get one. The challenge, however, was cost. A three-quarter-ton truck or heavier is a prerequisite to handle and stabilize the lift. To convert the truck to a flat bed and install the special lift and electronics, the bill would come to around $37,000.
It took Buck about four years before he had enough money to invest in this special equipment. Last year, he drove his truck to Indiana and spent two days at Life Essentials for the installation. Technicians removed the box off his truck and installed the flatbed. Then they attached the lift arm, chair and electronics.
Last fall, Buck used the flatbed lift for the first time.
"The first day I used it, it was amazing," Buck says. "Now I can get in and out of the cab when I want to. I don't have to wait for someone to help me."
Once seated on the lift chair, Buck can move the arm about 15 feet to the side and go from ground level and up about 14 feet.
"I pull up to the tractor or combine and the lift puts me right next to the buddy seat," he says. "I can then hop in or out."
Help for others
After getting his lift, Buck thought all fall about others who may be struggling with finding funds for adaptive equipment.
"I thought there has got to be an easier way for others to get this equipment," he says. "That's when I decided to start slow and start a GoFundMe page to see if I can raise money to help others in similar situations off-set costs."
Buck's goal is to raise $150,000 and to begin purchasing adaptive equipment by June 1. You can help Buck reach this goal by donating to his GoFundMe, or by mailing a check to: Helping Harvest, c/o Ryan Buck, 1003 1st Ave., Goodhue, MN, 55027.
Go online to learn more about Life Essentials and the other adaptive equipment it offers.
Subscribe to receive top agriculture news
Be informed daily with these free e-newsletters
You May Also Like
---