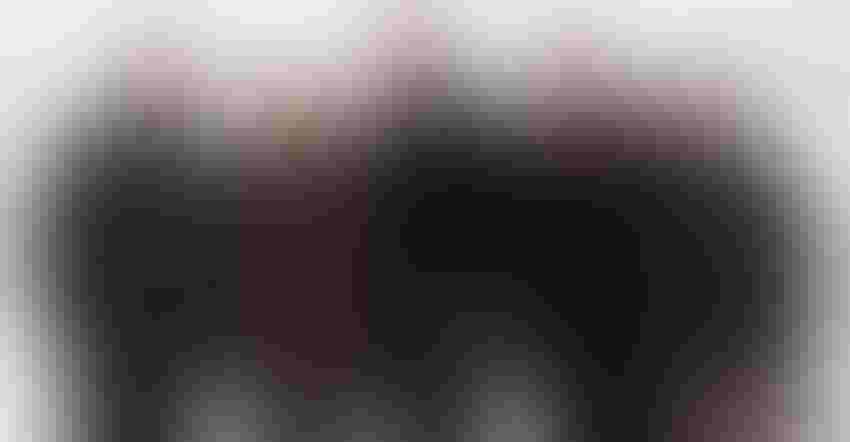 RESPECTED: The 2020 Master Farmers are Joe Pickrell (left), Susan and John Adams, Ted Mottaz, and Dale Hadden.
When the letters of support accompanying Master Farmer nominations pour in from around the state, they add personal insight and touching memories about time spent with the honorees — on and off the farm. They also paint a picture of the farmer's character, forged during community fundraisers, late-night meetings and harvests for neighbors.
For many Master Farmers, reading the letters is a humbling and honoring experience.
Here's a look at what some of the closest friends, family, landlords, suppliers and more have to say about each 2020 Prairie Farmer Master Farmer.
John and Susan Adams, Atlanta, Ill.
"John and Sue have been extremely involved in whatever roles they have taken on. There have been times they turned down opportunities, as they did not think they could give a role the attention it deserved. When either took a role, they gave it their all. Outstanding examples include John's involvement with the corn marketing board and Sue taking on many roles and responsibilities in water availability."
John Fulton, retired Logan County Extension director
"John began incorporating no-till into his operation in 1983 and gradually increased his no-till acres each year until 1988, when he purchased a no-till drill and no-tilled all his crops. John and Sue have always been considered conservation leaders in the county ever since I have known them."
Steve Bracey, resource conservationist, Logan County SWCD
"I sincerely respect John and Susan for their diligent contribution to agriculture and wholeheartedly support their nomination for Master Farmer 2020. They are truly deserving of this honor."
Stanley Blunier, 2009 Master Farmer, Forrest
"John and Sue are true ambassadors not only for Illinois agriculture but for agriculture on a national basis. I cannot think of anyone with more interest, passion and commitment to advance and promote agriculture than the two of them. They have spent countless hours representing Illinois agriculture and have represented us with integrity, intelligence and empathy."
Tom Martin, 2018 Master Farmer, Mount Pulaski
Dale Hadden, Jacksonville, Ill.
"I have known Dale and his family for decades, watching our children grow up together as well as competing over the years at state fair and FFA events. I believe Dale has the exemplary qualities that make him deserving of this award. He has always made the extra effort in all cases of advancing agriculture's agenda forward."
Philip Nelson, 2001 Master Farmer, Seneca
"Dale and I became Pioneer seed dealers about the same time, and his attention to detail for his customers is second to none. If there is a seed performance issue, Dale will make it right. His stewardship of farming practices is far above and beyond that of any normal person in agriculture."
Jeff Cosner, Ashland
"Through Dale's work, he has experience implementing change across large organizations, advising legislators and working on key agricultural issues. He holds an in-depth understanding of the interworkings of the agriculture industry and is an excellent resource."
Rep. Darin LaHood, 18th District of Illinois
"Dale is passionate about promoting agriculture and enjoys assisting young people in promoting their 4-H and FFA projects."
Allen Entwistle, 2017 Master Farmer, Riverton
Ted Mottaz, Elmwood, Ill.
"People who know Ted always comment about how he listens to both sides of any situation, and carefully communicates his thoughts to find the best solution for everyone. This character trait has been a trademark to his leadership style."
Sarah Grant, niece, nominator and McDonough County Farm Bureau manager
"Ted and [his brother] Jeff always had some of the highest yields in their area and were great customers to work with. They utilize some of the latest technology on their farm, and soil conservation is important to them."
Andy Bartlow, farmer and former Monsanto district sales manager, Macomb
"Ted is a servant-leader who is committed to the growth of people and building his community."
David Serven, St. Augustine farmer
"As a kid, I knew Ted as the corn and soybean judge from the Knox County Fair, and I always appreciated the knowledge he passed on to me. I'm sure judging projects at a 4-H fair doesn't mean a lot to many people in the grand scheme of life, but to an 8-year-old kid, it means a lot more than can be realized."
Drew DeSutter, Woodhull farmer
"Just about as good as you can get!"
David Erickson, 2003 Master Farmer, Altona
Joe Pickrell, Buffalo, Ill.
"What drives me to farm? What's my inspiration? The same thing I said in kindergarten: 'I want to be a farmer, just like my dad!'"
Joseph J. Pickrell, son and farming partner
"Joe has contributed mightily to the advancement of farming and the ag industry. He has always supported and expected the very best of those associated with him."
Jim Spradlin, Growmark CEO
"In my experience, he shows up and speaks. Joe has impact."
Bob Easter, University of Illinois president emeritus
"To Joe, family and agriculture are synonymous."
Allen Entwistle, 2017 Master Farmer, Riverton
"Joe's farming credentials are impeccable; he truly understands farming and has provided leadership to so many other parts of our industry that are critical for today's and tomorrow's success."
John Reifsteck, Growmark chairman of the board and 1997 Master Farmer
"The Pickrell family farm operates somewhat like Joe's personality: conservative but always looking for the next big thing to be profitable. Joe's list of achievements is long, and is a testament to his dedication to family, friends and agriculture. The only shortcoming he has would be his sheep!"
Darell Sarff, 2018 Master Farmer, Chandlerville
Subscribe to receive top agriculture news
Be informed daily with these free e-newsletters
You May Also Like
---