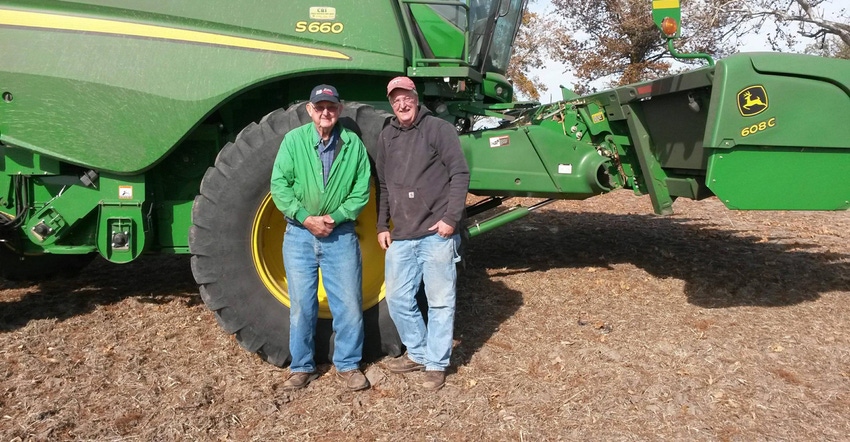 SHARED PASSION: Dale Lessen (right) and his father, Bill Lessen, posed for a picture following harvest 2018. They shared a passion for farming before Dale passed away in April.
Lincoln, Ill., farmer Dale Lessen was digging in a soggy field in April when he suddenly collapsed.
Farm employee Randy Grohmann was quick to administer CPR when he found Lessen wasn't breathing. He called in help from volunteer emergency services, though despite their best efforts, Lessen died the next day, April 18, at Memorial Medical Center in Springfield.
Doctors told Lessen's family he didn't suffer; a massive brain hemorrhage acted as fast as a light switch when he fell to the ground. But the constant flow of CPR by responders kept his organs alive — and made them viable for donation.  
In March, Dale had renewed his driver's license. As usual, he opted to be a donor. But according to the Gift of Hope Organ and Tissue Donor Network, only three out of every 1,000 registered donors end up able to donate organs because of damage caused before or after death, or because the potential donor's family turns down donation. Dale was one of the few who could.
That's why the network reached out to the family shortly before Good Friday to see if they'd be willing to keep him on life support for a few days, while the Gift of Hope donation liaisons coordinated the donation of his organs. 
"Dale never really talked about being a donor; but knowing him, we knew this is what he would want. He was always so giving," says Sarah Lessen, Dale's wife of 26 years. "It was hard for us to stay there two more days, but it was worth it in the end."
A death that helped many others 
Dale's sister Colleen Anning notes, "He lives on in others," and that while they didn't have to stay with Dale during the harvesting process, doing so helped the family see a positive glimmer grow from the tragedy.
"They'd tell us in the waiting room every time they found a new match for his organs; and instead of crying, we'd just start cheering," daughter Shelby Lessen remembers. "It felt like a silver lining for us, instead of feeling like all this was for nothing. He's a true hero in our eyes."
Someone got Dale's heart, another got his kidney and liver, and yet another person got his other kidney. A fourth person received one of his corneas, and hundreds could potentially receive tissue from his body.
"We were so devastated and shocked. This was the only good thing that came out of everything that happened," Sarah says, adding that the family recently read an anonymous letter from someone who received one of Dale's kidneys.
"She's a grandmother — and now instead of being on dialysis and missing birthday parties, she's spending time with her family again," Dale's sister Susan Gehlbach says.
Instead of flowers on his casket, Dale was laid to rest with the Gift of Hope flag, which waved above Memorial Medical Center for three days after the organ donation. Hundreds lined the halls in the first honor walk ever held at Memorial Medical Center before his organs were ultimately harvested.

PRESENT: Sarah Lessen (second from left) says husband Dale Lessen was a supportive father who loved spending time with his family, and attended everything his daughters Ashley (far left) and Shelby (right) were involved in.
Paying it forward pays back
Sarah Lessen remembers her husband was giving, but he never wanted credit. He never sold anything from his garden, always sharing the bounty with friends, family and neighbors. He was always willing to sponsor a marathon or donate to a GoFundMe cause on that fundraising website.
He was also well-read on the latest in agriculture and didn't keep valuable information to himself. He hosted neighboring farmers for coffee in his shop often.
It's no surprise, then, that he had 29 pallbearers (some of whom were honorary) at his standing-room-only funeral.
Dale, who started farming in 1984, had only recently hired Grohmann as a farm employee. When Dale passed away, his father, Bill Lessen, took over management of what amounts to about 2,100 acres throughout Logan County — directing Grohmann to plant about half the acreage.
Two of Dale's friends planted some 1,100 acres for the family. They helped 23-year-old Grohmann any time he had issues with handling the Lessen planter or on other technical equipment during his first planting season. Many have offered to help harvest in fall.
"We're grateful for his friends and proud of Dale," Sarah says. "We're really beginning to feel the domino effect: He touched so many lives, and now we're hearing from his friends that they're signing up to be donors. They're also making their wishes to be a donor known to their family, because checking a box is no guarantee — the decision will ultimately rest on the family."
Getting your life back
Forty miles away in Leroy, Ill., farmer Dave O'Brien is breathing long and healthy breaths thanks to a donor. While he doesn't know the name of the person who donated a new heart to him after his own failed in June 2005, he says he's grateful.
"I went through three different operations; but the day after I got my new heart, I felt amazing. I was out of the hospital in a week — the first time I had regular blood flow in nine years," O'Brien says.
He was 33 years old at the time of his transplant and suffered from hypertrophic cardiomyopathy, a complex form of heart disease.
"I went from heart failure to going out and riding a bike 30 to 40 miles," O'Brien says. "By the time harvest came around in September 2005, I was back in the combine, with my life back."
He says he was only a year into his marriage when his heart failed, but now he has four kids and a happy family. While it would wind him to pick up a bag of seed — or a kid — back before 2005, he says it's effortless by comparison now. When asked if he's a registered donor, he exclaims, "Of course!"
Subscribe to receive top agriculture news
Be informed daily with these free e-newsletters
You May Also Like
---