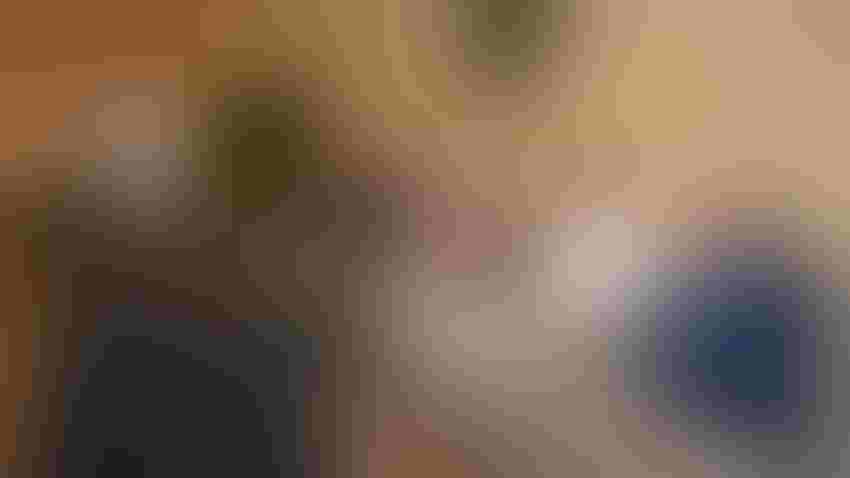 MASTER PANEL: Purdue's Jim Mintert (standing) prepares to ask questions of the 2023 Indiana Master Farmers and Honorary Master Farmers. They are (from left) Marshall Martin, Jay Akridge, Scott Trennepohl, Tom Chalfant, Becky and Marty Evans, and Tom Schwenk.
Tom J. Bechman
More than 250 years of combined experience in agriculture took the stage when Jim Mintert hosted a panel discussion of the 2023 Indiana Master Farmers. Mintert is a Purdue Extension agricultural economist and director of the Purdue Center for Commercial Agriculture. The Master Farmer program in Indiana is sponsored by Indiana Prairie Farmer and the Purdue College of Agriculture.
This year's Master Farmers are Tom Chalfant, Redkey; Marty and Becky Evans, Terre Haute; Scott Trennepohl, Middletown; and Tom Schwenk, Rochester. Honorary Master Farmers are Jay Akridge and Marshall Martin, both of West Lafayette.
Here is a portion of the panel discussion:
What has been the biggest change in your career in agriculture?
Schwenk: The development of Roundup Ready crops made getting into no-till more practical. My neighbor George Krom III (1989 Farm Progress Show host, 1997 Master Farmer) had a Tye no-till drill, and no-tilled a field of soybeans for me. After two weeks, I was ready to tear it up! He told me to have faith, and with Roundup we cleaned it up. We are primarily no-till today.
Look at what is happening beneath the soil. Our soils have changed tremendously. Part of the secret is surrounding yourself with good people.
Mary Evans: I would also say no-till. We started farming in 1998, and no-till was a necessity for us. We had very little equipment and labor. Failure was not an option. No-till is a state of mind, and if you want it to work, you will make it work.
The other biggest change is the speed at which we adapt technology as farmers. I can sit on the tractor, look at screens and see how everything is performing and make marketing decisions at the same time. That wasn't possible even 10 years ago.
Becky Evans: No-till might look ugly at first, but you learn to look at it the right way! Marty has learned to look at it right. It's neat when clean water comes off our fields.
Chalfant: We've been no-tilling since 1998. An even bigger change was adopting cover crops. They change soil tilth over time. Now our water goes down into the soil and doesn't run off.
Trennepohl: On the crop side, the ability to see things and make changes from your iPhone is a game-changer. I can be in my tractor and know exactly what my employee is doing in a field 2 miles away. And I can spray at 15 miles per hour and stay on track, thanks to autosteer.
In our cattle business, embryo transplant, semen sexing and all the technology that goes with it were tremendous game-changers. One of our cows born in 2011 now has nearly 300 offspring in the registry because we used these techniques.
Akridge: Structural and policy changes in agriculture stand out. I grew up in western Kentucky, and agriculture was diverse. Today, due to technology, it is primarily white corn and soybeans with irrigation.
Martin: The power and productivity of farming have increased tremendously. Growing up on the farm, we were thrilled to harvest 2,000 bushels of corn a day. Now, Christy Welch, Tippecanoe County, whom I help occasionally, shells 2,000 bushels in one hour. Wow!
Second, agriculture is global. That is a big change. We're now in competition with farmers all over the world. We can learn from them, and they can learn from us.
Subscribe to receive top agriculture news
Be informed daily with these free e-newsletters
You May Also Like
---