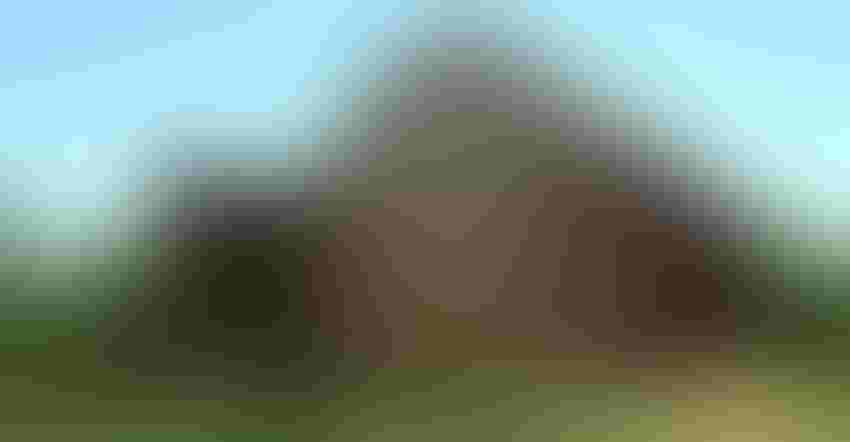 BARN SAVED: One bay of a three-bay barn in southern Michigan was beyond repair, but creative barn owners saved two-thirds of the barn, giving it new purpose.
Photos by Jan Corey Arnett
"For of all words of tongue or pen, the saddest are these — It might have been." John Greenleaf Whittier's words, penned in 1856, are eerily timely as extraordinary barns built when he was writing those words — as well as barns raised long into the 1900s — are gone or severely threatened. 
The reasons are many, but the worst are avoidable — neglect, lack of knowledge and failure to consider alternatives. Money figures into the equation, but proactive preservation beats deferred maintenance every time.
Consider the man who had a small, unused but solid barn across the road from a woman who had a horse and tumble-down shed. She wanted her neighbor's barn, but never spoke of it. 
One day, she returned home to find smoldering ruins where the barn once stood. Unaware of her interest or that barns can be moved, the neighbor destroyed it. Had they communicated and known options, what might have been?
People whose actions influence the life or death of barns must learn from and listen to one another on issues of zoning, agritourism, on-farm retail and value-added ventures because old barns can offer new financial gain. Challenges must be discussed candidly, and compromise must be sought. Sensible people can work together.
Barns of yesteryear were built for farm needs using common sense. Adapting them to other farm uses is one thing, transforming them into something they were never engineered for is quite different. New rules to ensure structural and occupant safety still are being devised.
Maintenance is a wise investment for current or future use. Urgent needs persist: seeing old barns in new ways; training more people to shape careers in their care and keeping; and having comprehensive training — constructing and repairing, dismantling and rebuilding, adapting and advising in codes and compliance. 
Barn professionals need to know job estimating, business management, customer relations and marketing. And, for as much as some working in barn preservation vigorously protest, standards of competence and integrity are long overdue.
Barn focus needed
Michigan has new programs focusing on careers in agriculture for military veterans, FFA, 4-H'ers, minorities and young farmers. A focus on careers related to barns, whether adapted to today's agriculture or reimagined for new purpose, makes tremendous sense. 
I am routinely contacted by barn owners needing someone to evaluate or repair a barn, and often hear accounts of barn repair experiences. Relying on someone's advertising is not enough. Doing a lot of homework is essential.
An online search will turn up a variety of printed and video resource materials from university and governmental agencies and private authors to help a barn owner know issues to address and questions to ask. 

EVENT BARN: The Waterloo Farm Museum in Grass Lake, Mich., uses its heritage barn for many events, including fundraisers, such as this one for a young man diagnosed with a terminal illness. 
Caution is warranted as some people are marketing specific products or companies. One of the more popular resources, the National Trust for Historic Preservation's four-booklet "Barn Aid Series" as part of its highly successful BARN AGAIN! program in the mid-1990s, can be downloaded from barnbelievers.org.
I am proud to have helped establish in 2017 the Barn Believers Community Project Fund, held with the Battle Creek Community Foundation. The fund is not part of any barn organization and does not make grants to private barn owners. 
It makes grants to nonprofit organizations to host serious sessions that get people talking, learning and doing. It helps evaluate and care for barns in nonprofit or public use and supports projects to gather and archive valuable barn history. More information can be found at barnbelievers.org.
More action needed
Barn tours are nice, but they are far from enough. People and organizations tackling real and controversial issues are needed.
In New York, 4-H'ers developed a guide to barns to help people appreciate their architecture and heritage. Teens in Ohio worked to have passed into law a bill to designate the barn as Ohio's official historical structure, affording barns more respect.
Some barn organizations or preservation offices make grants to private barn owners to help with repairs, among them Iowa, Ohio, Washington and Connecticut. The Kansas Barn Alliance matches up to $750 for a private barn owner to have a barn evaluated for structural integrity and hosts weeklong barn repair workshops.
To our north, Ontario Barn Preservation, a brand-new group, is already up to its rafters in taking on tough issues, researching farm severance policy and why it is causing heritage barns to be demolished.
Members have spoken with municipality officers and planners to seek alternative measures to help save barns, summarized findings, and notified all Ontario municipalities, accomplishing more in months than what some barn groups do in years. Ontario Barn Preservation also is mapping locations with photos of barns and circulating how-to articles to get real information into barn owners' hands.
I recently received an inspiring letter from a man who wrote about a barn that he said, "You just have to see." He had also reroofed and repaired his own "big ole barn," adding, "I am glad I saved it."
More and more, people are seeking property for the potential to be realized in a solid barn. Keeping a good roof on a barn, vines and growth away, and damage stopped, are worth the investment. We wouldn't leave a valuable vintage auto to rust and decay, would we? I have never had one person tell me he or she regrets an investment in a barn, but have heard others say they regret neglecting or destroying one. 
Our heritage barns — timber-frame, log and stone — are a national treasure, extraordinary in their architecture and diverse utility. They are the purest statements of our story and have unmatched potential to continue to serve us and be loved by us. Knowledge is power. When we think creatively and behave proactively, we need never wonder what might have been.
Arnett, known to many as "The Barn Lady," is the author of "American Barns" and writes Michigan Farmer's monthly feature, "Barn Spotlight." She can be reached at [email protected].
Subscribe to receive top agriculture news
Be informed daily with these free e-newsletters
You May Also Like
---