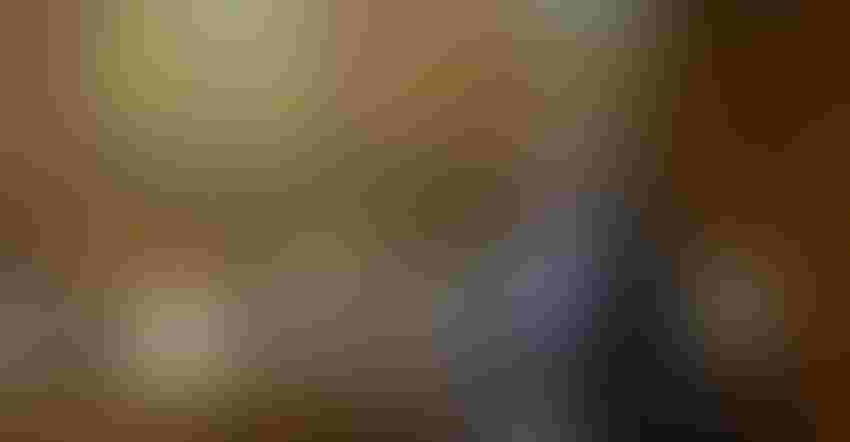 CHALLENGES AHEAD: Ernie Minton embraces his new role as dean of the College of Agriculture and director of Kansas Research and Extension Service. He says big challenges are in store, including a somewhat daunting list of infrastructure updates.
P.J. Griekspoor
Kansas State University's new dean of the College of Agriculture and director of Kansas Research and Extension Service is coming into the job knowing exactly what challenges await.
After all, Ernie Minton has been in the role for a year and has led the planning effort for infrastructure upgrades.
"The biggest challenge that we face is the need to seriously address the deficits in facilities," Minton says. "Every building in the College of Agriculture has needs. The newest building is Throckmorton Hall, and it's more than 30 years old. Most of the buildings are 50 or more years old."
Minton says repeated problems with water leaks in Shellenberger Hall led to an assessment from an architect that brought really challenging, and for many K-State grads, heartbreaking news. The building has serious problems that can't be addressed with renovations. It has to be razed and rebuilt.
"The systems are out of date, and the way it was constructed just doesn't allow remodeling to be possible," Minton says. "This is going to really be a huge deal because so much of what is housed in that building is unique."
A project as big as demolishing a major building and rebuilding also means taking a look at everything that happens there and making a serious assessment of programs, chances to integrate new offerings and ways to gain efficiencies, he says.
He says some of the milling and baking programs might move to the International Grains Program building, the flour or feed mills north of campus, and potentially other locations.
"It's going to be a real hassle, but it's also an opportunity," he says. "For example, we are looking at our food science program that would need pilot facilities and that may match up well with a new building. We have to give it more thought and study."
Enrollment goals
Minton says another major challenge will be the need to address student recruitment to reverse a decline in enrollment experienced over the past several years.
"Overall, enrollment is down about 10% for the university, and that's also true of the College of Agriculture," he says. "We are very conscious that when parents or grandparents come to visit with potential recruits, they often say, 'It looks just the same as it did when I was a student.' That's kind of a cool thing but you can see that 18 year old wondering if they are coming to a modern, winning program if everything looks familiar to their grandparents. We have to get the message out that our programs and opportunities are thoroughly modern."
Minton says the college will continue to recruit students interested in food and agriculture science and is looking into unique offerings that will attract students from other states.
"We have reached into California and Texas, among others, to try to get students looking for special programs they can't get in those states," he says. "We already have the only undergraduate degrees in feed, milling and baking sciences in the country. We have added a unique program in pet food emphasis through the Department of Grain Science and Industry."
Minton says he was surprised to discover just how large the pet food production industry is in Kansas.
"The students graduating in that program are guaranteed multiple opportunities at graduation, and we are going to be very purposeful marketing that," he says.
Filling vacancies
Now that the "interim dean" post has been filled, Minton says he looks forward to getting more leaders in place throughout the college.
Jeanette Thurston has been named director of the Food Science Institute, and Mike Day has come on board as head of Animal Science and Industry, Minton says.
"We have interim heads in agronomy, entomology, horticulture and natural resources," he says. "And Dr. Don Boggs, our associate dean of Academic Programs, is planning to retire. We have some hiring to do."
Minton says that five years down the road he'd like to see all positions filled, infrastructure updated and enrollment back to its 2014 peak.
"I'd like to see us grow instructional faculty and advisers to match growing enrollment," he says. "And I feel we have to keep the other parts of our Land Grant mission strong with Research and Extension fully staffed on campus as well as all of our regional research and Extension programs at Hays, Colby, Garden City and Parsons fully staffed. That's what I'd say success looks like."
If all goes well, Minton says he sees his position as dean and director as his final job at K-State.
"My goal is to refresh the college and set it up in great shape for not only my successor, but also the fantastic students, faculty and staff that will be a part of this College in years to come," he says.
Subscribe to receive top agriculture news
Be informed daily with these free e-newsletters
You May Also Like
---