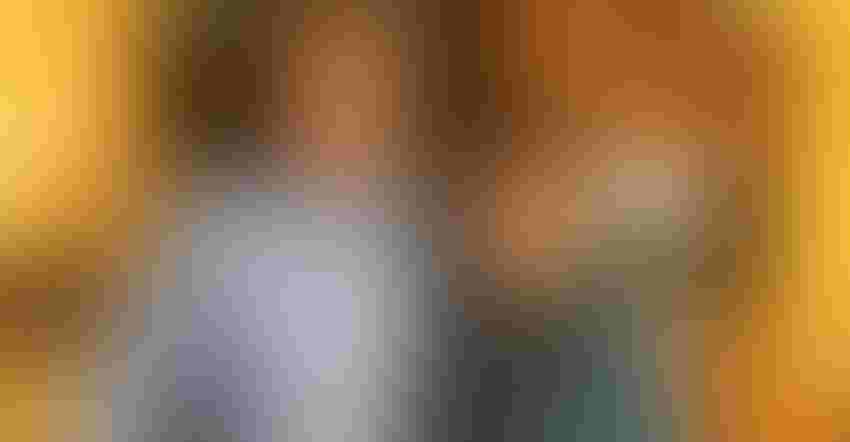 MASTER FARMER: Jim Domagalski, 73, is a 2019 Michigan Master Farmer. The St. Clair County crop farmer already has decided to donate part of the award money to his local FFA chapter. He's pictured here with his wife, Lorry.
Making his start after a stint in the Army as a janitor for Consumers Energy, Jim Domagalski never thought the pretty receptionist would become his wife, he'd retire as a lead director for the company or farming for fun could take him around the world, but it happened.
"When opportunity knocks, you don't know when or how or what it's going to be, but at least kick the door open, see what's there," he advises.
After being nominated by his peers, Domagalski recently was recognized as a 2019 Michigan Master Farmer during the Great Lakes Crop Summit in Mt. Pleasant.
Jim's grandfather Karl, born in 1888, came to the United States at age 13 from a region near Russia and Poland. About 1935, he bought the home farm in Columbus, Mich. "My dad and him had a dairy farm until 1970 when we sold the cows," Domagalski recalls. Jim was the only son of Henry and Anna Domagalski and often was found working alongside his father on the 40-cow dairy farm. "When we put the barn cleaner in, my gosh we could hear Alleluias when that switch went on, no more wheelbarrows!" he remembers.
Henry was drafted during World War II at 29 years old and worked as an airplane mechanic on B-29 bombers. While milking cows, Jim loved to listen to his father talk about his days in the Army Air Corps.
"He even worked on a plane before it took off with a funny name, The Enola Gay, which was named after Col. Paul Titbit's mother and went on to end the war by dropping atomic bombs over Japan," Jim recalls. To this day, Jim's bucket list includes flying in a fighter jet in honor of his father.
The cows weren't really for Jim, and he often was encouraged to work off the farm by his dad. "The farm was a lot of work, and he thought, 'You ought to go and get a factory job, it's a lot easier,'" Jim recalls. "My interests were in machinery and crops. My dad always milked the cows, and I was always doing something with machinery," he says.
A year into college, the draft was on, and the 19-year-old volunteered to get it over with. Despite his father's apprehension for him to farm, one day Jim came home with a used 620 John Deere and plans to rent the neighbor's farm. After a few years, they bought a combine together. "My dad eventually backed me up 100%," he says.
In 1967, Jim met his wife, Lorry, who was a receptionist at then Consumers Power. "When I first saw her, I said 'Wow, she's something!'" he remembers. "Two weeks after I was hired in as a janitor, I finally got a paycheck. I leaned against the doorway to her office and said, 'I got my first paycheck, would you like to help me spend it?'" he reminisces. They were married the next summer.
"Although Jim seemed so familiar to me, I didn't recall ever meeting him before he was hired into the gas company," Lorry explains. "He said he had a plan: to someday get married, have a family, build a house and a farm in his spare time while he worked at the gas company until he could retire and then farm full time. He made me an offer I couldn't refuse."
In the early days farming, Jim says Lorry would help drive the tractor and always has been diligent about their bookwork. "When I was working for Consumers, I would come home, have supper, and there was usually something to do out in the shop or in the field, and our children were to the point they could help me out quite a bit," he says. Jim believes all eight of their children have developed his hard work ethic after seeing him work full time and farm.
"And their dad's good sense of humor as well," Lorry says.

HONORED: After being nominated by his peers, Jim Domagalski recently was recognized as a 2019 Michigan Master Farmer during the Great Lakes Crop Summit in Mt. Pleasant, Mich.
Think differently
Early on, Jim started to experiment with no-till farming. "I think I was the first one in the county, because I got an award from the conservation department about a year after I started," he explains. "We had a wet fall, and the neighbors said, 'How can you be combining corn? I can't move anything out there!' The no-till made it nice and solid."
At the time, Jim was reading farm magazine stories about no-till in other states and wanted to give it a try. "I tried it and it worked!" he says. "It saved me a lot of money and a lot of time, which was necessary when I was working at least 10 hours a day at Consumers, as well."
Jim says most of his farming took place either during nights or weekends, which pushed him to try different tactics. "I bought some really bright lights at the beginning and put them on top of the combine cab so I could see better during harvest," he recalls. Today he no-tills as much as he can on the farm and plans to introduce cover crops this spring.
Pastures and fields soon became row crops on the original dairy farm, and in the late 1970s Jim added soybeans. "Sometime after that I worked for my neighbor Roy Greenia part time who grew Michigan-certified seed," he says. A year later, Jim started growing certified oats, wheat and soybeans. "I'm kind of fussy with the crops and my neighbor noticed, that's why he asked me if I could raise some certified seed for him," he explains.
Jim says Roy was an innovative farmer, and he always admired how he thought differently. "I was there when he built the grainery and when we had to put the tags on the bags, he made his own tag-suction unit out of an old vacuum cleaner," Jim remembers. "He was a top-notch farmer all the way around."
A heart to serve
Greenia in the 1980s retired as a board member from the St. Clair/Montcalm Co-op and asked Jim to take his place. Serving the ag community during a farm crisis left a lasting impression on him. "The co-op was a very large store, it had fertilizer and fuel plants, and we got to the point that the interest was so high we had to file Chapter 11 bankruptcy," Jim says. As the vice president of the board at the time, Jim remembers it like a funeral for the ag community.
From there, Jim served on the Michigan Farm Bureau's Young Farmer Committee and began his involvement with the Michigan Soybean Promotion Committee. That's where he met nominator Gail Frahm, the organization's former executive director.
"Jim is always up for a good laugh and has a very lighthearted personality that shines through in all he does," Frahm says. "Jim is loved by so many people from across the state and nation, as well as in many fields —not just his farm fields."
After eight years on the board, he stepped down when his daughter, Laura, accepted a position with the organization. At the time, there was an opening on the United Soybean Board, which Jim applied for and got.
"In 2007, the secretary of Agriculture calls to say I was appointed, wow!" he says. That lasted three years until the board reorganized to include more diversity. Jim applied again in 2013 and has continued to serve in numerous committee and board positions.
Growing up listening to stories about his father's time as a pilot mechanic, Jim developed a love for flying and has taken advantage of opportunities to travel across the nation and internationally to represent the soybean industry.
"I've been privileged to make some missions trips to Colombia, South America, Mexico, Costa Rica — our customers love to see the farmers that grow that crop," he says. Jim volunteers his time in hopes to create a positive environment for other farmers and grow the industry.
In the late 1980s, Greenia passed away suddenly. "I was offered to take over that seed facility. It was a hard decision to drop, but the main thing is family and taking care of them," he says.
In 1984, Jim expanded by buying an 80-acre farm. A few years later, he added another 40 acres and inherited part of his father's land. Henry passed away in 1987. "I lost my main helper then," he shares. "He used to drive in the yard after I would come home for work and ask what we were going to do that day. We got along really well."

MAEAP VERIFIED: The Domagalski Farm is verified through the Michigan Agriculture Environmental Assurance Program in both farmstead and cropping systems.
Sharing love of farming
Longtime friend and farming neighbor Theodore Wessel believes Jim is a great example of what it means to be a farmer and a true role model for young farmers.
"When a fellow farmer became ill, Jim was one of the first in the field to help combine his crops," he says. "If he isn't working in his fields, tinkering in his shop, or busy with family, you will likely find him in meetings supporting and promoting the use and sale of soybeans."
Just as Jim turned to his mentor Greenia and his father for advice, he's had the opportunity to pass along some of his insight to farmers starting out including Roy's son, Jared. Jim says, although Jared was young when Roy died, "Jared Greenia always had the heart to farm and about five years ago, he came to me and asked if I could help him get started."
At first, Jim helped by planting, applying fungicides and harvesting, and encouraged Greenia to invest in his own equipment. "He's pretty much on his own now, and it's hard not to be proud of that," he says.
Friends, neighbors and fellow farmers describe Jim as a leader, honest and hardworking. United Soybean Board Chairman Lewis Bainbridge says, "His willingness to work until the job is done right on any project or committee has been truly refreshing and rewarding," he says.
USB Vice Chair Keith Tapp adds, "Not only is Jim an active father and grandfather, he recognizes the importance of the next generation of farmers, and in doing so, is currently mentoring young farmers in his community."
Jim eventually advanced into Consumer's measurement department and calibrated all types of equipment to measure natural gas. After 25 years with the company, he became a supervisor of the measurement and pipeline departments, which eventually led to running the fourth-largest compressor station in the nation in Armada, Mich.
"There were so many mornings when I sat behind that desk, I could not believe I did that starting as the janitor!" he says. "Somebody had some faith in me." Only two months shy of 40 years, Consumers offered Jim a buyout.
"A lot of people retire and hit the couch or the rocking chair, that's not good," he says. "I want to keep active as long as I can." Plans to retire from farming are not in the picture yet. "I've got my health, and I love what I do, I'm going to keep farming as long as the good lord lets me," he says.
Heslip works as the Michigan anchor/reporter for Brownfield Ag News.
Master Farmer profile
Name: Jim Domagalski
Farm: James B. Domagalski, more than 600 acres, owned and rented; cash grain production of soybeans, corn and wheat
Leadership: Member of the Knights of Columbus, Memphis Council; American Legion Post 525, Smiths Creek, Mich.; Richmond Community Choir and Holy Family Church Choir; past Stewardship chairman at St. Philip Neri Catholic Church; past board member of a local credit union
Ag leadership: Past board member and vice president of the St. Clair/Macomb Cooperative and Lapeer Cooperative; past board member of the Southern Thumb Cooperative; member of the St. Clair County Farm Bureau Board for almost 50 years and served in many leadership roles including county president; St. Clair County Agricultural Preservation board member; Volunteer Soy Promoter; United States Soybean Export Council representative for Michigan; past president of the Michigan Soybean Promotion Committee and member for more than 40 years; National Biodiesel Board representative for Michigan; United Soybean Board director; American Soybean Association member
Awards: Michigan Farm Radio Network 1973 Farmer of the Week, 1979 St. Clair County Soil Conservation District Farmer of the Year, 1988 Michigan Farm Bureau Farmer of the Year, 1988 St. Clair County Kiwanis of the Year
About the Author(s)
Subscribe to receive top agriculture news
Be informed daily with these free e-newsletters
You May Also Like
---