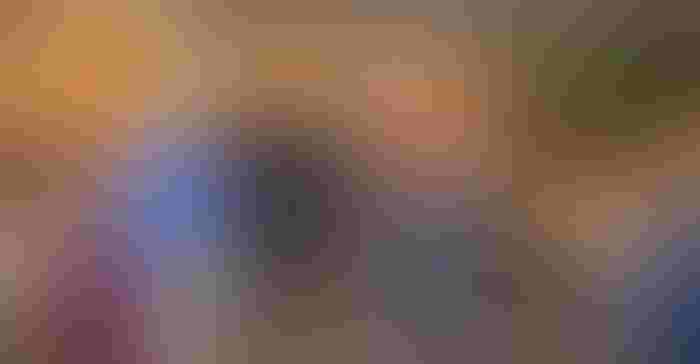 Many of you support your local FFA chapter, whether you're a parent of a current member (or the member yourself), a past member or a future member. Community support is how FFA chapters raise funds to engage in leadership activities that promote youth development.
So, you've likely been to an FFA banquet or event. But you may never have been to one quite like this, unless you're part of the Columbia City FFA community. Local FFA boosters decided to hold what they call the Blue Jacket Bash in 2017. The third annual bash was held in early September.
Get a feel for what attending a Blue Jacket Bash is all about by clicking through this gallery.
Fun and funds
Some 300 people — including FFA members, parents, ag business people and teachers — assembled in the Indian Springs Middle School cafeteria for the event. Outside, volunteers, under the watchful eye of a professional caterer, helped prepare steaks and smoked pork chops on the grill. Meats were provided by local producers. The caterer even donated part of her time.
Inside, decorations added to the festivities. A slide show about the Columbia City FFA played in the background. People bid on silent auction items while waiting for dinner. It was worth waiting for — those meats plus side dishes and pie for dessert.
Later, Mark Poeschl, CEO of the National FFA Organization, fired up the crowd, sharing his enthusiasm for students in the blue and gold jackets. Columbia City FFA members also spoke. Then auctioneer Arden Schrader capped off the evening by auctioning off nine pies. Pies sold for from $400 to $525 each, with even the high school principal buying one.
It was all about raising money for Columbia City FFA. The first two bash evenings raised about $30,000 each, and this one raised lots of dollars, too. More than 45 sponsors, largely businesses but also individuals, donated from $250 to $1,000 each before the evening began. Other individuals made donations after the event.
Why a 'bash'
Kelley Sheiss and Travis Baker were two of the original group of parents who came up with this unique idea. "The FFA lost its major source of revenue," Sheiss explains. "The chapter had a 70-acre farm plot for years, but three years ago the school needed it to build a new high school."
The new Columbia City High School is scheduled to open in the fall of 2020. It's the only new high school under construction in Indiana currently, and will include facilities for vocational agriculture and FFA education.
"Several of us, many parents of livestock judgers, got together and came up with this idea as a fundraiser," Sheiss says. "We do it in one night. Great support from the community is the key to making it work."
Baker adds: "Timing was such this year that we were contacting many businesses for sponsorships soon after they supported the county 4-H livestock auction. Yet no one turned us down. That's how much support we have for FFA in this community."
The vo-ag and FFA programs include four ag teachers: Sarah Furthmiller and Skylar Campbell at the high school and Mandy Grimm and Travis Olinske at Indian Springs Middle School. Columbia City is the oldest FFA chapter in Indiana, with a rich history of achievement in various judging and leadership development activities.
Thanks to Rob Schuman, a local FFA supporter and Bayer employee with Specialty Hybrids, for inviting Indiana Prairie Farmer to attend this event and bring it to you, the readers.  
Subscribe to receive top agriculture news
Be informed daily with these free e-newsletters
You May Also Like
---