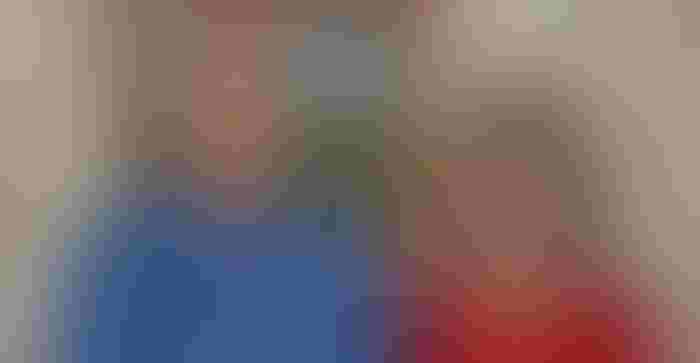 THE HEINIGERS: Kathy and Clif Heiniger say taking advantage of value-added opportunities and seeking niches that improve the bottom line are crucial to staying in the farming business.
Finding a niche that allows you to capture extra profit above standard market values is often the difference between success and failure in the thin-margin world of production agriculture.
For 2017 Master Farmer/Master Farm Homemakers Clifton and Kathy Heiniger of Brown County, that has included selling fresh pork direct from the farm, participating in value-added program Laura's Lean All-Natural Beef for 15 years, and becoming one of the original investors in the Golden Triangle Energy ethanol plant in Craig, Mo.
From 1986 to 2005, they were dealers for Ag-Bag silage bags and equipment, and supplemented farm income by doing custom silage bagging in northeast Kansas and southeast Nebraska.
Today, the Heiniger farm is primarily a grain farm with corn, soybeans and wheat as primary crops, but it continues to raise a few cattle and hogs to add value to the grain and forage production of the farm.
The Heinigers have also welcomed the oldest of their three sons, Austin, back into the farming operation. "We were not sure if any of the boys were going to come back to farm with us," Kathy says. "We knew that it had to be their decision, not ours. Farming is a tough occupation with the unpredictability of markets and weather and the commitment of time and energy. A person has to have a strong desire to be involved in farming. We are glad that Austin decided to making farm his vocation."
Now that Austin has made his decision, his parents say they are planning to transition more responsibilities for Austin in running the farm day-to-day.
That transition will make Austin the third generation to farm the land that his grandfather and father have farmed. He is a 2007 graduate of Kansas State University. He and his wife, Kendall, have three sons: Caleb, 6, Jackson, 3, and Simon, 18 months.
Brian, the middle son, is involved in medicine and has elected to pursue a career in ophthalmology. Kathy says she does not expect him to return to the farm. He is currently completing his ophthalmology residency at the University of Texas' Southwestern Medical Center, in Dallas. His wife, Annie, has a master's degree in speech language pathology from K-State and works in the outpatient department of Children's Health in Dallas.
Their youngest son, Cale, is 24 and a graduate of Pittsburgh State University, where he studied biology and chemistry. He is working in Mattawan, Mich., as a research analyst doing early stage drug development for MPI Research.
Clifton grew up on his family's farm near Fairview in Brown County, and was active in band, athletics and FFA while in high school in Powhattan, while Kathy was growing up in McPherson County on her family's farm near Moundridge. She enjoyed helping on the farm, especially raising pigs for 4-H projects.
Clifton graduated from KSU in 1980, and worked briefly for Hesston Corp. before returning to farm with his father in 1981.
Kathy graduated in 1979 and went to KSU, majoring in Vocational Home Economics Education. She graduated in May of 1983, and Clifton and Kathy were married in July of the same year. She worked as a substitute teacher for a few years and became a full-time farm wife and mother once the boys were born.
"We think we work well together as a team on both farm and community projects," Kathy says "Raising the boys on the farm was priceless. They got to see crops planted and harvested. They got to see animals being born and raised to market size. As they got older, they were able to help with farm chores."
The Heinigers are working to leave their own land, and that of their landlords, in better ecological health than they found it in the hope of having a lineage of future generations to farm it.
"We consider it a privilege to farm for our landlords," Clifton says. "We have some farms that we have rented for more than 40 years with three generations of owners. We try to promote good relationships, keep them informed, suggest conservation work that could be implemented on their land and have kept them updated on new farming practices."
One of the most important pieces of advice that Clifton says he could give prospective farmers would be to make sure this is what you really, really want to do.
"You have to love this job to be successful at it," he says. "It is not a job for everyone."
He says if a young person does decide to commit to agriculture as a career, then he should be prepared to look at specialty areas to make money to survive the first years.
Subscribe to receive top agriculture news
Be informed daily with these free e-newsletters
You May Also Like
---