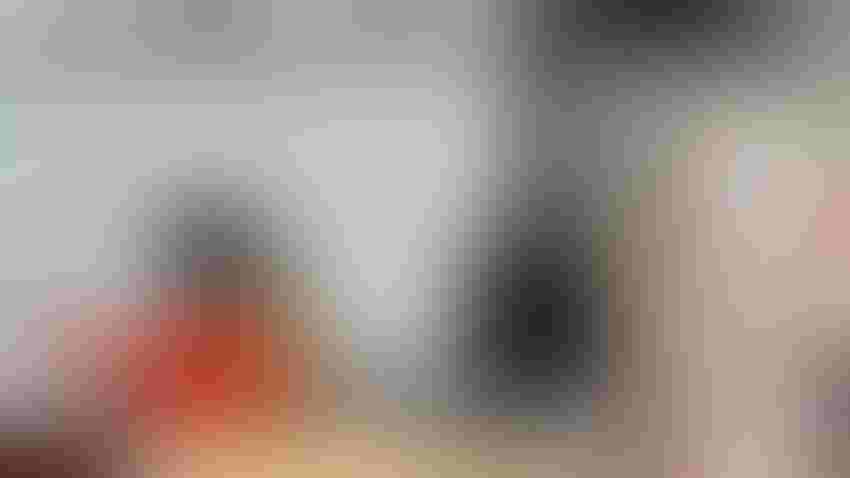 GIGANTIC CELEBRATION: Travis Gienger celebrates after the weight of his pumpkin, dubbed Michael Jordan, came in at 2,749 pounds, giving him the new world record. The previous record of 2,702 pounds was set two years ago by an Italian grower.
Courtesy of Travis Gienger
A Minnesota pumpkin grower has taken the world by storm.
Growing pumpkins is in Travis Gienger's blood. He remembers as a pre-teen helping his dad grow 80- to 100-pound Big Max gourds.
"I just took care of the garden growing up, when I was 10 or 12 years old," he says. "And then when I was 14, I grew a pretty big one, a 447-pounder. At that time, that was pretty dang big, and it kind of got it all started for me."
That 447-pounder would be dwarfed by the 2,749-pound pumpkin that Gienger trailered to Half Moon Bay, Calif., for the 50th World Championship Pumpkin Weigh-Off. On Oct. 9, Gienger's pumpkin that he dubbed Michael Jordan took top prize at the weigh-in and claimed a world record as the heaviest pumpkin ever grown. This pumpkin boasts a 21-foot circumference.
Though Gienger doesn't have a moniker such as Pumpkin Prince, Pumpkin King or Gourd Lord, this year's prized pumpkin pays homage to Michael Jordan, "because it's the year '23 [Michael Jordan's jersey number], and he's the greatest basketball player of all time."
Gienger's MJ outdistanced the second-place pumpkin by 252 pounds, and by MJ being crowned the world's largest Gienger brings home a cash prize of $30,000. That distance between first and second may have been even greater had fate not taken another great pumpkin that "honestly, I don't think that thing would have been under 3,000 pounds. But I lost that one Aug. 17 with just a tiny little rib split."
This was Gienger's third year at the California competition, missing 2021 because of a number of issues in the home patch. His entry last year earned him the North American record.
Growing a record pumpkin
Of course, one doesn't grow a pumpkin without seeds, and he says the Atlantic Giant "is the one you want to grow," he says. Though pumpkin growing at this level is competitive, it is friendly competition as growers exchange seeds, and the seeds for this world winner came from a pumpkin in New York.
"My seed went all around the world last year," he says. "Now it's going to be a hot seed."
His three decades of experience have taught him a thing or two about growing pumpkins, as well as tapping into one of his day jobs. He is a part-time turf and golf course management instructor at Anoka Technical College. He is also a stone craftsman who operates Waterstone Fire Tables in Anoka, Minn.
Acquiring sponsors over the winter helps Gienger with fertilizers and soil biology to boost those seeds to greater weights. "We're using just a ton of different soil biologicals in microbes to get these things cranking, and I think that was the difference," he says. "Micronutrients are huge. But not only the micronutrients, but the mycorrhizae, bacillus, Trichoderma for disease prevention."
He estimates on average he spends about $2,000 per plant to achieve world status.
Starting the seeds on April 10, and then feeding the plants and the soil, and watering up to 12 times a day, Gienger babies the plants.
Obviously, the nurturing pays off all the way to the record books.
Subscribe to receive top agriculture news
Be informed daily with these free e-newsletters
You May Also Like
---