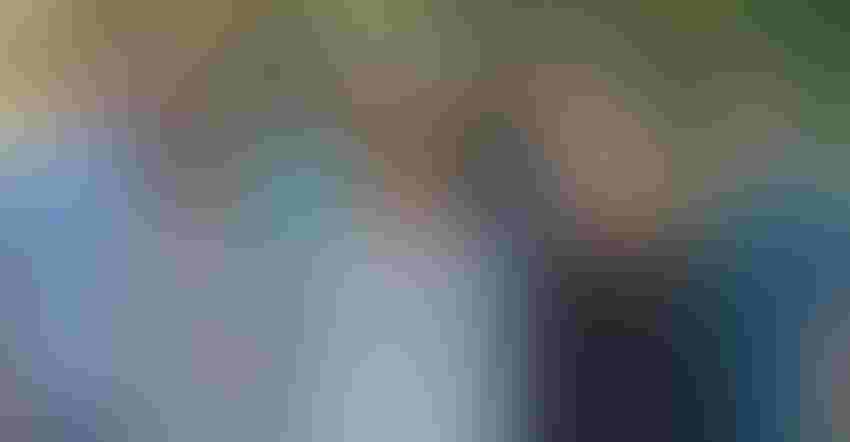 LIGHT UP THE NIGHT: These energetic young leaders are proof of hope for the future. They are Nathan Fairchild (left), Caitlyn Lewis, Noah Berning, Taylor Roy, Dillon Muhlenkamp, Morgan Hinz and Eion Stephens.
Every year in September, the Indiana FFA state officers and Joe Martin, FFA program specialist with the Indiana State Department of Agriculture, join me and my wife, Carla, for supper. They get a good home-cooked meal thanks to Carla, and we discuss articles they will write during the year, which you read monthly in FFA Corner.
That's the official reason for the get-together. Unofficially, it's a time for Carla and me to get to know them, and for each of them to kick back and share things about themselves — not only with us, but also with their teammates. We only live 15 minutes from the Indiana FFA Leadership Center where they live in one house during their time in office. We always invite them to come back, and several teams have taken us up on it. A few years ago, one team even came back for cooking lessons in Carla's kitchen!
This year's evening was especially meaningful for several reasons. Although it looked like early August outside, with crops still green as grass, it was early September. The stress of covering a wild, late-planting year with trade wars and tough-to-understand government programs was weighing on me, and I just write about these things. Indiana Prairie Farmer columnists Joy McClain and Susan Hayhurst squarely address the mental stress many of you are facing in their columns and in a special feature.
Here was a chance to see that all is not doom and gloom in agriculture. Seven bright, shining faces — eight if you count Joe Martin, and he smiled and laughed a lot — reminded Carla and me that agriculture still has a lot going for it.
Closer look
Here's a peek at these seven young leaders and their aspirations.
Noah Berning, Heritage FFA, treasurer. This young leader from Monroeville enjoyed public speaking and judging dairy foods in FFA, among other things. He was a nine-year 4-H member, showing dairy cattle, goats and sheep. He plans to attend Purdue University and study ag systems management, and ag sales and marketing. Noah will be among the first students to use the new ag engineering facility, starting in 2021. He just might show up at your farm as a sales rep for an ag company someday.
Morgan Hinz, South Central FFA, northern region vice president. The Union Mills native says FFA only began at her high school in 2012, so she feels blessed. She excels at the job interview contest, and enjoys livestock judging and the crop scouting contest sponsored by Purdue. She intends to attend Purdue and major in animal sciences, with hopes of becoming a large-animal vet and pursuing a doctorate in veterinary medicine. If all goes well, Morgan may study in the new large-animal veterinary hospital currently in the design phase.
Dillon Muhlenkamp, Jay County FFA, president. Parliamentary procedure, soils judging and livestock judging were his favorite FFA contests. He hails from a diversified farm that raises Holstein steers and turkeys in Bryant. Dillon was a 10-year 4-H member, showing goats and turkeys. He will attend Purdue next fall in ag education. Hats off to this young man — he hopes to augment his teaching career by entering politics.
Caitlyn Lewis, Frontier FFA, secretary. This Brookston native says parliamentary procedure, horticulture demonstration and forestry judging were among her favorite FFA contests. She's headed to Huntington University to major in ag education and math education. The folks at Huntington can't wait for this young leader to arrive!
Taylor Roy, Franklin FFA, reporter. This young leader from Bargersville got excited about crops judging, public speaking and the ag sales team contest. She's the other reason that made this evening special. One of her supervised ag experience projects was raising sheep at our farm. I coached her in several FFA activities. Taylor is headed to the University of Tennessee-Martin and wants to become a nurse practitioner.
Nathan Fairchild, South Decatur FFA, southern region vice president. From Columbus, soils judging, livestock judging and parliamentary procedure were right down his alley in FFA. He's baled lots of hay, mowed lots of weeds and worked with chickens. He's destined for the Purdue ag education program and is adamant that he wants to become an FFA advisor and help kids, like his advisors helped him.
Eion Stephens, Tecumseh FFA, sentinel. This young man from Lynnville never thought about FFA until he was required to take an ag class in seventh grade. He became a local dynamo, judging livestock, being on the parliamentary procedure team, participating in demonstrations and doing much more. He hopes to join Noah Berning at Purdue, also majoring in ag systems management and ag economics. His end goal, however, is a career in ag policy and ag politics, perhaps working for Indiana Farm Bureau.
Doesn't the day seem a little brighter now? There is life for agriculture after 2019.  
Comments? Email [email protected].
Subscribe to receive top agriculture news
Be informed daily with these free e-newsletters
You May Also Like
---