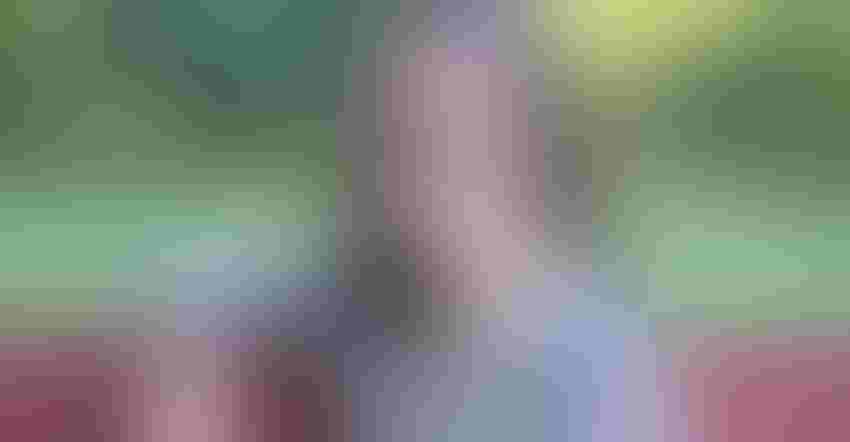 LOVES AGRICULTURE: Caitlyn Lewis knew nothing about agriculture until she became involved in FFA, even though she lived in a small, rural community.
By Caitlyn Lewis          
Do you have to grow up in agriculture to work in the agricultural field? Many people believe that's true, but it's not. Until I was a freshman in high school, I didn't know much about agriculture. Yes, I grew up in the rural town of Brookston, Ind., surrounded by corn and soybean fields, but that was about the extent of my agricultural knowledge. It wasn't until I joined FFA that I truly learned what agriculture is all about.
I was nervous to join the organization because I didn't grow up with an ag background. My mom worked as a paralegal, my father sold cars, and I had aspirations of going into engineering. When I first joined FFA, I was told I could compete in different leadership development events. These are competitions that help you learn about the industry, public speaking and so much more.
The first event I ever competed in was quiz bowl — a common event to start out with. It was simple to understand. I studied a packet of questions that pertained to the ag industry and FFA and took a multiple-choice quiz.
I was scared to compete, thinking I would be the only person who knew next to nothing about what they were studying. But I guess that was the point. By starting off in this event first, I could gain some general knowledge about the industry, and it was OK that I didn't know much.
My team and I didn't do very well that day. In fact, we came in at the very bottom of the lineup. I learned so much from this one event though, and it made me want to get even more involved.
From that point forward, I competed in anything and everything I could. From public speaking to demonstrations on aquaponics, I loved being able to immerse myself in the field of agriculture. What better way to do that than being a member of FFA?
What FFA can do
FFA gives students the opportunity to interact and get involved in the agriculture industry through fun and interactive ways — all of which would not be possible without the help of those who are already in the ag field.
Farmers, parents, scientists and educators all play a vital role in the organization. Without them, members would not be able to get firsthand knowledge about the industry. It is becoming increasingly more common for members to become active in FFA without having any previous knowledge of the ag industry, just like myself.
This is no small feat, and it wouldn't be possible without volunteers who put in time and effort to help our organization succeed. Whether it's helping a member with a competitive event, being a judge, donating money for trips, or stopping to have a conversation with a member, each moment makes a difference.
The next time you see someone wearing an FFA T-shirt or the corduroy jacket, stop and talk to them for a few minutes. You might be surprised at their background and the story of how they got involved in the organization.
Lewis is the 2019-20 Indiana FFA secretary. She writes from Trafalgar, Ind.
Subscribe to receive top agriculture news
Be informed daily with these free e-newsletters
You May Also Like
---