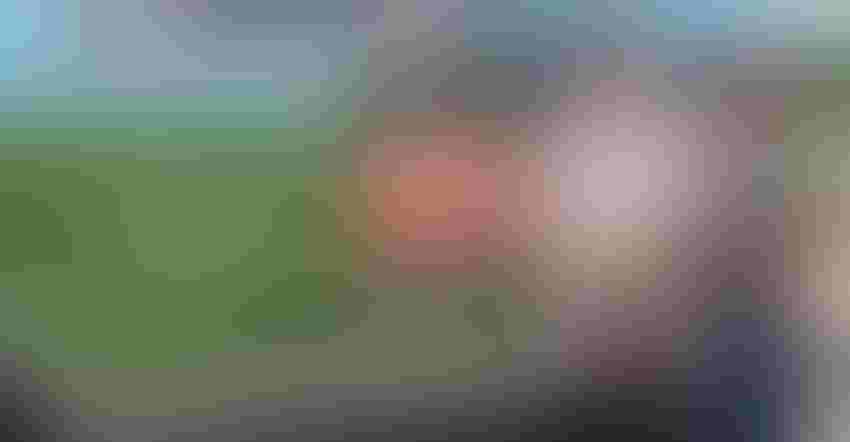 Lindley Gilliaum and Tommy Young are two of many who have been instrumental in the success of ASU-N's new Agriculture Technology program.
Tommy Young and other farmers in northeast Arkansas have a very specific labor problem — what they had traditionally called a "farmhand" has long since outgrown that job description.
Today's employees are so much more than helping hands, Young says. They have to know about agronomy, software, GPS, planter calibration and more. They are often trusted with driving expensive farm equipment.
So Young sat down with his 15 employees one day and asked them if there was a better job title for them.
"One of them suggested 'agritech,' and I like that," he says. "Truthfully, that's what they are now."
As the job requirements have slowly shifted over the years, Young says it's also been harder to find qualified employees right out of the gate. They didn't really need a four-year degree, but they would benefit from some sort of formal training.
But no such training existed in northeast Arkansas. So he and a few farmer friends set out to build it themselves.
Education ambition
The farmers' first step was checking into an area college, Arkansas State University-Newport, in 2014. After two years of roundtables and other brainstorm discussions, the school hired two agriculture instructors, with one of them — Lindley Gilliaum — charged with securing additional grant funding from the state of Arkansas.
With much work and finesse, a new 60-credit ag technology course was born to train students over a two-year period, and then match them with a real job with area farmers or agribusinesses.
"We wanted to develop plenty of classroom instruction, but we wanted a lot of hands-on learning," Gilliaum says. "One way we were able to do that was by partnering with local farms and using them as 'labs' during scheduled visits."
The program promises a taste of many different aspects of farming, Gilliaum says, including:
farm equipment operation, service and maintenance

agronomy and soil science

irrigation systems management

conservation and sustainability practices
Graduates leave the program with a Class A commercial driver's license and restricted-use pesticide training.
Young says graduating from the program won't automatically mean a perfect employee, but he does argue the two-year degree will prove an applicant has the "stick-to-it-iveness" and relevant training for serious consideration.
ASU-N's ag tech program also borrowed ample inspiration from another program at the college that trains high-voltage linemen. "That program has worked so well, and we hope we're developing a similar situation with the agritechs," Gilliaum says.
None of the curriculum moved forward without farmer input. "Their support is what got this started," she says, "and we didn't start anything before they approved it."
Start them early
The grant that ASU-N secured also allowed additional funds to trickle down into area high schools, several of which received $20,000 each to create an area focusing on agriculture. For example, at Young's alma mater — Tuckerman High School — grant money allowed an 11-acre field across from the school to be precision-leveled, planted to row crops and irrigated throughout the season.
Local partnerships helped make this happen. Young lent some of his farming equipment along the way, and area cooperatives and seed companies provided the inputs needed to get the crop in the ground and growing. Now, these high school students have a one-of-a-kind opportunity to participate in demos from planting to harvest.
Additional partnerships — such as Shoffner Farm Research, Zack's Flying Service and Greenway Equipment— are just a few more examples of public support for the program. These companies offer day trips and lectures at their businesses to further broaden students' understanding of the shape of the local agricultural economy.
"This gives these students an extra taste of agriculture in high school and gives them a bridge to the ASU-N's program once they graduate," Young says.
The program has depended on area agribusinesses to provide additional momentum in the form of scholarship funding and internships, but the process hasn't been forced, Gilliaum says.
"Support has been overwhelming so far," she says.
The eventual goal for the ASU-N program is to have all 20 students at least partially supported by private scholarships, she says.
What's next
With the program still in its infancy, flexibility is paramount to its future success, Gilliaum notes. Grain bin and forklift safety will likely be added to the curriculum, she says.
Time will tell if it's even successful. The program's first round of graduates won't even walk the stage until next May. But Gilliaum, Young and others are all optimistic it will do what it was designed to do.
Both incoming and outgoing students will help prove the program's future vitality. Gilliaum jokes that one measure of success is if a waiting list to get in emerges.
For Young, success depends on how much the graduates can fill the current skill gap in northeast Arkansas. He's confident the results will be noticeable.
"Farmers and agribusinesses here will absorb every student who comes through this program," he concludes. "There's that much of a need in this area. We'll take every single one of them."
Subscribe to receive top agriculture news
Be informed daily with these free e-newsletters
You May Also Like
---