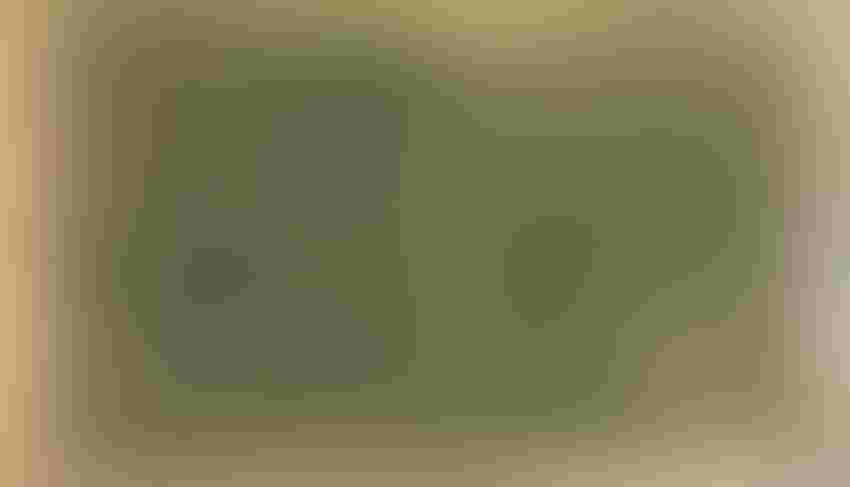 An aerial view shows this year's corn maze at Historic Hawes Farms in Anderson, Calif. It was planted in honor of Jeremy Stoke, a firefighter who died fighting last year's Carr Fire in Northern California.
Historic Hawes Farms
Historic Hawes Farms in Anderson, Calif., is one of scores of farms that host harvest-themed celebrations in October, featuring corn mazes, pumpkin patches, games, food and live entertainment.
But something unique and special happened this year at Hawes, which draws an estimated 30,000 to 40,000 visitors per year.
This year, the farm's corn maze was planted to include a likeness of Jeremy Stoke, a fire prevention officer from nearby Redding who died fighting Northern California's Carr Fire in July 2018.
"This is by far one of the most rewarding mazes we've ever done," said Hawes Farms co-owner Nikola Hawes, who got the idea while noticing that "Shasta strong" signs and t-shirts were still ubiquitous in the area this summer. "We wanted to give back to the community."
FAMILY FARM
Nikola and her husband, fifth-generation farmer Greg Hawes, run a family operation that grows walnuts, melons, peaches, tomatoes, vegetables, wheat for hay, and cattle pasture. The family also operates a farm supply store in a century-old, refurbished barn at the ranch in Anderson as well as another store in Red Bluff.
Now in its 15th year, the farm's 17-acre pumpkin patch includes train and hay rides, concerts, nighttime movies and special events. A "Taste of the Maize" fundraiser at the ranch raised between $3,000 and $4,000 for the Jeremy Stoke Legacy Fire Foundation, which was set up to help people entering public safety-related fields.
Stoke, 37, cut his vacation short to report to work with other off-duty firefighters as the Carr Fire rapidly approached Redding on July 26, 2018, according to the National Fallen Firefighters Foundation (NFFF). That evening, he was trapped by a rapidly progressing fire front and overrun by a fire vortex that was later determined to be moving at speeds above 165 miles per hour, the foundation explains.
He went missing around 8 p.m. and was later found by other emergency responders, according to the NFFF. His wife, Alyson, started the Legacy Foundation in his memory.
The Carr Fire burned 229,651 acres in Shasta and Trinity counties, destroying more than 1,000 homes, before it was fully contained in late August 2018, according to the state Department of Forestry and Fire Protection.
MAZE DEDICATED
As memorials and fundraisers were ongoing last fall, Nikola Hawes "really wanted to honor" Stoke, she said. But last year's corn maze had already been planted. So the Hawes family approached Alyson Stoke about doing this year's maze in his honor and coupling it with a fundraiser for the new foundation.
"She was completely honored," Hawes said. While many of the tributes to Stoke have been somber, "this she knew Jeremy would just laugh at."
At the "Taste of the Maize" fundraiser Oct. 12, guests walking through the corn maze sampled local wines and foods and received a souvenir glass. Many firefighters attended the event with their spouses, Hawes said.
"It's all been so positive," she said.
Hawes Farms' pumpkin patch and corn maze opened on Sept. 28 and runs through Oct. 27.
Subscribe to receive top agriculture news
Be informed daily with these free e-newsletters
You May Also Like
---