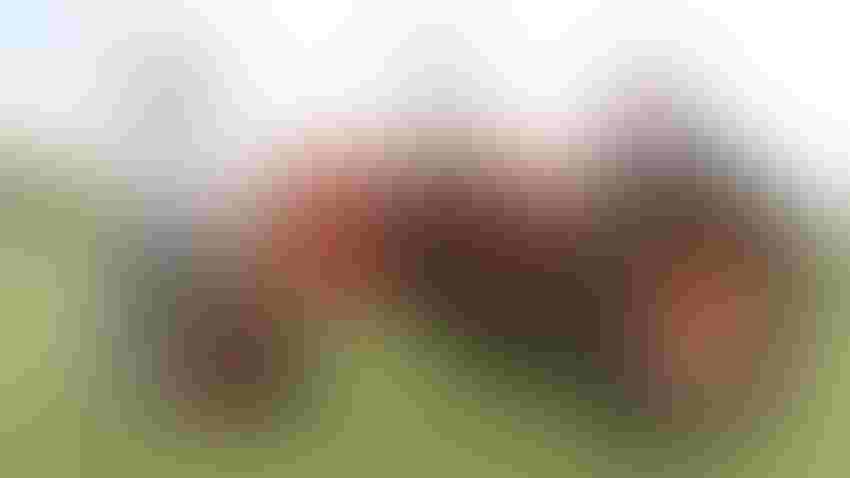 SHOWSTOPPER: Jon Theissen and his son Erik enjoy taking their 1947 Case Model SC tractor to area shows to share the work ethic of the machine with the next generation.
HARLEN PERSINGER
Jon Theissen's thoughts about collecting tractors extend beyond purchasing older machines and restoring them to be all shiny and new, just like when they came off the assembly line.
The North Prairie, Wis., mechanic works as a lead technician for Ditch Witch Midwest in Waukesha, Wis. He and his sons, Erik and Mason, have purchased and resold 25 machines over the past 20 years. Their present inventory includes a 1938 Allis-Chalmers Model B, a 1939 Farmall Model A, a 1946 Farmall Model H and a 1957 Allis-Chalmers Model D17.
Family favorite
"I enjoy all the tractors, but the one I prefer is a 1947 Case Model SC that I purchased for $500 in 1977 from Kevin Wussman, who operated a used tractor business in Muskego, Wis.," Theissen says. "It caught my eye, was in relatively good shape, mainly handled plowing and tillage chores, ran like a top and had only operated 2,000 hours."
This row crop tractor was manufactured from 1941 to 1954 by J.I. Case in Racine, Wis. There were 58,991 units built, and the original price was $1,700 in 1953. Six different versions rolled out of the plant: the S-standard, the SC-row crop, the SC3-tricycle, the SC4-fixed front row crop, the SI-industrial and the SO-orchard.
Features included a four-speed synchronized gear transmission, 14-gallon-capacity fuel tank, 10 hp on the drawbar, a rating of 31.7 hp on the belt, two-wheel drive, manual steering, disk brakes, open operator station, steelpan seat with spring suspension, mechanical wet disk clutch, Case Eagle hitch, and a 2.5-liter, four-cylinder, distillate liquid-cooled gasoline engine.
"My first time driving a tractor as a 7-year-old was on a 1939 Farmall Model A, helping the neighbors move hay wagons and cutting a field with a John Deere No. 7 mower," Theissen recalls. "Over the years, I rebuilt the engine a couple times and became the owner when my dad, Jim, broke his thumb while cranking it."
Conversation piece
Years ago, when Theissen was skidding logs with the SC, the steering shift accidently got caught on a tree or fence post. It was bent about 20% out of shape. He never tried to correct the problem, and now that piece has become an interesting conversation item.
The SC, serial No. 510697, does a commendable job moving trailers. It can operate a two-bottom, 14-inch plow all day on half a tank of fuel at 3 to 4 mph and maintains a perfect draft on the plow once it's in the ground. He also likes the tractor's long stroke set to the engine, which provides excellent torque.
Besides being driven down the road at regular intervals, the SC goes to the Sussex Antique Power Association show, Edgar Rock River Thresheree and North Prairie Fall Fest. Theissen has traveled to many different plow days. The only maintenance required is changing the oil and adding new batteries.
"My sons enjoy puttering around with the tractors. This activity provides fun and camaraderie," he says. "We feel obligated to teach how Case was developed plus pass the history and work ethic of the machines along to the next generation. I want the boys to have ownership, so I recently gave the SC to Erik because he wants to keep it going.
"This is my favorite tractor because it's so user-friendly, always starts, is easy to operate, can turn on a dime and goes all day," he adds. "The SC is just 'Old Reliable' for all of us."
Persinger writes from Milwaukee. To have your favorite tractor featured, email or send in a photo of yourself with your tractor, along with a 300-word write-up about the tractor, to: [email protected] or Wisconsin Agriculturist, P.O. Box 236, Brandon, WI 53919.
Subscribe to receive top agriculture news
Be informed daily with these free e-newsletters
You May Also Like
---