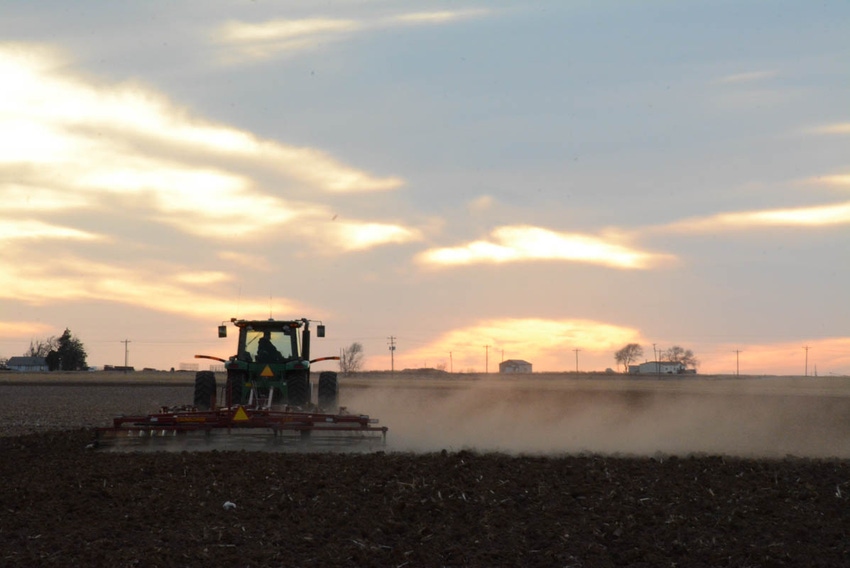 It's no secret the cost of farming and ranching has been going up while overall farm income has declined in recent years. Ask just about any agricultural producer in the U.S. and they will tell you unequivocally that times have been tough when it comes to making a profit, many proffering a break-even year as a small victory in a time when real profits have been hard to come by.
 That may explain why there was a great deal of anxious anticipation in hearing what USDA Chief Economist Robert Johansson had to say at the agency's 2018 Agricultural Economic and Outlook Foreign Trade Forum held in Arlington, Va., over the weekend (Feb. 22-25). Though the industry was hoping to hear a more positive message, they weren't surprised when Johansson told them in his opening speech that the road ahead for agriculture will not be an easy one to navigate.
Johansson was one of the first to address the forum on opening day when he shared his thoughts and insights into the industry's economy and a glimpse into what agriculture faces in 2018 and in the years to come.
The theme for this year's Outlook Forum was "The Roots of Prosperity," and opened with a keynote address from Agricultural Secretary Sonny Perdue, who also warned of tight markets and global competition in the years ahead. But he was more optimistic when he talked about benefits producers were handed in the administration's recent tax cuts and Jobs Act.
But Perdue admitted weather disasters and market challenges tested farmers in 2017, and told the crowd similar conditions are expected to repeat in the new crop year.
"Once again, these types of conditions are testing the resiliency of the American farmer," Perdue warned.
Shortly after Perdue addressed the forum, Johansson took the podium and spelled out the assessment in more detailed terms.
"The ag sector does continue to face economic stress. Debt is increasing as farm income continues to fall," said Johansson, who is also USDA's undersecretary for farm production and conservation.
He said the outlook for livestock and dairy is more encouraging than crop production, noting record meat and dairy production is expected to continue. Johansson noted that meat and poultry production will hit nearly 104 billion pounds in 2018, as production of beef, pork and broilers all increase. Milk production is projected to be at a record level in 2018. But he warned that expansion in meat production is expected to depress prices, a trend that has been ongoing since record highs in 2014.
Adding to the problems for farm income, Johansson noted it may take a number of years for farmers to see any notable improvement.
"Falling net farm income is largely the result of falling commodity prices [and] productivity is outpacing population growth and food demand," he reported. "Looking forward, net farm income is expected to remain flat over the next ten years, and when accounting for inflation, to fall in real terms."
He said the most recent outlook for 2018 indicates expectations are lower than last year's net farm income. USDA projects farm income will fall 6.7 percent in 2018, down to $59.5 billion. That's less than half of the farm income levels in 2013.
Johansson noted that while USDA projects parity this year for corn and soybeans, long-term trade expansion in soybeans will put pressure on corn acreage, but also other crop areas in the future.
He pointed out that real farm prices, when indexed for inflation, have fallen sharply since 1960. Increased production has been significant, 400 percent for corn production and nearly a thousand percent production increase for soybeans. That effectively has caused a 60 percent drop in the price of corn when figuring in inflation, and 47 percent for soybeans considering the inflation rate since 1960.
Johansson said higher production is only one of the reasons for falling prices. But not all news about agriculture's economic outlook is bad news.
Johansson says improved global economic growth offers some hope to the otherwise bleak outlook for the industry. Overall food demand is expected to grow with the number of middle-income households expected to rise, especially in China where middle-income households are expected to increase to 370 million by 2026, providing some relief to farmers in the years ahead.
Johansson said he also believes foreign markets have become increasingly important for the beef, pork and poultry sectors and will grow over time. Exports of pork are expected to rise by 18 percent over the next 10 years and by 14 percent for poultry.
The skeleton in the outlook closet that failed to garner much comment from the podium is what the future may hold for U.S. agricultural trade relations within the global marketplace. A failure in NAFTA negotiations or changes in trade relations with other partners could greatly affect U.S. agriculture's outlook, and domestic farm income, in the years ahead.
Subscribe to receive top agriculture news
Be informed daily with these free e-newsletters
You May Also Like
---