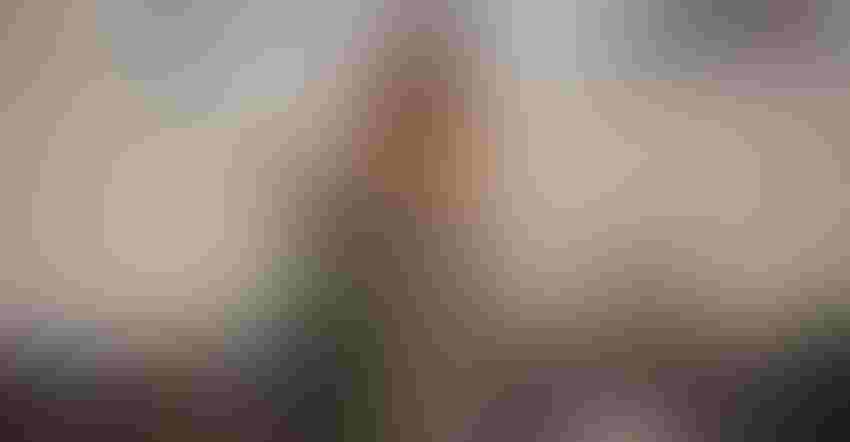 LOOKING AHEAD: Sue McCloskey, creative director of Fair Oaks Farms, apologized to Pennsylvania dairy farmers for the animal abuse incident at the farm last summer. One thing she regrets not doing after the incident: having enough mental health resources available for herself and her family.
Chris Torres
Judging by the title of her presentation at Pennsylvania Dairy Summit, "Fairlife: Sparking the Fire for Innovation," you would have thought that Sue McCloskey, creative director of Fair Oaks Farms in Indiana, would avoid talking about last summer's animal abuse incident at the farm.
Not so fast.
"I hope it never happens to anybody. I want to apologize to the dairy industry. You never think it can happen, but it did," she told a packed conference room at the Penn Stater Hotel and Conference Center.
If you don't remember, Fair Oaks Farms made headlines last summer after a video was released by Animal Recovery Mission showing workers kicking and stabbing cows, and even throwing calves into pens on the farm. It was horrific; I couldn't stomach watching more than a minute of it.
The video was a big deal, not just because of its content, but where it happened. Fair Oaks Farms, which milks more than 30,000 cows in Indiana, and the Fairlife milk brand are intertwined. After all, it was the McCloskeys who came up with the idea of ultra-filtered milk. They set up the partnership with Coca-Cola to brand Fairlife nationwide.
Fairlife has been a bright spot for fluid milk. According to Coca-Cola, the brand has seen double-digit sales growth each year since 2014 and sales of Fairlife and associated products surpassed $500 million in 2018. The company, which had a 42.5% stake in the Fairlife brand, bought the remaining stake in January.
When the video came out, it was damaging. Fairlife was pulled from many grocery-store shelves and the farm, described by some as the Disneyland of dairy, had its reputation tarnished.
Within 24 hours, Mike McCloskey released a video of his own, apologizing for the content, taking responsibility for what was going on and detailing the changes he planned to make as a result.
Sue said her husband got good responses from the video, especially from people outside the dairy industry. Responding quickly and taking responsibility, she said, was the right thing to do.
But the damage was already done. I asked Sue about any regrets and things she would have done differently in response to a similar incident.
"I would have more mental health resources for everyone involved. If it is happening to you, have the strength to reach out," she said.
Sue is not unlike any other farmer. This is her business and the cows are her lifeline. If the cows don't do well or aren't treated well, they'll produce less, and the bottom line will suffer.
Farmers always face an uphill battle with animal welfare activists. Groups such as Animal Recovery Mission have mastered the art of planting undercover people on farms and then tugging at peoples' emotions when they release a video.
When these videos come out, farms are put in the impossible position of having to defend themselves and their practices yet show the right amount of emotion to let people know they're being genuine. Most of the time farmers don't even get a chance to see the video before it comes out.
Social media best practices
Incidents like this are bound to happen again. Social media can become a lethal weapon for people posting these videos. I emailed Hannah Thompson-Weeman, vice president of communications for the Animal Agriculture Alliance, last year when I wrote a column about the Fair Oaks Farms incident. Here is what she had to say about social media:
"Our first piece of advice when dealing with any type of negative online content about agriculture is to avoid interacting with the negative post itself (sharing, commenting, reacting)," she said. "Every time you 'share' any post on Facebook, even if your intention is to debunk it or get perspectives from others, you are helping activist groups get eyes on their content. The more interactions a post gets, the more engaging it is and the more likely it is to show up in people's news feeds. Facebook doesn't know that you're only reacting to that post because it made you angry; a share is a share regardless.
"If you want to send a post to a Facebook friend or a group to get advice for potentially responding, screenshot it! You can pass along all of the same information without helping them get more eyes on their lies.
"I understand wanting to shed accurate light on whatever industry practice is being disparaged and absolutely encourage you to do so. If that is your goal, I suggest posting positive information on your own page without even mentioning whatever rumor activist groups are trying to spread. You don't need to give this 'undercover video' more airtime in order to post a video of you feeding your calves and explaining your commitment to calf care.
"If you feel you need to acknowledge why you're sharing a post, you can simply mention you're seeing a lot of misinformation about something and want to correct it."
So, for those of you reacting to Joaquin Phoenix's recent rant about dairy farming during the Academy Awards, try to keep it positive. Share the good news of farming and why it's important, don't just get mad and start calling the guy names.
He won an Oscar. It's not like he needs any more attention.
Subscribe to receive top agriculture news
Be informed daily with these free e-newsletters
You May Also Like
---