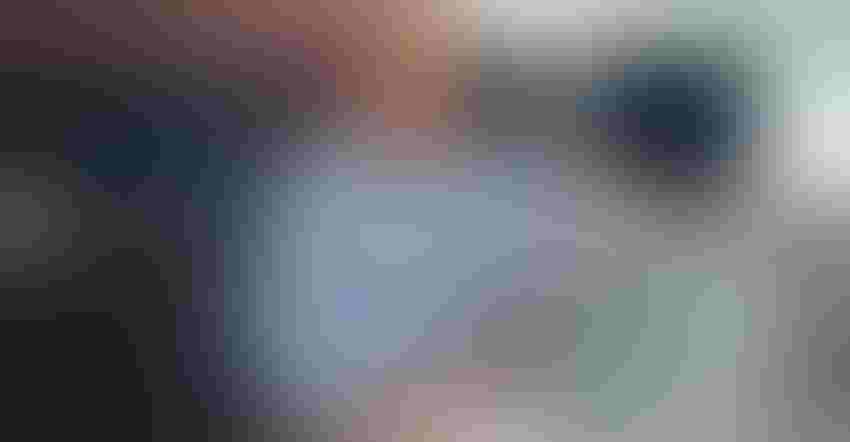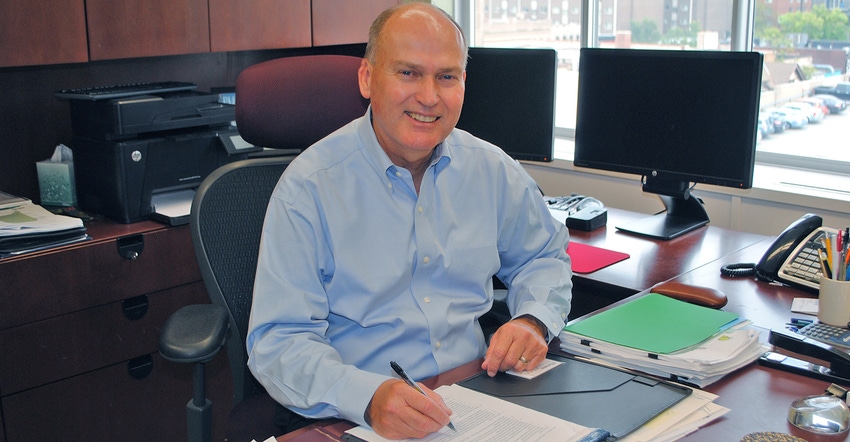 EXTENSION ADMINISTRATOR: In 2003, David Williams was hired to be the associate program director for Ag and Natural Resources Extension on the UW-Madison campus, a job he has held ever since.
David Williams, the No. 2 person in University of Wisconsin Agriculture and Natural Resources Extension, is retiring Nov. 2. Williams worked as the Waukesha County Extension ag agent from 1992 until 2003, when he became the associate program director for ANRE on the UW-Madison campus.
Typical farm kid
Williams grew up on a dairy farm just outside of Waukesha, Wis., with two older brothers and a younger sister. His oldest brother still operates the family farm today. Like a lot of farm kids, Williams wanted to be a veterinarian.
He received his bachelor's degree in animal science from UW-River Falls in 1975.
"I wanted to get into vet school, but this was in the mid-1970s, and Wisconsin didn't have a vet school until the mid-1980s," Williams explains. "There were only 17 spots for Wisconsin students at University of Minnesota's vet school, and I didn't get in."
So Williams got a master's degree in dairy science at UW-Madison and continued to apply to vet school. When he was an undergrad student at UW-River Falls, he had several friends who worked at Farm Credit.
"After I got my master's degree, I worked as a loan officer for Production Credit Association in the Lindstrom, Minn., office," Williams recalls. "I worked up there for a year."
But Williams says he was lured back to academia.
"I had a master's degree, and I stayed in touch with the UW-Madison Dairy Science Department. So I started working on my Ph.D. in dairy science. I did almost all of the course work, but I got burned out on the research."
In 1979, Williams went back to work for Production Credit Association in Monroe, Wis., in Green County.
"I was interested in the economics and business aspects of agriculture," he explains. "I worked for four years with PCA in Monroe as a loan officer."
While working in Monroe, Williams met his wife, Ann. She had a bachelor's degree from UW-Madison in meat and animal science, and worked as a feed company sales representative. Soon after, Williams took a job as a loan officer handling loan guarantees with PCA in Watertown servicing Jefferson County. The couple married in 1985.
"The Farm Credit experience was so important," Williams explains. "I worked with so many different kinds of farmers, including dairy, beef, grain, hog, turkey, mink and even big vegetable farms, too. I learned so much about balance sheets, cash flow and profit. It was a valuable experience for me."
A new challenge
In 1988, the Williamses decided to join the Peace Corps.
"We went to Nepal, located next to India," Williams explains. "I went as a milk marketing specialist working on a Peace Corps USAID project. I worked with the government of Nepal to improve their research capabilities. I studied the viability of small dairy farms with one to five cows."
He developed a research study report that informed the government of Nepal. The country was just learning about artificial insemination, and Williams also worked to improve AI management practices.
Williams and his wife stayed in Nepal for two years before returning to Waukesha.
"When we came back from Nepal, I was trying to get into commercial lending, not ag lending, but our country was in a recession, and there just weren't a lot of jobs," Williams says. He again found a job with Farm Credit Services in Janesville, where he worked as a loan officer.
Two years later, Williams met Waukesha County Extension ag agent Joe Stellato. "Joe said he was moving to Shawano County, and he suggested I apply for his job," Williams says.
In 1992, Williams took his first job in Extension, specializing in farm management for Waukesha and Jefferson counties. He worked in Waukesha County for 11 years. During that time, he received a master's degree in business administration in finance from UW-Whitewater.
In 2003, Williams was hired to be the associate program director for Ag and Natural Resources Extension on the UW-Madison campus, a job he will hold until retiring.
"I continued to live in Waukesha while I worked in Madison," says Williams, who will turn 65 in November. "I have a long commute."
Supportive role
During his tenure as a UW Extension administrator, Williams was responsible for the support and mentoring of the new Extension hires. He says he has especially enjoyed working with the young county Extension ag agents.
"I had to get creative with declining budgets and working with what we have," he notes.
Williams also oversaw two transitions at Wisconsin Farm Technology Days. "Over the years, we went from theme tents to the Progress Pavilion and the Applied Technology Center to the new education stations this year."
Williams also came up with an idea that heightened the value and importance of agriculture in Wisconsin, and spelled out to consumers and decision-makers specifically what the $88 billion impact agriculture has meant to each county in Wisconsin. This work was done with Extension state specialist Steve Deller. 
"I came up with county ag impact brochures," Williams says. "Each brochure highlighted agriculture's contribution to the economy in that county. Getting the brochures completed was a real team effort."
He also handled an ag service provider study that studied the impact Extension has on professionals who work with farmers, such as certified crop advisers, nutritionists and veterinarians.
"We looked at how Extension works to provide education to ag service providers," he explains. "When an ag service provider works with farmers, they are providing research and information to those farmers. The value of Extension trickles through ag service providers to farmers, too."
Williams has been the UW Extension representative on the Wisconsin Ag Education and Workforce Development Council since it started in 2009. During that time, he has helped support ag programming at Milwaukee Vincent High School.
He says education has been a valuable part of his career. "I've got degrees from three different UW schools," Williams says. "I have been very fortunate. I've had four careers — Farm Credit, the Peace Corps, county ag Extension and university administrator."
Future plans
Williams says, "I'll miss my job a lot, but it is time to slow down some."
He is hoping to find a part-time job and do some volunteer work, possibly with Habitat for Humanity, where he can help people, roll up his sleeves and do some work with his hands. Williams plans to continue raising awareness of the value of education and the many career opportunities there are in agriculture. He and his wife would also like to do some traveling.
Subscribe to receive top agriculture news
Be informed daily with these free e-newsletters
You May Also Like
---