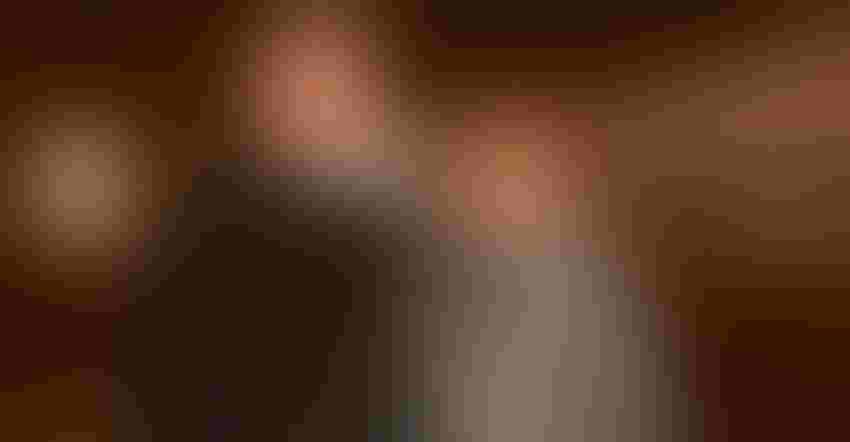 PARTNERSHIP: Since their marriage in 1980, Boyd and Sandy Schaufelberger have made dairy cows the focus of their farm.
Holstein cows were a mainstay at 2019 Master Farmer Boyd Schaufelberger's farm for as long as he can remember. The Greenville, Ill., farmer spent a lifetime improving the genetics of his herd, marking his progress with each new cow he registered with Holstein Association USA.
Boyd is the association's current president and operates Schaufine Farms Inc. with his wife, Sandy.
"We sold our herd in a dispersal sale in December 2016," Boyd says, adding that now he has more time to travel the world and represent U.S. Holstein farmers in international visits. Prior to the sale, they usually had 120 milking cows, as well as a similar number of young stock and 30 or so breeding bulls they kept to sell.
Boyd says his youngest daughter, Amy Hoover, had an interest in taking over the Greenville farm, but shortly after coming back in 2015, she met a dairy farmer. They married and now work in newer facilities with his family in Lebanon, Pa. 
"We couldn't be happier for her. She's doing what she loves," Boyd says. "When she left, she was very attached to our cows and what our breeding program was. That's why I think they have 11 of our animals out there now."
Boyd is called on regularly for Facetime doctor's visits with Hoover's cows, as well as visits with his grandchildren from their other daughter, Erin Davis. She and husband Kris live in Springfield, along with children Lydia, Daniel, Sarah and Isaiah.
Since the sale in '16, Boyd and Sandy have scaled down their operation and traveled to see family dozens of times.
"What we're doing now is custom-feeding about 100 Holstein bred heifers for another dairy farmer," Boyd says. He's also started an Angus herd of his own, and he maintains a few special Holsteins. Each of the Holsteins they house requires a personalized feed ration to ensure they're the best milk producers they can be by the time they leave, Boyd says.
"My goal is to transition to a few more beef animals, and probably in three or four years go away from feeding dairy heifers," he says. "I think the beef animals would probably be a little less intense. As I get a little older, I'm ready to slow down."
A full life
As a member of Prairie Farms Dairy, Boyd actively spoke up for producers when the co-op's board of directors was considering not taking milk from cows supplemented with bovine growth hormones.
"By gathering input from membership, the cooperative made a more informed decision that not only considered consumer preferences, but those of their dairy farm owners," says Corey Geiger, Hoard's Dairyman managing editor. "Boyd led that initiative."
In reflecting on the 2016 dispersal sale of Boyd's Holsteins, fellow dairy farmer Gordon Cook of Hadley, Mass., says the income it generated reflects positively on the herd's pedigree.
"Because of outstanding-quality cattle and a great deal of planning, it was one of the highest-averaging dispersal sales of the year in the entire country," Cook says.
By the time of the sale, the farm was producing a record amount of milk. This owes to Boyd selecting for genetics through artificial insemination. He says embryo transfer technology was a breakthrough for the farm. The sale's catalog confirms it was used well: 25% of the herd traced back to one cow he bought in 1972.
"My dad did a fantastic job of taking care of the cattle," Hoover says. "It wasn't until I worked for ABS Global, where I traveled to hundreds of farms during my time of employment there, that I realized my dad is truly an outstanding animal caretaker."
Hoover says her father never pushed her to farm, but she grew to love the business by watching him from an early age.
She says her mother is also an important part of Schaufine Farms.
"She pays bills, manages a household, is a great groundskeeper, plants prettier flowers than anyone I know, has mastered washing white show pants, delivers the best field lunches and dinners, makes sure Dad is always well-dressed at meetings, is an excellent grain cart driver, our biggest cheerleader and is truly the glue that holds it all together," Hoover says.
SUCCESS: Boyd Schaufelberger's 2016 herd dispersal brought the highest dollar-per-cow average of any herd dispersal in Illinois that year, according to the Illinois Holstein Association.
Staying grounded during transition
When Boyd Schaufelberger used to think about exiting the dairy business, he thought it would happen over the course of years. But the sale only took half a year to organize. They moved from a full stock of Holsteins to the current custom-feeding operation suddenly.
"It's happened a lot more quickly than I thought it would," he says, adding it hasn't been easy. "Emotionally, that was our identity. We knew what we were here for, and it's been a little bit of a challenge to really figure out, 'OK, this is really our mission now.' "
Boyd and Sandy say they put God and church first, then family, then farming and leadership roles. "We value our church very much," Sandy says. "It's been very important to us and our lives. Sometimes I wonder how people go through life not having that foundation. It's very important, because we've had tough times and that kind of holds you together — keeps you grounded."
MASTER AT A GLANCE
Boyd Schaufelberger
Wife: Sandy
Children: Amy Hoover, Erin Davis
County: Bond
Operation: 1,000 acres of corn, soybeans, alfalfa hay and pasture; custom-feeding dairy heifers; Angus beef herd
Leadership: Holstein Association USA president, vice president and board member; First Christian Church Board chairman; Prairie State Select-Sires Board president; Select-Sires Holstein Sire Advisory Committee; Illinois State Fair Advisory Board; Illinois Foundation FFA board of trustees chairman; Bond County Extension Advisory Board; Bond County DHIA Board; Illinois State DHIA Board president; Mid-America Dairymen Young Cooperator Steering Committee chairman; Illinois Holstein Association Board executive committee; Dairy Lab Services Board; Bond County Soil and Water Conservation District Board; Bond County Fair Junior Dairy co-superintendent; Illinois FFA state president; Greenville FFA Alumni secretary; Gateway Holstein Club Board president; Prairie Farms Dairy Animal Welfare Committee chairman
Nominator: Amy Hoover, daughter
Subscribe to receive top agriculture news
Be informed daily with these free e-newsletters
You May Also Like
---