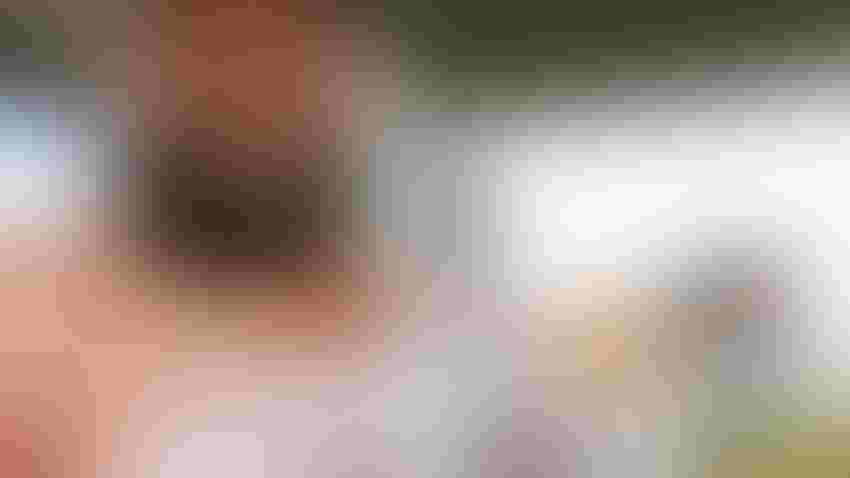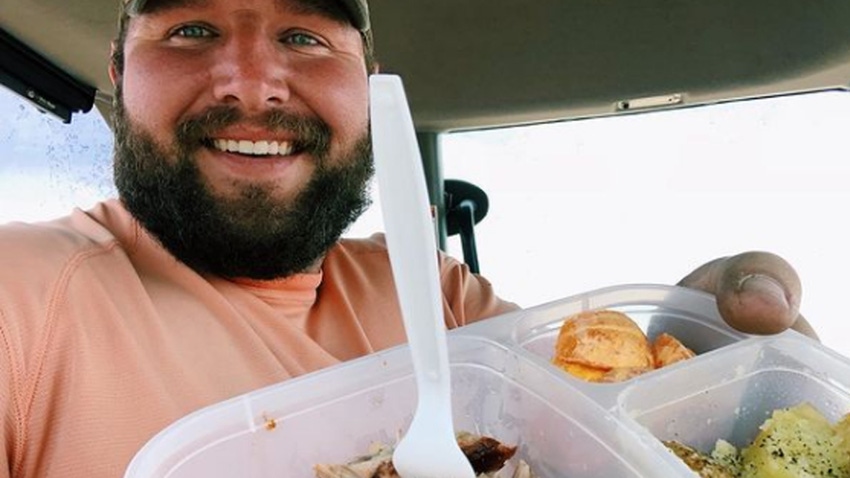 CAB FOOD: Hannah Guenther's husband, Adam, shows off his healthy harvest "combine cab-friendly" meal. Long hours inside the tractor, combine or truck cab during harvest does not equate to healthy eating habits, especially when producers are stressed and lacking sleep. However, there are a few quick tips that can keep your body working through harvest, without giving up on healthy eating habits.
Hannah Guenther
You want to get harvest done. Bad weather is on the way. The last thing you are thinking about is what to eat. The very last thing you are thinking about is whether what you eat in the combine, truck or tractor cab is healthy. You don't care.
Whatever is easy to grab at home before you head out to the field, or the easiest thing in the front row at the local convenience store, is often the food we consume inside the combine cab. You just need food to fuel your body so you can keep going.
If that scenario sounds about right, Hannah Guenther — Nebraska Extension food, nutrition and health educator — has news for you. It doesn't have to be that way. There are quick and easy food options for busy farm families during harvest, planting, calving and other busy times in between.
"During those busy seasons on the farm, it is easy to put healthy food choices on the back burner," Guenther said during a recent University of Nebraska Women in Agriculture and Center for Ag Profitability webinar.
Guenther, whose husband Adam is a farmer, noticed how his eating habits changed during planting and harvest. "Stress comes with busy seasons," she said. "When Adam was dedicating a little time and energy to eat, his meals began to change during those seasons. He wanted quick, easy, snack food and one-handed dining options. I kept asking myself why my husband, who is dedicated to feeding world, is doing so to the detriment of his own health."
Reasons why
Quite simply, there is a lack of time during crunch time in the field, Guenther said. "During busy seasons, we spend more time away from home, and we don't have time to go to the grocery store or for meal preparation," she said. "Besides, in rural areas, our location is often 30 minutes or more from the nearest grocery store or restaurant, so we stick with gas station or convenience store options."
Finally, stressful times cause us to crave high-fat, high-salt food items. "Our eating patterns change when we feel stress," she said.
Why does it matter what we eat? "Mental health is one reason," Guenther said. "Studies show that 53% of farmers, with a mean age of 28.9 years, reach the criteria for major depressive disorder, with 71% reaching the criteria for general anxiety disorder."
Eating healthy foods does not instantly improve mental health, but there is a strong correlation, Guenther said, between eating healthy and good mental health. "It is a proactive, preventive way to feel better."
The other reason for healthy eating is to avoid chronic diseases such as arthritis, vision loss, diabetes, cancer and heart disease. "Lifestyle changes can really make a difference," Guenther said. "And it isn't all or nothing. You can make small changes and see long-term impact on chronic disease prevention. A 5% to 10% weight loss for instance changes inflammation, insulin resistance and hormones, reduces the instances of heart disease and type 2 diabetes.
"It doesn't have to be a complete overhaul of your diet. It doesn't have to be just salad and steamed broccoli. What will work for some people won't work for everyone."
Guenther said that a prime example is in her own household. Brown rice is a good, healthy option, but it isn't Guenther's favorite thing, so she chooses to eat white rice. But she makes up for that by using whole grain tortillas and whole grain bread.
"Think through what would work for your family, using the USDA My Plate, with the five food groups, as a way to adopt healthy eating patterns," she said.
Healthy cab food ideas
Guenther noted that farmers had sent their own versions of healthy food choices to her. A few examples from those farmers and from her own experiences with her husband might include the following, packaged in a plastic container or lunch container:
Cheeseburger meal. A cheeseburger made with a lean patty on a whole wheat bun with added lettuce and tomato; easy field fruit such as cut watermelon or pineapple; a portion of roasted broccoli and cauliflower; and a cookie. "Think of easy ways like this that you can add a vegetable or fruit into the meal," Guenther said.
Leftover steak meal. Leftover steak, berries and a colorful side salad.
Fried rice meal. Fried rice, vegetables and meat, and instead of dessert, fresh fruit.
Adam's meals. Guenther noted that her husband is a choosy eater, but that hasn't deterred her from finding healthy meal options that work and that he likes. One of her husband's field meals included pork rib meat pulled off the bones; potatoes that were prepared in the air fryer or baked potatoes from the oven; and peeled clementines. Another one of Adam's field meals included leftover steak; baked potato, canned beans and an orange.
Things don't change overnight, and they don't have to change wholesale. Small shifts, as Guenther said, can make a big difference in how you feel during the stressful and busy harvest season.
For more tips on eating healthy during this busy season, email Guenther at [email protected].
Subscribe to receive top agriculture news
Be informed daily with these free e-newsletters
You May Also Like
---