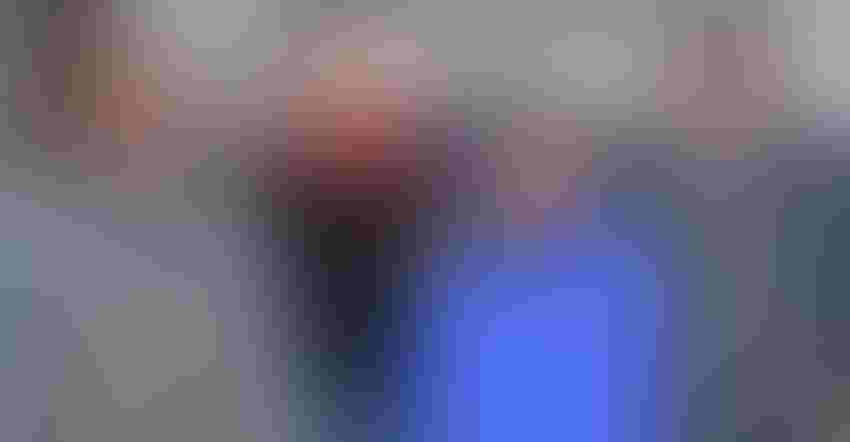 3 GENERATIONS: Iowa Master Farmer Joe Rash (center) has been taking care of family farmland for almost 70 years. At 93, he's still working at it, with grandson John (left), son Jerry (right) and daughter-in-law Carol.
As Hardin County farmer Joe Rash added small parcels of land to the family operation over the years, "some was pretty good, and some was pretty rough." 
"But I never bought land that didn't need at least some sort of improvement," he says.
Continued improvement on the farm and in his community  has been a consistent goal for the 2019 Iowa Master Farmer, as he's worked to put the land and his community service to best use. 
"One farm we bought was abused," Joe says. "I always said if I could buy that land, I'd put it to pasture instead of cropland. I finally got the chance, and now it's in grass like it needs to be."
Joe — with son Jerry and his wife, Carol, and grandson John and his wife, Tammy — farms along the Iowa River 2 miles east of Union. About 450 acres of rolling pastureland along with the tillable land are included in the family operation. 
"Taking care of that land is the biggest thing," Joe says. "If you take care of the land, it will take care of you."
Included in the Rashes' conservation plan are terraces and ponds, with no fall tillage. Instead, the Rashes graze cornstalks with an Angus cow herd. They use high-tensile wire to fence cattle away from streams, and regularly add rock riprap to streambanks to prevent them from eroding. The pastureland is divided into seven pastures to guard against overgrazing.
Planned grazing
The family entered into an Environmental Quality Incen-tives Program contract with the USDA Natural Resources Con-servation Service to carry out a grazing system for their 200-head purebred Angus cow herd. 
They've laid underground pipe to deliver clean drinking water to separate pastures, fenced off streams, added two sun shades in pastures with no trees, and built two hoop buildings to feed out about 200 heifers and steers a year. A third hoop building was built for hay storage. 
A slow-release fertilizer, applied early to every acre yearly, boosts early growth of the bromegrass, clover, orchardgrass and bluegrass pastures.

CATTLE AND CONSERVATION: John Rash feeds cattle in hoop buildings that were part of an EQIP contract, which also resulted in improved grazing and better water for cows on pastures across the farm.
The Rashes say they are particularly proud of how their pastures look. A systematic herbicide program may not have made their pastures weed-free, but it's close. Their motto is, "If the cows can't eat it, don't leave it." 
When the family won a Good Neighbor Award from the Iowa Department of Agriculture and Land Stewardship and the Iowa Ag Radio Network in 2006, their pastures were described as "a thing of beauty, free of weeds, well-fertilized and fenced." 
There are few thistles, and they've eliminated multiflora rose on their land.
Longtime community leader
While he drives to the farm nearly every day, Joe now lives in Union, a small town where he's put in countless hours of community service over the years. It was a short drive for Joe and his late wife, Pat, to make to help with community activities. 
Joe was a member of the Union-Whitten School Board and has been a member of the Union Community Church for more than 60 years, serving on the church council and board of trustees for several terms.
Both Joe and Pat served as 4-H leaders for many years and were named to the Hardin County 4-H Hall of Fame. All their children and grandchildren were active in 4-H, too. Joe also served on the Hardin County fair board for many years. His service was recognized with such awards as the Hardin County Fair Person of the Year and Grand Marshall in the fair parade.
Joe was a founding member of the Heart of Iowa Phone Coop-erative, was a Prairieland Co-op board member, and served on the Hardin County Farm Service Agency (then the Agricultural Stabilization and Conservation Service) in the 1950s and 1960s. 
He was a member of the American Legion, Hardin County Cattlemen's Association, County Pork Producers, County Corn Growers, County Farm Bureau and Tallcorn Angus Association. 
He won or placed in the county corn grower's contest several times over the years and was named a Master Corn Producer in 1960 and 1964. He was also named a Master Pork Producer in 1978. 
Joe's grown children have been involved in agriculture. Jerry farms with Joe; daughter Nancy is retired after working many years with ISU Extension; and daughter Peggy works with the Natural Resources Conservation Service. Joe has four grandchildren and three great-grandchildren.
 
Subscribe to receive top agriculture news
Be informed daily with these free e-newsletters
You May Also Like
---