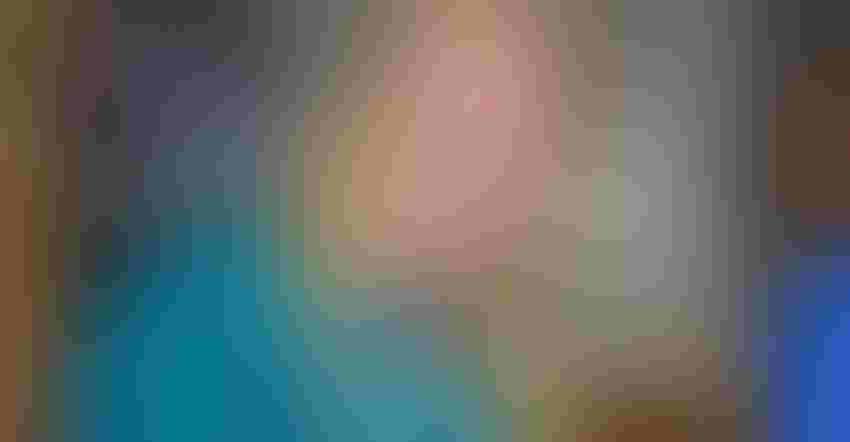 MEMBERS BECOME LEADERS: I watched Emily Dougherty, pictured in 2016 serving as a state FFA officer at the Indiana State Fair, grow from a young FFA member into a leader.
In a few days, I'll be reading over a stack of essays written by FFA members at a local district judging contest. Occasionally, you find one that rises to the top like thick cream, such as one written several years ago.
The author ended up winning the state title. While attending the Women in Ag Conference a couple of years ago, I heard her speak at a breakout session. Her oratory skills were just as impressive as her writing skills. Those blue jackets and the young people who wear them — how they can succeed!
When my oldest sister was in high school, girls weren't allowed to be in FFA. She was, however, voted chapter sweetheart. That title bought her the opportunity to take notes at meetings. I'm not sure how she felt about being secretary, but that's the way it was back then.
More opportunity
Several years later, I was the chapter sweetheart. By then, you were given a white jacket that resembled the standard blue ones. It was pretty, with gold embroidery, but nothing compared to what the dark blue corduroy official dress jacket meant to me. I was also an FFA member.
I was giddy when I discovered parliamentary procedure with all its gloriously orderly protocol. Getting to spend even more time in barns studying and judging livestock was just a ridiculously wonderful extracurricular activity.
I practiced, studied, set goals and worked hard. I was the first female to win a district dairy judging contest. It was nothing that spectacular compared to the grand scheme of life, but to me, it felt like I had some small part in the world of agriculture.
My involvement in FFA did more than that, though. I didn't realize it at the time, but I was honing skills that would be an integral part of my profession and career.
Young leader
At that same women's conference, I also sat and listened to Emily Dougherty, who was at the time a state FFA officer. Emily is a distant relative. I was proud of her and for her. I thought about the progression from my sister, whose only participation in FFA was taking notes, to how the doors had swung wide open by the time I came along. They were wide open for Emily, too. She set a high goal and attained it.
I'll be meeting the contest participants and scrutinizing their essays very soon now, having no idea if I'll be reading something from a future great leader. One thing I am certain of, though: The building will be swarming with dark blue jackets that represent perseverance, confidence, character building, dreams and preparation for life. I am so grateful to be a proud alum of the Future Farmers of America.
McClain writes from Greenwood, Ind. Editor's note: When the author was an FFA member at Whiteland Community High School in the 1980s, the organization's official name was the Future Farmers of America. The name was changed to the National FFA Organization in 1988 to reflect a scope beyond production agriculture.
Subscribe to receive top agriculture news
Be informed daily with these free e-newsletters
You May Also Like
---