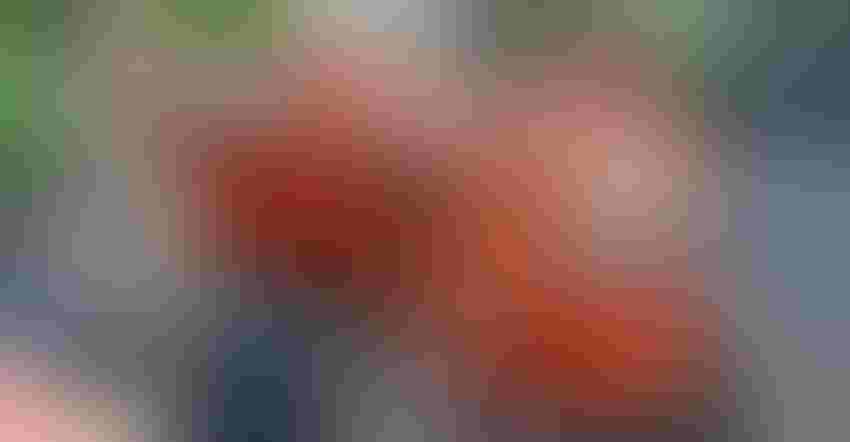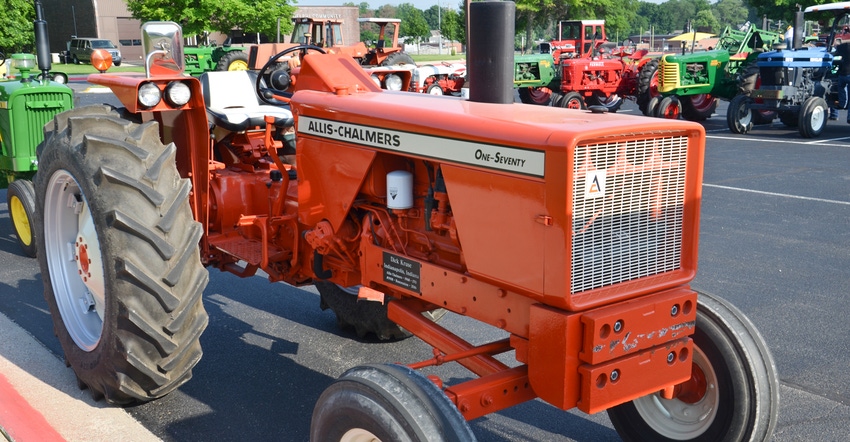 BETTER DAY: These tractors are lined up for the Delphi FFA Tractor Drive, held in June, not February. That avoids snow, cold days and fumes inside the boys locker room!
Driving a tractor to school during National FFA Week is a long-standing tradition. Because George Washington was born in February, and FFA Week coincides with his birthday, that makes for some interesting drives.
Like the year our son, Daniel, was living for FFA Tractor Day, so he could drive our Massey-Harris 44, still in working clothes. The lights didn't work, so he rigged up a battery and lights on his own.
At 4:45 a.m. that day, I awoke to this gut-wrenching sound: Daniel was vomiting. No tractor drive today, I thought.
Guess again. "I'll be fine, Dad. I'm going!" he said.
Sure enough, by 6:30 a.m. he was all bundled up for a cold ride, and I was bundled up just to follow him in the truck. He made it, makeshift lights and all.
A new tale
A student asked me if she could borrow my Massey 44, now restored, for this year's FFA Tractor Day. Sure, why not — even though my kids are out of FFA. Her brother, also a former FFA member and knowing his sister's driving skills, suggested we take the tractor to the school the night before. Then all she would have to do was drive it around the parking lot. Besides, they were predicting a snowy morning. I agreed. He started driving the tractor over about 5:30 p.m., with me following.
Here's the "rest of the story," Paul Harvey-style. Another student brought his papa's Allis-Chalmers 190 XT diesel, still in working clothes, over too and parked it in the shop. The boys basketball teams were playing that night, starting at 6 p.m.
As I was following my Massey down the road, my phone rang. "Mr. Bechman, you can't bring that tractor in the shop. The Allis filled the locker room with smoke, and the coach is hopping mad, and …"  It was an FFA member, still at school preparing for the next day.
"Slow down," I said. "What are you talking about? I know that Allis tractor — it doesn't smoke; it might leak a little oil, maybe a little diesel fuel, but it doesn't smoke."
An explanation
I was right, but the rattled young FFA member was right too — sort of. The locker room wasn't filled with smoke, but it was filled with fumes. And the basketball coach wasn't hopping mad, but he was irritated. He wanted to make sure whatever was going on didn't get worse.
The locker room is on the other side of the shop wall. Although there's ventilation in the shop, somehow the fumes made it into the locker room. By the time I arrived — and yes, we put the Massey in the shop behind the Allis — there was only a faint diesel odor in the shop. When I opened the large tool room door, however, it still smelled strongly of fumes. I could imagine the locker room.
I saw the coach the next day at an appreciation lunch for teachers. They won the game, so he was in a good mood. I apologized, although I assured him no one could have anticipated what had happened.
"That's OK," he said. "When I went to the shop to check, there were more fumes in the locker room than in the shop."
Delphi FFA has the right idea. Hold tractor drives in June. You might have to dodge showers, but at least it's warm.
Subscribe to receive top agriculture news
Be informed daily with these free e-newsletters
You May Also Like
---