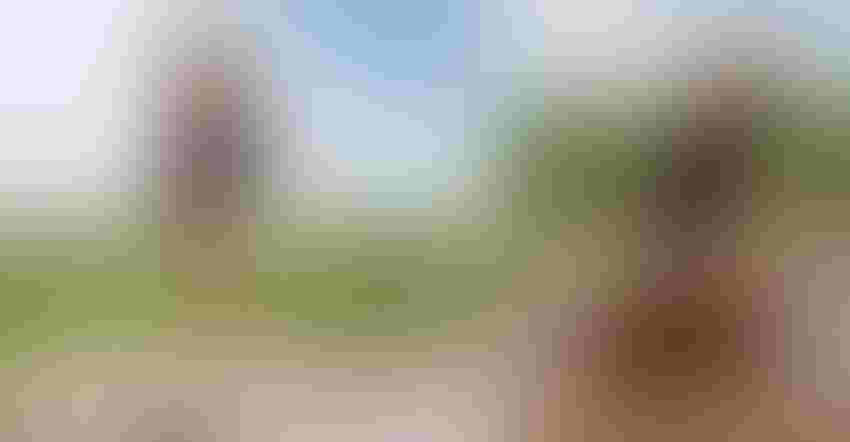 A little fun while checking nozzles.
Happy New Year! It's hard to believe another year has come and gone — another harvest, another Christmas, and my first full year at Farm Press.
When I Iook back on my year, I've conducted countless interviews, probably taken over 1,000 photos (I'm a little photo crazy), and was more aware of what was happening on our own farm than I've been in our 21 years of marriage.
Maybe it was because I was taking photos from the time my farmer planted his first seed in the ground until the corn was cut for silage and the cotton stripped. Or maybe it was conversations my farmer and I had — talks he probably never imagined he'd have with this city girl, as I continue to learn.
My favorite moments with him this past year were checking sprinklers Saturday and Sunday mornings. In the past, I might occasionally jump in the pickup and go. But this year, it was most weekends. I would grab my first of many cups of coffee and my camera and we'd start at the East Place, all the while watching the sunrise, flushing wildlife as we drove the turnrows, and having uninterrupted conversations. Sometimes silence.
Another favorite was working with our kids on the farm, whether it was servicing or renozzling sprinklers or running the sprinkler panel while my farmer and our son dug out a stuck sprinkler. The morning might begin with grumbling, but by the time we got to the field, we were all friends again. There's something about being in your daddy's field, your toes sinking in the mud while you check nozzles, void of the distraction of electronics, that creates space for conversations and life.
I'm not sure my kids would describe our time together as "special," but they will someday, right? But what I can tell you is that we were all more invested in the 2018 crop than we've ever been — something I think my farmer would tell you meant a lot to him and hopefully gave the kids perspective and a glimpse into the countless decisions our farmer makes and the equipment and time it takes to produce our nation's food and fiber.
I attended countless conferences, hearing guest speakers talk about the farm economy and the 2019 outlook — topics that were not only difficult to hear but even harder to write
about at times because they hit so close to home. I don't know what 2019 will hold, but what I do know is that God is faithful. And just like we've trusted him for the last 21 years,
we'll trust him for the days ahead.
In the meantime, I'll continue to try to grow in my understanding of, and write about, farming and its complexities. And much to my kids' dismay, I'll be on the lookout for 
opportunities to get mud between our toes in the new year.
Subscribe to receive top agriculture news
Be informed daily with these free e-newsletters
You May Also Like
---