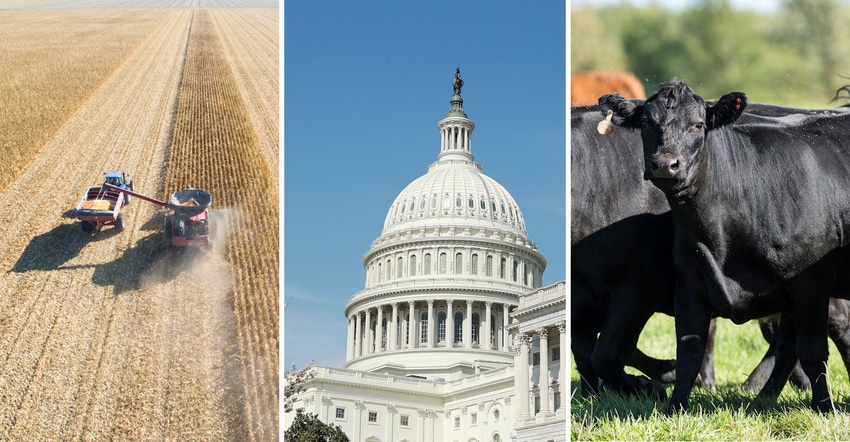 Did March Madness distract you from ag news this week? No matter what shape your bracket is in, we've got you covered. Here are some highlights to catch you up.
Survey reaffirms higher soybean acreage
A farmer survey conducted by Farm Futures ahead of next week's Prospective Plantings report from USDA suggests recent commodity price swings have not shifted 2022 acreage decisions. The March 2022 Farm Futures survey estimates 90.4 million acres of corn and 92.2 million acres of soybeans will be planted in 2022. If realized, it will be only the third time in history soybean acreage has surpassed that of corn. – Farm Futures
Ukraine export hubs damaged
Ukraine's ports have been closed since the war began. Now some major grain-export facilities and steel plants have been severely hit by shelling, including Bunge Ltd. in Mykolayiv on the Black Sea. Ukraine is seeking to open new routes by rail for selling goods such as crops, but volumes could be small. – Bloomberg
Successful National Ag Day in the books
National Ag Day, held March 22, recognized and celebrated the abundance provided by agriculture. The National Mall in Washington, D.C. was filled with several pieces of modern farm equipment during a two-day event that drew spectators, policy makers and more. Secretary of Agriculture Tom Vilsack spoke at the celebration to highlight positives in agriculture and the 160th anniversary of USDA. As part of the celebration, Farm Progress staff shared what we love best about agriculture! – Farm Progress
Deere to sell servicing rights to farmers
Starting in May, farmers and independent repair shops will be able to buy John Deere's Customer Service Advisor diagnostic tool. This will end the requirement for Deere-certified technicians to complete the work on equipment. Starting at $1,200, the software will allow customers to clear and refresh codes, take diagnostic readings and perform limited calibrations. – Des Moines Register
New nitrogen emissions study
Can you cut nitrogen use, maintain yield and benefit from fewer greenhouse gases? Sound Agriculture is partnering with Shell and Trimble on a new pilot program focused on measuring the impact of new approaches to providing nitrogen for crops and how they affect nitrous oxide emissions. Participating in the study could also offer farmers a new source of income. – Farm Progress
Farm groups push for planting conservation acres
The American Farm Bureau, National Grain and Feed Association and others are urging USDA to allow farmers to plant on acres set aside for conservation as supply concerns continue. The letter from ag groups echoes the earlier requests by Senator John Boozman and ag economists to open Conservation Reserve Program acres without penalty. Meanwhile, the European Union is distributing $550 million to help farmers grow crops on fallow land. – Reuters
Fires scorch Texas farmland
Hundreds of fires have blazed across Texas this week, causing havoc for cities, farmland and livestock. Thousands of acres of farmland have been destroyed, and ranchers are left without feed for their cattle. One ranch family is dedicated to coordinating hay donations from across the country to help their local community. During the chaos, volunteer cowboys worked to move cattle and horses away from the wildfires.
And just for fun…
Famous 6666 Ranch from Yellowstone series has new owner
Featured in the popular "Yellowstone" series, 6666 Ranch based in West Texas was sold through United Country Real Estate. The final sale price was not disclosed, but the "Four Sixes Ranch" was originally listed for $341 million.
According to the real estate listing, the original cattleman back in 187 – Samuel "Burk" Burnett – named the land after the first brand he saw on his new cattle. But an often-repeated Texas legend is that Burnett won the ranch in a poker game with a winning hand of four sixes. – NBC DFW
Subscribe to receive top agriculture news
Be informed daily with these free e-newsletters
You May Also Like
---