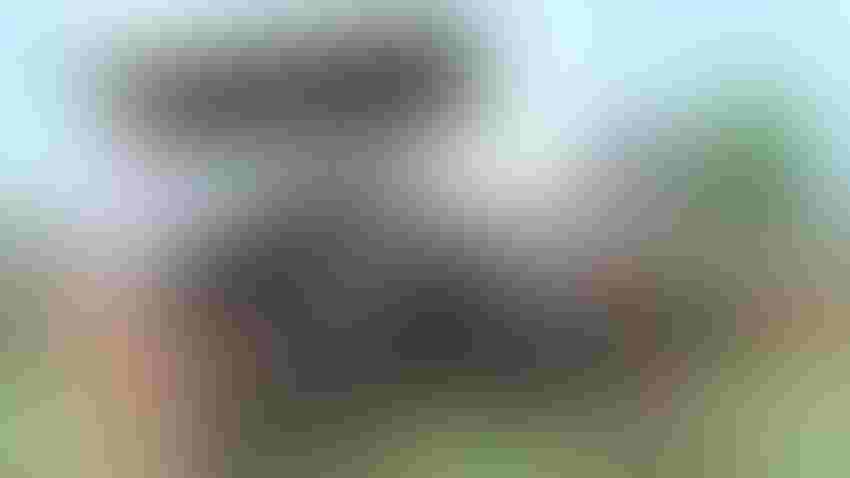 SHOW READY: Mike Peters takes his Rumely OilPull tractor to the Wisconsin Steam Antique Club show in Chilton, Antique Power Show in Sussex and Rumely Acres in Cleveland, Wis.
HARLEN PERSINGER
Mike Peters of Menomonie Falls, Wis., always had thoughts of owning a Rumely OilPull tractor. His goal was realized when he saw one for sale on Craig's List, priced at $10,000.
"It seemed like a perfect fit, so my dad, Chuck, and I drove to Boscobel, Wis., with a bank cashier's check," he says. "Two days later, we hauled a 1928 model back to my place."
Peters confirms the machine was owned by a family named Wetter, and they used it to make sharp points on cedar fence posts. Although the OilPull had been sheltered under a roof, the motor was rusted and not working.
Restoration process
Peters began the restoration process by removing two extra back wheels. To loosen the engine, PB Blaster penetrating oil was sprayed around the spark plug and the crank on the steering wheel. Peters added new piston rings and reseated the valves.
After messing with it for six months, he hooked a belt from a John Deere H tractor to the OilPull to start the engine. The garage completely filled with smoke due to all the crusted oil on the engine. It became a trial-and-error process to start the tractor, which involved squirting three pumps of gas and setting the throttle on different notches. Peters spent about $2,000 to repair the machine.
Advance-Rumely Co. in LaPorte, Ind., built 3,952 units of this standard-tread tractor between 1910 and 1930. Features include a Rumely 6.1-liter, two-cyclinder, kerosene, liquid-cooled, horizontal 371.5-cubic-inch engine; 4-by-2-wheel-drive chassis; three-speed gas transmission; 25 hp on the drawbar; 35 hp on the belt; 18.25-gallon-capacity fuel tank; 15-foot turning radius; open operator station and a weight of 6,630 pounds. These heavy tractors were powered by an external-combustion, magneto-fired engine designed to burn all kerosene grades of any load.
A popular model, the Type F, had a single cylinder of 10-inch bore and 12-inch stroke. It was started by the operator stepping out of the cab via the larger rear wheel, climbing onto the flywheel and using his body weight to get it turning, then quickly rushing back to the cab to adjust the choke and try to keep the engine running.
Peters grew up near Hilbert, Wis., and worked on area farms helping pick up stones, rake hay and chop silage. His father had a 1941 John Deere H and collected and restored tractors. This background led to a professional career as a parts and procurement director of hardware for the Repete Corp. in Sussex, Wis. Besides the H, he also has a 1950 Ferguson T0-20 and a 1904 Huber steam engine.
Today, the tractor goes to the Wisconsin Steam Antique Club show in Chilton, Antique Power Show in Sussex and Rumely Acres in Cleveland, Wis. It runs the silo filler, threshing machine, cross-cut saw and plows.
"That OilPull is my favorite tractor because I took it completely apart and then put all the components and pieces back together," Peters says. "When I brought that rig home, it was basically dead. However, the transformation is truly remarkable, and now it just runs like a top."
Persinger writes from Milwaukee. To have your favorite tractor featured, email or send in a photo of yourself with your tractor, along with a 300-word write-up about the tractor, to: [email protected] or Wisconsin Agriculturist, P.O. Box 236, Brandon, WI 53919.
Subscribe to receive top agriculture news
Be informed daily with these free e-newsletters
You May Also Like
---