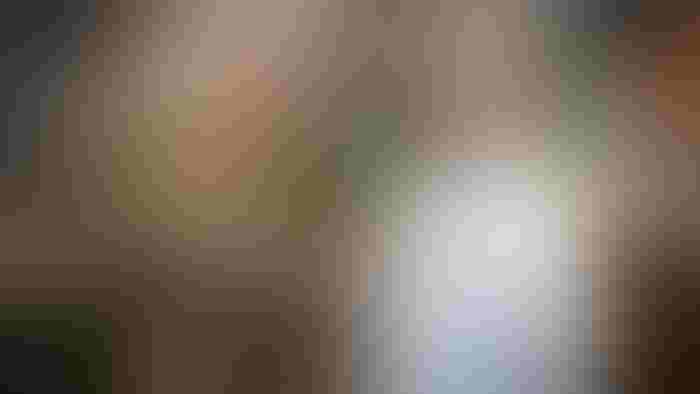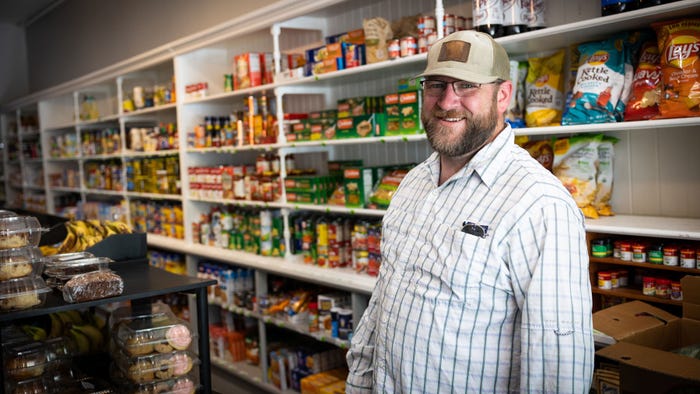 For decades, the residents of Winchester, Ill., relied on the local IGA for groceries. When that store closed in 2015, followed by the Kroger stores in White Hall and Carrolton, the community lost all local grocery options. The vacancies meant the nearest grocery stores were in Jacksonville, 18 miles away, or Jerseyville, 38 miles away.
What remained were Dollar Generals and gas stations. Declining populations, economic downturn and shuttered grocers meant Winchester was officially a food desert.
"That's not fresh produce," says Thomas Coonrod, manager at Great Scott Community Market in Winchester. "It's processed. When you're in a food desert, all you have is convenience items."
The USDA defines a food desert as "a tract with at least 500 people, or 33% of the population, living more than 1 mile in urban areas or 10 miles in rural areas from the nearest supermarket, supercenter or large grocery store." According to this definition, more than 3 million Illinoisans reside in a food desert.
The Winchester community banded together to consider solutions. Residents contacted Sean Park, program manager with the Illinois Institute of Rural Affairs (IIRA) at Western Illinois University. Park specializes in helping Illinois communities considered food deserts open their own grocery stores, often using the cooperative model.
In Park's experience, the damage from losing a grocery store impacts a community in more ways than one. The residents' physical health suffers without access to nutritious options, the area's economic well-being deteriorates from lost jobs, and often, residents' mental health declines with one less community gathering place.
"The grocery store is what we call an anchor institution," Park says. "It helps give a town its identity. It's a place where people meet each other, and once you take that away, it becomes kind of a drive-through town. The social capital and the mental well-being are just as important to residents in these situations."
Cooperative effort
Park expected a handful of Winchester residents to attend his cooperative grocery presentation but was instead greeted by 80 eager faces looking to make a difference in their community.
"For a town of 1,700 people, this was a huge turnout," Park says. "I thought — OK, the social capital is here. These folks can make this work."
That surprise turnout revealed a community desperate for better choices than what they had at hand: forced to travel longer distances or settle for low-price processed food from dollar stores and gas stations.
It became clear that a cooperative grocery store would be the best fit for Winchester. In just three months, the community raised over $80,000 for the project through store memberships and shares in the co-op, requiring no commercial loans. Great Scott Community Market was born.
"A majority of this community had a hand in bringing everything together," says Coonrod, explaining that the labor and materials for the store's remodel were primarily donated by Winchester residents looking to help. "Even to the floors that we're sitting on were installed for free."
A board of directors was selected comprised of farmers, business owners, teachers, foodies, community leaders and parents — each bringing their own unique skill set and backgrounds to the table.
"The neat thing about a co-op is you've got so many different owners," Coonrod explains. "You don't have the same profit margins as a normal grocery store, and you have a lot of minds to bounce ideas off of — that's huge."
Great Scott Community Market carries fresh and shelf-stable food choices plus daily lunch specials, all focused on providing nutritious, locally grown options to Winchester residents. Lashmett's Meat Market is connected to Great Scott, selling beef raised by the Lashmett family of Winchester, with locally raised pork options also available for purchase. Much of the fresh produce at Great Scott is either donated from local gardens or provided by Mueller Family Farms in neighboring Bluffs, Ill.
Locally grown legacy
Mueller Family Farms was founded in the 1990s by Scott County farmers Lari and Linda Mueller, when Lari developed a hobby of growing lettuce to sell at local farmers markets. Since then, Lari has died, and his grandson Michael Meyer has taken Mueller Family Farms to a full-fledged produce farm. Meyer spent his summers helping his grandfather and learning about his appreciation for raising safe, sustainable produce in the hills of Scott County.
"Lari would be so proud of Michael," Linda says. "He's carried on Lari's legacy of growing lettuce, loving the farm, tending to the soil and just being out in nature."
The Muellers use greenhouses, high tunnels and 13 acres of land previously grazed by livestock to raise fruit, vegetables, herbs and cut flowers. Although as a tribute to Lari, lettuce is still the family's primary cash crop.
"Ninety-percent of the lettuce at big-box stores comes from Yuma Valley, Ariz., or Salinas Valley, Calif.," Meyer explains. "If that small area has flood, disease or transportation issues, then the food supply chain suffers. If you can buy produce for the same price from your farmer neighbor, why not buy local?"
Mueller Family Farms sells produce at Great Scott Community Market, farmers markets and restaurants all across central Illinois. Most recently, the farm has become a Community Supported Agriculture partner, committing to provide 17 weeks of fresh produce to 14 area families.
"Our mission is to provide people with healthy food options that are well cared for," Meyer says. "It's amazing how happy our customers are knowing produce comes straight from us. They feel safe taking it to their families."
Statewide funding and support
Illinois Lt. Gov. Juliana Stratton says that helping rural communities not only survive but also thrive has been a focus of hers as chair of the Governor's Rural Affairs Council.
"There are people who think food insecurity doesn't impact rural communities," Stratton says. "There's the misconception that all agricultural communities should have an abundance of food. Agriculture is our state's No. 1 industry, but food insecurity continues to be a challenge in both urban and rural communities."
Stratton has initiated an eight-month tour titled "Ag Connects Us All" to listen to people from across the state to better understand what tools communities need to overcome food insecurity.
"We can address some of these challenges by tapping into what I call the wisdom in the room," Stratton says. "There's wisdom from those who have long histories in these communities and bring so much to the rich tapestry that is the state of Illinois."
Stratton says food access can act as a bridge between rural and urban communities. And that local growers and producers are the key to addressing food insecurity.
"The best way forward is to bring everyone together and say, how do we make sure that there's greater advocacy, greater awareness and more resources being put toward these communities who are dealing with this exact same issue?" Stratton says.
The Illinois fiscal-year '24 budget, proposed by Gov. J.B. Pritzker and passed by the General Assembly, has a key line item called the Illinois Grocery Store Initiate. The initiate has set aside $20 million focused on solutions to develop and expand grocery options in Illinois' most food-insecure communities, $2 million appropriated to purchase and distribute fresh food grown by Illinois farmers, and $500,000 for the Farmers Market Nutrition Program, giving Supplemental Nutrition Assistance Program recipients $2 in buying power for every $1 spent on fresh food at a farmers market.
The IIRA has also received state and federal funds to add three new staff members for increased rural grocery consultation programming, plus new outreach and business assistance for farmers considering direct-to-consumer sales.
"It's about empowering the communities to know that they are capable," Stratton says. "The strengths of each of these communities is the people. It's always the people."
Communities empowered
Cairo, Ill., had been without a grocery store for nearly eight years, and residents were previously forced to travel across state lines to Paducah, Ky., or Cape Girardeau, Mo., for fresh grocery options. With no gas station and a 42% poverty rate, residents undoubtedly were left to pay the price as businesses fled the community.
The Rise Community Market opens on June 16 in Cairo as a cooperative grocery store with fresh food options, a teaching kitchen, and workforce and business development centers. The grand opening means not only food access, but also opportunities for Cairo residents to gather, learn and grow together.
For Winchester, the Great Scott Community Market has acted as a catalyst for economic development in Scott County. This year marks its fifth year in business, with no plans for slowing down.
"Almost all the buildings in downtown Winchester are full now, when they weren't before," Park says. "It's great to see that kind of development and growth sparked from Great Scott."
Great Scott Community Market was Park's first successful cooperative grocery store launched from the IIRA Rural Fresh Markets program. Since then, several other communities have taken note, and cooperative stores have successfully opened or plan to open across the state in Mount Pulaski, Carlinville, Sheffield and most recently, Cairo.
And for others interested, the folks in Winchester say the opportunity to provide for their community has been priceless.
"It's a lot of work, but it's so worth it," Coonrod says.
Need help in your community?
If your town is interested in a cooperative grocery store or fresh food sales, contact Sean Park and his team at IIRA at [email protected] or 217-248-0079.
Subscribe to receive top agriculture news
Be informed daily with these free e-newsletters
You May Also Like
---