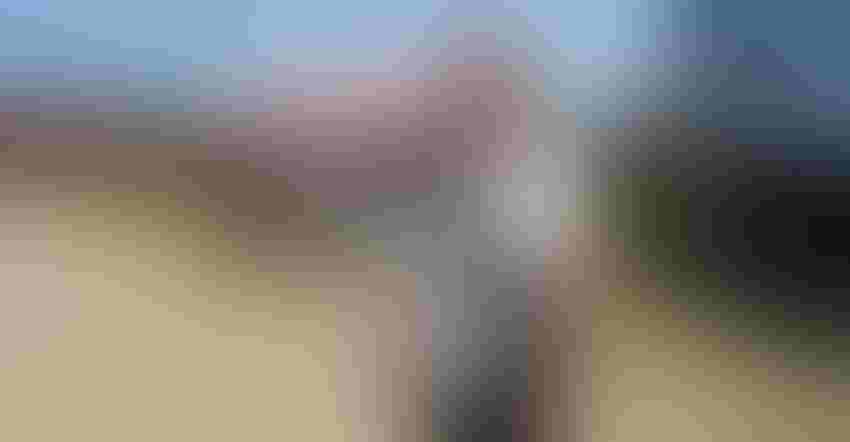 AG PROMOTER: The 72nd Alice in Dairyland, Abigail Martin, spoke to farmers, students and consumers at Wisconsin Farm Technology Days earlier this month in Jefferson County near Johnson Creek.
Abigail Martin, the 72nd Alice in Dairyland, says she is enjoying the opportunity to promote Wisconsin's $88 billion agriculture industry. Since being selected Alice in May in Green County, she has been busy crisscrossing the state — attending dairy breakfasts in June, Wisconsin Farm Technology Days in Jefferson County in July and the Wisconsin State Fair in West Allis Aug. 1-11, where she did milking demonstrations and presentations every day in the Ag Products Building. She also has attended numerous county fairs this summer.
Throughout the year, Martin will visit agribusinesses and farms, as well as agricultural events including World Dairy Expo in October, where she will be busy working with school groups that attend the show. She will be at World Dairy Expo all five days, Oct. 1-5.
Amazing experience
Martin says she is humbled to be serving as Alice. "It's been an amazing experience so far," she says. "My favorite part has been meeting both agriculturists who share my passion for feeding and fueling our communities, and consumers who are excited and interested about where their food comes from."
Martin says she is looking forward to World Dairy Expo. "I grew up attending World Dairy Expo," she says. "I dreamed of showing on the colored shavings, and fulfilled my dream my final two years as a junior exhibitor. I showed a heifer one year, and the next year I showed her as a cow. Those two experiences will forever hold a special place in my heart."
 This year she will spend time with school groups that come to World Dairy Expo.
"The people I get to meet are so excited to share their stories," Martin says. "It is fun to talk to them about agriculture. I'm learning so much.
"Becoming Alice has been a goal of mine for quite a while. It combines two of my favorite things: Wisconsin agriculture and communicating with others."
The 23-year-old is the daughter of Joe and Bonnie Martin of Milton, Wis. Being raised on her family's registered Holstein farm and working on the farm is helping her tell agriculture's story, she says.
Growing up, Martin was a member of the Consolidated 4-H Club, Rock County 4-H and Milton FFA. She served as president of both her 4-H club and FFA chapter.
"Those organizations were a great springboard for becoming Alice," she says. "I learned a lot about agriculture and about leadership through my 4-H and FFA experiences."
On the road again
On trips across the state, Martin drives a 2019 flex-fuel Ford Explorer provided by the Wisconsin Corn Promotion Board.
She will visit schools across the state to talk to students — specifically fourth graders — about Wisconsin farm products including milk, cranberries, peas, snap beans, ginseng, pork, sweet corn, beef, soybeans, mink and cheese.
"I also hope to talk to college students and help them choose careers in agriculture," she says.
Martin graduated from University of Wisconsin-Madison in 2018 with a degree in dairy science. While in college, she was involved in the Association of Women in Agriculture, Badger Dairy Club and Collegiate Farm Bureau, and was on the intercollegiate dairy judging team. She had jobs in marketing at the Rock County 4-H Fair, East Central/Select Sires and Babcock Hall Dairy Store.
Following graduation, she accepted a job with DeLaval Inc. in its North American marketing and communications department. She worked there until May, when she was selected as Alice in Dairyland.
Looking ahead, Martin says she would like to continue working in marketing or communications.
"I definitely want to work in agriculture," she says.
Subscribe to receive top agriculture news
Be informed daily with these free e-newsletters
You May Also Like
---