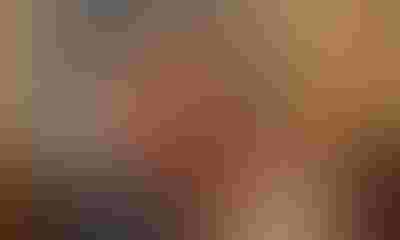 The April 2016 cover of Indiana Prairie Farmer shows four members of Roger Cain's family, Rushville, gathered around the dining room table and smiling, even though their hearts are aching. Roger died in a grain bin entrapment on Jan. 13.
His wife, Christie, their three daughters and their niece, Ashley Bowles, chose to talk about the tragedy rather than run away from it. Daughter Niki contacted Indiana Prairie Farmer to set up an interview just six weeks after the accident.
"We wanted to get the word out about grain bin safety so that other families will never have to go through what our family went through," Niki says.

LIFE-CHANGING EVENT: Life changed for Ashley Bowles (from left); her daughter, Kinslee; Christie Cain; and Christie's daughter Niki (standing) when Christie's husband, Roger, died. Now life changes again.
Actually, the proper phrasing would probably be what the family is going through, because their lives are still changing. As Bill Field, Purdue University Extension farm safety specialist, has said many times, farm accidents of any type have long-lasting consequences and are costly in many ways — some measured monetarily, some that can't be measured in dollars and cents.
The next chapter in the Cain family's saga concerns the future of the farming operation, which Roger started and loved dearly. He shared that passion with Christie, and together they passed it along to their children and the rest of their family.
Next chapter
Once the 2016 crops were planted, Christie began weighing options for the future. She eventually decided that the best option was to sell the farm equipment her husband had accumulated. However, she's decided to keep the land they own, and rent it out to someone else to farm in the future. She's also decided to keep the hog operation going at this time. Hogs have been a big part of the farming operation.  
These decisions led Christie to do something a farmwife never wants to do alone: find an auctioneer and schedule a farm auction. Ted Everett, a farm auctioneer who sells used equipment in huge sales quarterly at his auction facility near Monrovia, also conducts auctions on the farm, particularly if the auction involves lots of large equipment that farmers might come a long distance to bid on.
The Cain auction met that criteria. Large tractors, a large sprayer, combine heads and several semitractors and trailers will go on the auction block Aug. 6 at 10 a.m. EDT at the farm, located at 1255 N, 225 West, Rushville.
People sometimes describe such events as bittersweet. Christie, Niki and the rest of the family would likely agree there is nothing sweet about this. The auction is necessary so Christie can move forward. As Field says, farm accidents have long coattails and carry unintended consequences that extend far beyond the original tragedy.
It's another change for Christie, but it won't be the end of her story. Expect her to continue working to spread the word about grain bin safety, especially as fall approaches. Her message? Be careful — not only "out there," but "in there," if you must be inside a grain bin.
Subscribe to receive top agriculture news
Be informed daily with these free e-newsletters
You May Also Like
---