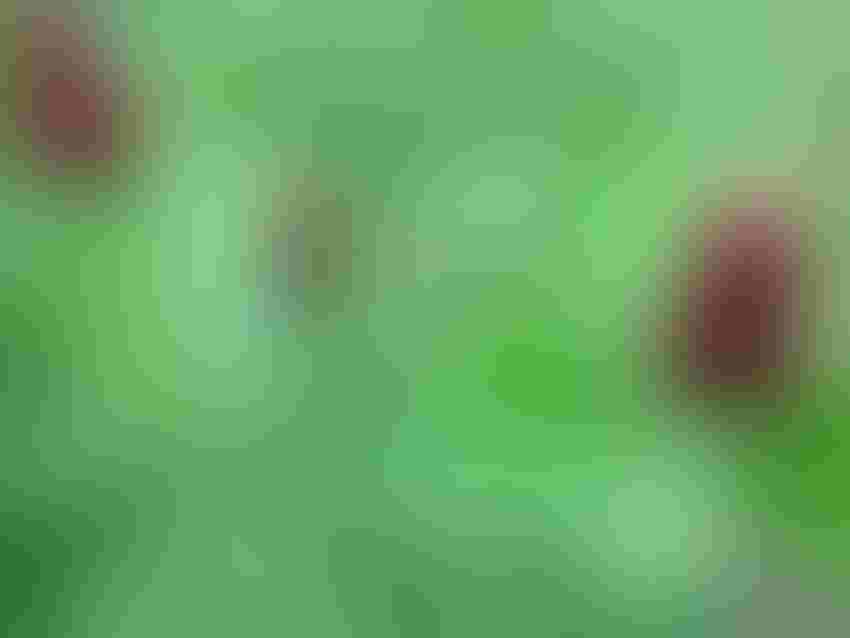 Many farmers have visited Roger Wenning's farm in Decatur County over the past several years to learn about cover crops. The former Supervisor of the Year, named by the Indiana Association of Soil and Water Conservation Districts, has experimented with cover crops for several years. He not only tries different mixes in crop fields, but he also tries multiple combinations in small plots each year.

NODULES GALORE: When Roger Wenning carefully dug up crimson clover plants and examined their roots, he found tons of nodules.
People come to see what the combinations look like, and to view soil pits that Wenning digs to show how deep roots of various cover crops penetrate down into the soil. They also know he is often on the cutting edge of trying something new related to cover crops and soil health. Once again this spring, he hasn't disappointed anyone.
"We burned down annual ryegrass and left the crimson clover in the mix growing," he says. "We didn't intend to let it grow as long as it did, but Mother Nature threw in a long rain delay."
The main reason for letting it grow, Wenning says, was to allow crimson clover plants time to produce more nitrogen, which would eventually be available to crops.
Basic concept
Since crimson clover is a legume, the concept — in theory at least — was that nodules would from on the roots. The nodules would house bacteria which would pull nitrogen form the air and convert it to a form that the plant can use. When the clover plants are eventually burned down, the nitrogen will be released at a later time, providing more nitrogen for the corn crop in the field.
It's a symbiotic relationship between clover roots and bacteria that capture and produce nitrogen. Both the bacteria and the plants benefit.
One person who chats with Wenning from time to time questioned why he was leaving the crimson clover instead of burning it down all at once. He said it was so that the nodules could grow, so more could form, and so that the plants could produce N for a longer period than if it was burned down when the annual ryegrass needed to be terminated..
Respond to challenge
Then came the challenge. The person wasn't convinced that crimson clover plants produced nodules. And if they did, he wasn't convinced how many there would be or that there would be enough for this process to be beneficial.
The moral of this story? Never challenge a die-hard, seeing-is-believing- no-tiller when it comes to soil health issues. As the rain continued in early May, Wenning decided to take up the challenge and prove to himself that he made the right decision allowing the clover to continue growing.
"It took me three hours of digging and washing to come up with a good sample of roots that showed the nodules, but they are definitely there," Wenning says. "Many of the roots contained a large number of nodules."
Inside the nodules the natural process of pulling nitrogen out of the air and converting it into a usable form for the plant was taking place.
"After doing some digging and washing roots to see how many nodules were there, I think I'm OK," Wenning says. "They are there. It's why I left the clover growing in the first place."
Subscribe to receive top agriculture news
Be informed daily with these free e-newsletters
You May Also Like
---