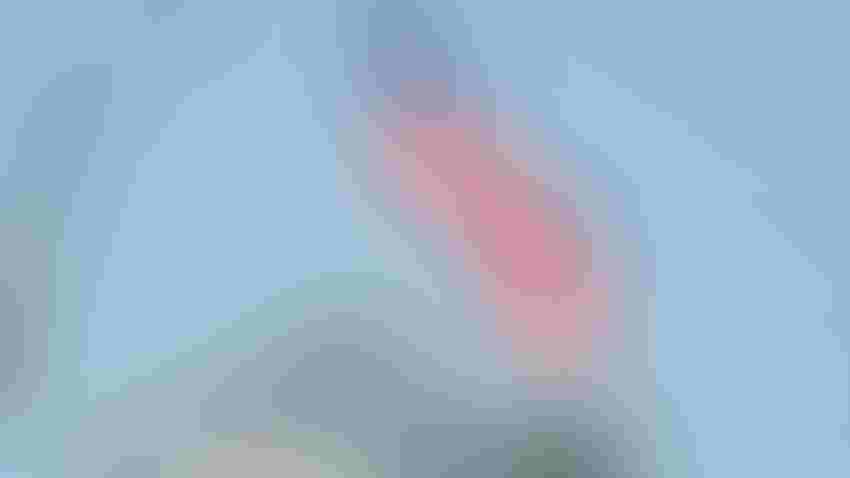 AMERICAN-RAISED: With concerns growing over foreign ownership of farmland, in Nebraska only 1.6% of the state's land is controlled by foreign owners or through leases for wind and solar power generation. The majority of those acres are controlled by investors in foreign companies from Canada.
Curt Arens
At a Glance
About 1.6% of Nebraska land is controlled by foreign interests.

Canada is the largest foreign holder of land in the state.

China is way down the list, with only 19 acres.
About 800,000 acres of Nebraska land are owned or controlled through leases by foreign entities, amounting to about 1.6% of the more than 49.5 million acres in the state.
According to Larry Van Tassell, University of Nebraska-Lincoln agriculture economics professor and director of the UNL Center for Agricultural Profitability (CAP), much of this foreign-controlled Nebraska land is involved in wind and solar energy generation, and associated lease or ownership arrangements by investors from foreign-based companies.
Canada is by far the largest investor in Nebraska agriculture land, with 593,305 acres reported Dec. 31, 2021, in about 1,400 separate parcels. After Canada, it falls off sharply to the No. 2 foreign entity, Italy, with 143,457 acres.
China is far down the list of known entities with only 19 acres in the name of Syngenta, owned by ChemChina, in Hamilton County.
Within the state, Antelope County has the most foreign-controlled land at 280,574 acres, followed by Holt County with 98,401 acres and Banner County with 84,584 acres. About half of the counties in the state have no foreign ownership, with several counties that do have foreign control over a quarter-section or two.
National numbers
With the intense interest in foreign-owned and controlled ag land nationally, particularly surrounding China's purchase of land around U.S. military bases, CAP held a webinar recently outlining the facts around foreign control of land in the state and nationally, along with policy and legislative implications.
Nationally, about 3.1% — 40.8 million acres of agricultural land, which includes cropland, pasture and forests — is foreign-owned or controlled, mostly by private corporations or individuals based in foreign countries.
David Aiken, Nebraska Extension agricultural law specialist, noted during the webinar that corporations in China, for instance, are heavily influenced by the restrictions of the Communist Party within that country.
However, on the U.S. national foreign investor list, China is 18th with 194,772 acres. Canada tops the national list with over 9.6 million acres, followed by the Netherlands with 4.377 million acres and Italy with 2.609 million acres — with the United Kingdom and Portugal rounding out the top five.
WHO OWNS WHAT?: While only a small portion of Nebraska farmland is controlled by foreign entities, there is renewed interest in updating a state law that goes back to 1889 that restricts foreign ownership of land in the state.
While China is down the list in the U.S., worldwide, it is the leading nation on land acquisition in foreign countries, with a focus on ag land in forestry and mining. However, Van Tassell said that overall, ag is a minor player in the massive investments in other businesses being made by Chinese interests.
Impacts of foreign control
"There has been a study [USDA/AFIDA 2021] of how foreign ownership might drive up the price of land locally, perhaps impeding young farmers from investing in agricultural land," Van Tassell said. "But the study found no significant difference in land values between counties where land was held by foreign interests and where land was not. However, the more buyers, the more prices are driven up."
The trend on foreign ownership across the U.S. is going up, he noted.
Why are foreign entities interested in U.S. farmland? Van Tassell suggested that they are looking for access to capital and natural resources, and the U.S. has a more favorable export platform and rapid export procedures.
There are also federal incentives in the U.S. around clean energy, for instance, and there is an ease in doing business here, he added. "The U.S. is the world's largest consumer. We have a stable democracy," Van Tassell noted, "with a transparent and predictable legal system."
There are benefits to foreign-owned businesses, including job creation and growth that can replace imports. "For instance, a car manufacturer based in Japan sets up a plant here, so those jobs provide economic development, the activity happens here in the U.S. and there are fewer imports because of it," Van Tassell said.
But the downside risk is evident, he added. "Erosion of our national security by foreign powers, the theft of our technology and intelligence gathering" are some of the most mentioned risks. Another, related to agriculture, is the potential control of U.S. food and energy supplies, and the use of natural resources in the country.
Policy movements
"Most states had no restrictions [on foreign-owned farmland] until recently," Aiken said, "regarding China's purchase of land near military bases." There are 24 states that restrict the purchase or lease of land in the U.S. by non-U.S. individuals or businesses.
"But there have been a lot of recent changes in state laws," Aiken added. "Twelve new state laws restrict China, or China, Russia, North Korea and Iran, or any other foreign adversary on the federal lists."
Aiken focused on state legislation in Ohio and Oklahoma. The Ohio Property Protection Act sets out to prohibit foreign adversaries and certain businesses from owning real property in the state. A new Oklahoma law makes it illegal for non-U.S. citizens to acquire or own land in the state, and if they acquire it "by devise or descent," they must dispose of it within five years.
"In states that had corporate ownership laws that banned corporations from outside the state from ownership, more of those states are now jumping into foreign ownership bans," Aiken explained.
"Nebraska's current restrictions date back to 1889, so all of the grandfathered land has presumably been sold," he added. "There were a lot of exemptions in that law, including for oil and gas companies and land acquired by will or inheritance."
Aiken noted that a public hearing was held on an interim study in the Nebraska Unicameral on this topic in September. "There will be some updating that needs to be done, since our law is very old," he said. "Provisions from Ohio and Oklahoma, two states that have tried to get a handle on this, their experiences could be very helpful."
Currently, farm corporations must file with the secretary of state of Nebraska, Aiken said. "That's one area to look at again about how to monitor and enforce that so it isn't a front for bad guys, because we don't really know, and there is no good way of finding out that there are actual people behind the corporations," he noted.
How do state laws affect wind or solar leases and options? That is another good question to consider, Aiken said.
Federal level
On the federal level, the Agriculture Foreign Investment Disclosure Act of 1978 requires people who acquire, transfer or hold interest in ag land to report those transactions and holdings to USDA within 90 days.
"This is an issue Congress is looking at," Aiken said. "Reporting is on [Farm Service Agency] Form 153 filed with FSA offices where the land is located. USDA issues annual reports based on the most recent information they have."
In 2022, Congress made this an online filing system, so USDA must develop digital means to submit these forms, he added. "We don't know if all foreign investors are, in fact, filing disclosure statements," Aiken said. "Are there people hiding behind these corporations and not identified as foreign? We don't really have the tools to find out."
Congress is also looking at restricting land purchases by foreign entities within the Defense Appropriation Bill. There may be provisions written in appropriations bills and even the upcoming farm bill.
New laws requiring more corporate transparency may affect ag and family farm corporations that may have to file new paperwork to prove they are a U.S.-based corporation, and that there are real people behind the corporation, Aiken added.
Learn more by watching the entire webinar at cap.unl.edu.
Subscribe to receive top agriculture news
Be informed daily with these free e-newsletters
You May Also Like
---