UNL research shows potential benefits of field peas in the rotation
UNL research shows potential benefits of field peas in the rotation
Research in southwest Nebraska shows field peas can potentially result in more nitrogen mineralization, higher numbers of beneficial insects and microbial activity, and higher infiltration rates.

A new crop is gaining ground in Nebraska. Although yellow field peas have been grown off and on in fields in the western reaches of the state for the last 20 years, the University of Nebraska-Lincoln estimates field pea acres in the state have grown from 10,000 to 100,000 since 2012, thanks to increased market availability with more processors handling peas. That's an even bigger accomplishment considering the United Nation's Food and Agriculture Organization proclaimed 2016 the International Year of Pulses.
Related: Field peas provide expanding market opportunities

AGRONOMIC ADVANTAGES: Strahinja Stepanovic discusses recent research on field peas at a Nov. 4 workshop in Culbertson. Over the last two years, he and other UNL researchers have been conducting trials to compare field peas with fallow.
"This specific group of crops is being promoted on a global level for health benefits, nutrition, but also being agronomically sustainable and contributing to food security at all levels," says Strahinja Stepanovic, UNL Extension educator. "All these things are being promoted, and we're seeing increased demand for these crops throughout the world. We're also seeing an increase in spending on pet food, and pea protein concentrate and fiber are really valuable components of grain-free pet foods."
"We've got a network of farmers in the region that recognize the marketing opportunity. We have processing facilities and markets that are taking peas locally, which has helped our producers to adopt them," Stepanovic adds. "Combine that with the decline in the commodity prices in our region, and growers are wondering, 'What can we grow that can balance our economics?'"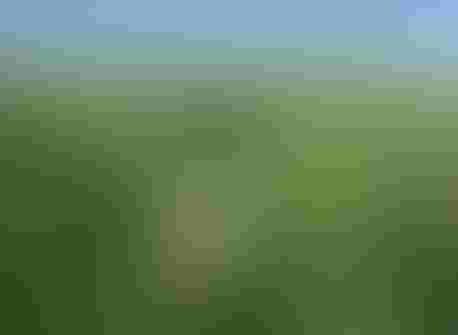 PEAS GAIN GROUND: Field peas are in bloom in a field in western Nebraska. UNL estimates field pea acres in the state have grown from 10,000 to 100,000 since 2012. (Photo: Strahinja Stepanovic)
That's where field peas come in. Over the last two years, Stepanovic and other UNL researchers have been conducting trials to compare field peas with fallow and their impact on subsequent wheat crops, and discussed this research at a recent workshop in Culbertson in early November.
Agronomic advantages to peas
Research includes measuring soil nutrient cycling. Rodrigo Werle, Nebraska Extension cropping systems specialist, notes that while they initially expected to see a nitrogen credit to the following wheat crop from biological fixation by introducing a legume to the rotation, they found no difference between fallow and field peas. However, this nitrogen fixed by field peas may have already been scavenged by the wheat crop.
What the study did find was an increase in microbial activity through a Solvita test. "The higher the amount of CO2 that's being released, the higher the microbial activity," Werle explains. "If there's higher microbial activity that means higher mineralization in your soil, and there's more nitrogen available."
In addition, an infiltration test demonstrated a higher infiltration rate on acres with field peas. It took about 87 seconds for 1 inch of water to infiltrate for field peas, compared to 174 seconds for fallow.
On the same research site, Julie Peterson, Extension entomologist, used pitfall traps and sweep nets to identify different insect species that field peas might bring to the rotation.
Not surprisingly, Peterson notes, more insects were attracted to the lush, green growth and flowers on field pea acres; this includes both beneficial insects and potentially harmful insects.
For the following wheat crop, the only difference between the two treatments was a greater number of aphids on the wheat acres following fallow — about 32 aphids in each cup in plots that were wheat after fallow, compared to less than two per cup in wheat after field peas.
"How did we get fewer aphids? I think it was because there were more parasitoid wasps," Peterson says. "We know these parasitoid wasps are more abundant in those plots following field peas, so having those flowers in your field peas can bring in beneficials like this wasp."
However, with just two years of data, Peterson adds, it's hard to draw a conclusion on whether field peas will always help reduce aphid numbers.
Field peas may also have soil health benefits. Based on samples Tony Adesemoye collected on field pea and fallow acres for one year of the rotation, there were higher counts of mycorrhiza spores on field peas compared to fallow, as well as a greater diversity of several different groups of beneficial rhizobacteria.
"These are groups of bacteria that will help the plant grow. They can be beneficial for the crop in nutrient uptake and can help the plant fight against infection from pathogens," says Adesemoye, assistant professor in the Plant Pathology Department. "These bacteria are a good indication we may have some positive benefit from rotating wheat with peas. Based on what we are seeing so far, it looks like peas are having a positive impact on the diversity of good bacteria."
There were no differences in foliar pathogens between the two rotations, and while soilborne fusarium was recovered on field pea acres, Adesemoye notes it wasn't pathogenic.
Adesemoye notes this is just the first year of research, and the second year will show whether the rhizobacteria and mycorrhiza benefits carry over into the subsequent wheat crop.
Are field peas economical?
But there are some drawbacks to consider. Chuck Burr, Extension crops and water educator, notes field peas use more water than fallow acres, resulting in a yield reduction on the subsequent wheat crop.
Based on evapotranspiration calculated through use of crop coefficients and Watermark sensors, and verified with a neutron probe, field peas used 10.9 inches from March 27 to July 20. However, there were still about 6 inches lost to evaporation in fallow. Meanwhile, with 12 inches of rainfall over this period, field peas produced 36 bushels per acre, or about 3.3 bushels per inch of water used.
Wheat following field peas yielded about 74 bushels per acre compared to 93 bushels per acre after fallow. "It's about 20 bushels less where we had field peas vs. fallow," Burr says. "But you have to remember, we raised 36-bushel peas. So we made more with field peas vs. fallow."
In this case, at 36 bushels per acre at a field pea price of $5.50 per bushel, the field peas netted $155 per acre after input costs were included. Meanwhile, fallow netted $120 per acre.
"The price and obviously expenses are pretty important," Burr adds. "What if pea prices are better than $4 to $5? If it's a positive increase, the field peas had an advantage over fallow. If it's a negative number, fallow has an advantage over peas. As wheat prices increase, we'll probably make more on fallow."
For more information on field peas, contact Stepanovic at [email protected].
Subscribe to receive top agriculture news
Be informed daily with these free e-newsletters
You May Also Like
---