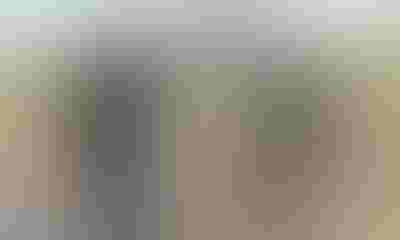 Do you irrigate?  Would you like to improve the efficiency of your irrigation system, reducing input costs but still getting the benefits of your irrigation investment? 
If you answered the first question "yes," the second is almost an automatic "yes." Shannon Zezula of the Natural Resources Conservation Service and other staff members recently addressed two ways to improve the efficiency of water used for irrigation. The Indiana Conservation Partnership assists NRCS in getting the word out about soil conservation topics.
1. Consider using cover crops in your cropping system. 

MOISTURE PROBE INSTALLATION: Farmers, soil conservation personnel and agronomists learn how to properly install a moisture probe in a field in Knox County. (Photo provided by the Natural Resources Conservation Service.)
Cover crops will increase soil organic matter along with improving soil aggregation, which leads to improved water infiltration and water-holding capacity.  Better infiltration and water-holding capacity will lead to less-frequent irrigation, more efficient use of applied water, better nutrient cycling and lower input costs.  That will lead to increased profits.
2. Install soil moisture probes in fields.
Farmers in southwest Indiana are taking the next step by installing soil moisture probes in their fields. The Knox County Soil and Water Conservation District is helping farmers learn how to better manage when they irrigate, which in turn helps conserve use of water and reduces energy costs involved in pumping water over the season.
Farmers are learning how to install and use soil moisture probes. These probes, used during the cropping season, provide real-time soil moisture data at different levels in the rooting zone.  This information allows farmers to make better decisions on when to start and stop irrigating, and how to irrigate through the most sensitive crop stages of pollination and early grain fill.
Use of the soil moisture probes allows for more effective water application, more efficient use of water, reduced inputs for irrigation and more profit.  If you're looking to improve your irrigation bottom line, think about installing soil moisture probes now, before the 2016 irrigation season begins.
Subscribe to receive top agriculture news
Be informed daily with these free e-newsletters
You May Also Like
---