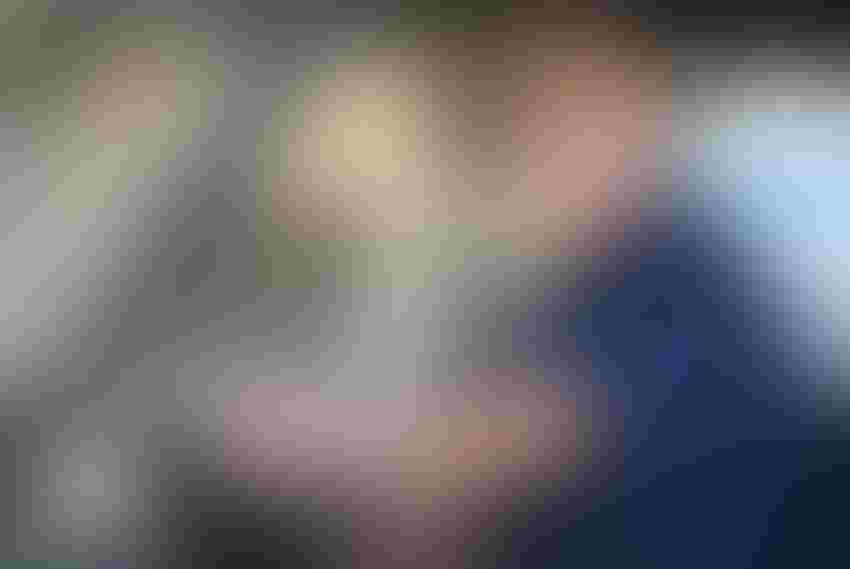 Wendell Brown, Sr. has has led the way to provide a protective vibe at the Sunbelt Ag Expo, but he is retiring after this year's show..
The majority of Sunbelt Expo visitors and exhibitors cause no problems. Those drawn to the show are folks looking for a good time who want a first look or good price on a new technology or product.
Occasional situations nonetheless occur, and it takes well-planned and executed logistics to maintain a secure and welcoming atmosphere for a show as large as the Sunbelt Ag Expo. Behind-the-scenes but in full view, and well before and after the show gates open, one man has led the way to provide that protective vibe.
It seems Wendell Brown, Sr. can't escape for too long the gravity of Spence Field in Moultrie, Ga., where the Expo takes places each year. (The show will be Oct. 17-19 this year.)
Brown has had a professional and personal connection to the place for most of his life. For the last 15 years, he has been the security chief for the Expo. He is retiring from that post, and this year's show will be his last at the helm of security services and parking logistics for visitors and vendors during the show.
"Wendell has been a mainstay around the Sunbelt Ag Expo. I've had the pleasure to work with him as our security chief since 2002. Wendell has the gift of listening to the most upset visitor or exhibitor for a couple of minutes and then talking them off the ledge to the point that they may be planning a fishing trip at the five-minute mark into the conversation," said Chip Blalock, executive director of the Sunbelt Ag Expo.
A good leader knows when and how to pass on duties to someone else, said Blalock. Brown is training Jerry Little to be the Sunbelt Expo's new security chief.
About three weeks before the show each fall, Brown said, security preparations become a 24/7-operation and last throughout the show. Brown will mobilize 90 to 100 part-time staff to handle security and parking duties, and many in the part-time crew return each year. He coordinates security and parking efforts with the Georgia State Patrol, Colquitt County Sheriff Office, Georgia Emergency Management Agency, Moultrie Police Department, search and rescue and first responders, air traffic control (a lot of dignitaries fly in and out from the nearby runway during the show), and will coordinate with who or whatever departments needed to keep it all smooth.
There is a daytime and nighttime crew to watch over the show, running three 8-hour shifts or two 12-hour shifts as needed.
Brown said few situations need drastic security handling, which can be surprising given the size of the Sunbelt Expo show, which draws 80,000 to 90,000 people over a three-day period.
The toughest situation Brown has faced at the Expo over the last 15 years was two years ago when a major storm hit early the opening day of the show and heavy rain washed over the Expo and closed down the Gate 4 parking area. It was time to get creative and get moving; and the rain wasn't letting up. Brown had to develop an impromptu traffic plan to accommodate for the loss of a large and important area of parking.
He got on the radio with staff and mobilized the efforts.
"I'd go to one area and tell staff there 'Ok, we can put 100 cars here,' and then I'd go to another area and tell the staff, 'OK, let's get 50 in here,' and so on. We just had to find holes where we could to get people parked and to keep the traffic flowing because another thing we don't want to happen and what we try to avoid at any time is backing traffic up on the main road. You have to keep it flowing," he said.
"I truly appreciate his calm demeanor and his ability to handle the toughest of situations with grace and professionalism. He is a very thorough planner which makes the Expo security and parking plan go off without a hitch each year," Blalock said. "Most of all Wendell is a great friend and confidant, who is one of the most trusted and valuable members of the Expo team. He may retire but will always be around the show in some capacity," Blalock said.
It's an understatement to say Brown is familiar with Spence Field; he's been around the area his whole life. His grandparents owned and operated Brown's Grocery on Hwy 133 less than a quarter-mile from Spence Field, which was an U.S. Army Air Base from 1941 to 1961.
Brown's father, James, worked as civilian at Spence Field. Brown as a child would visit the field and later worked summer jobs there, along with working in local cotton and tobacco fields. The region remains today agriculturally driven.
When Sunbelt Expo moved to Spence Field, he worked with Columbia Nitrogen and exhibited at the show. In 1981, Columbia Nitrogen sold to Farmers Favorite Fertilizer, now owned by RW Griffin, a major sponsor of Sunbelt Ag Expo.
In 1981, he went to work with Southern Agri, Inc., which he later owned and was located at Spence Field. Southern Agri was an Expo exhibitor, and because of its proximity to the show, Brown started an in-bound and out-bound drayage service, allowing Sunbelt Expo exhibitors to ship displays, products and some equipment prior to the show where they were stored by Brown on site and then delivered to their show site by Brown. Brown's son, Wendell L, in high school helped with the drayage services and is now Sunbelt Expo exhibit coordinator.
Brown in 2002, after 36 years in agribusiness industry, retired for the first time. As it happened, Blalock was looking for a new security chief for Sunbelt Expo due to a retirement. The two knew each other well, and the position seemed a good fit for Brown at the right time.
Last September, Brown's wife Faye passed away unexpectedly. They were married 54 years. His family and church and a special group of friends has helped him through the adjustment and his decision to step down from his position with the Expo is part of that adjustment.
For many years, Brown and Faye together were part of a RV-enthusiasts group called the SOWEGA Good Sams, which plans joint camping ventures around the region and country with fellow group members. Good people, he said, just seeing things, playing cards and enjoying good fellowship. It's been tough to start back traveling with the group since Faye passed, but he has. It is sad doing such without her, but for folks like Brown, who have a talent to pull good folks into their orbit and for turning a tough situation into something positive, continuing relationships with friends, combined with a healthy outlook on life, is the preferred way to keep body and soul moving forward.
"I don't know about any talent I might have, but I enjoy people, and I like working with people. And I've met over the years maybe thousands of people I might not have met otherwise, and from that I have had lasting friendships with some of them. I've enjoyed working with the staff at Expo, too, and I will still be around to help them out if they need me," Brown said.
Along with Wendell L., Brown's other children are Lee Bass and Rhonda Smith. He has five grandchildren and three great-grandchildren.
Subscribe to receive top agriculture news
Be informed daily with these free e-newsletters
You May Also Like
---