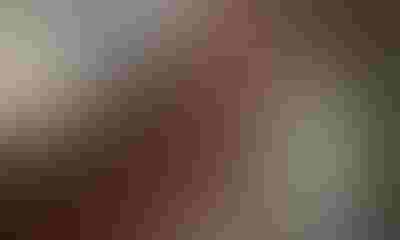 Editor's note: This week, we're sharing four "State Fair scrapbook" stories. This story is written by Nicki Adolph, 14, Mt. Carroll.
I've been showing cattle my entire life, and I have always wanted to show at the Illinois State Fair. It finally happened last year with my very special Red Angus heifer, Holly. She'd done pretty well before then, but nothing as exciting as what happened at the state fair.
Springfield is only four hours away, but it took a long time to get there because I was so excited. After this long day of being excited and yet nervous I had finally settled down. We stayed at the Microtel which was very nice and had extremely comfy beds that night.

WINNER: Nicki Adolph's 2015 trip to the Illinois State Fair was long anticipated and ended better than imagined, taking home Grand Champion Red Angus Heifer honors. (Photo: Cindy Cagwin-Johnston and Mark Sneed, Illinois State Fair)
Wednesday was the showmanship contest. About a half an hour before, I went to change my shirt. Long story short, I got really lost getting back to the stalls, and nobody could believe that I got lost. After my whole getting-lost thing, it was finally time for showmanship. I had no success in showmanship, but my friend, Alyssa, was reserve champion showman in her age division.
We showed first the next day, so at 4 a.m., we headed out to the fairgrounds. We got all of the heifers washed and fed, and then waited until it was time to start to fit. I was extremely nervous before walking into the ring with four other heifers. I have been in some pretty tough classes but I think that this one was the toughest. The judge walked us at least three more times before he finally made up his mind and he chose Holly and I to win the class! After winning that crazy-difficult class, I was ecstatic! In division, Holly and I won again. Then it came to the Red Angus championship drive…the most exciting part of the entire week was about to happen. By this time, Holly was getting tired but she kept going.
This time, the judge only walked us twice, but he still took his time picking champion. After a long time of being in the ring, the judge walked up to me and I thought he was going to shake my hand, but instead he asked me if Holly was bred. I said yes, then he stepped back, looked over the lineup one more time and then finally walked up and shook my hand.
We did it! Holly was named the 2015 Illinois State Fair Champion Red Angus Female!
Since Red Angus was the first breed of heifers to show, that meant that I got to lead all the heifers into the ring for the Supreme Drive on Friday afternoon. My first experience at the Illinois State Fair is one that I will not forget!
-Nicki Adolph
And check out more State Fair Scrapbook entries
Thursday - first-time champion
Subscribe to receive top agriculture news
Be informed daily with these free e-newsletters
You May Also Like
---