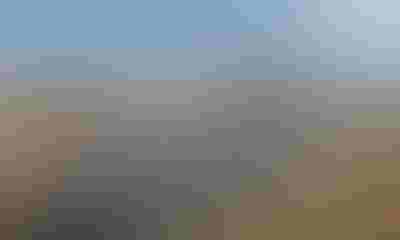 Jim Jenkins has a new power source for his farm shop. Jenkins recently completed installation of a 25 kilowatt solar panel system at the Jenkins Ranch near Callaway. The system consists of 100 solar modules, each producing 255 watts, mounted together on aluminum racks, located in a small gulch near the shop. The array is 140 feet long and 12 feet high.

POWER IS ON: This solar array on the Jenkins Ranch is 140 feet long and about 12 feet high, consisting of 100 solar modules, each producing 255 watts.
The project, completed by Solar Heat and Electric based in Omaha, is one of a few new solar projects being installed around the state for agricultural applications. "I was excited to try something new," Jenkins told a group of neighbors, state and federal agency personnel, public power representatives and media at a recent open house at the shop. "Solar power is small and accessible for all of us."
Jenkins noted that after-tax costs of the roughly $75,000 project were low, considering the combination of an $18,750 USDA Rural Energy for America Program grant, tax credits and bonus Section 179 depreciation that are part of the financing package. The balance of the project was financed through Cornerstone Bank in Central City.
According to Michael Shonka with Solar Heat and Electric, Jenkin's solar system should produce 40,000 kilowatt-hours per year. Considering tax credits and accelerated depreciation allowed, it could return 40% of the initial investment in the first year and eight to 10% over the life of the system. The project will provide profits of about $4,000 per year.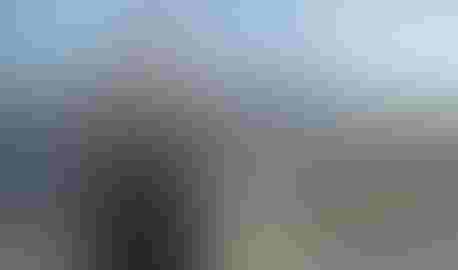 SOLAR SHOP: Jim Jenkins of Callaway stands near his new 25 kw solar array that powers his shop and farming operation.
Jenkins said that solar power needs to be discussed among potential stakeholders. Solar has the potential to provide mini-power plants on farms and ranches all across the state. "My concern is that if we have enough of these mini-power plants in the form of solar arrays, how will local public power districts deal with infrastructure?" Jenkins said. When the solar system on Jenkin's ranch is producing power that is consumed by the operation, he is credited by the power company at a retail power rate. Anything produced by the solar array beyond what is utilized on the ranch is credited back to Jenkins at a lower wholesale rate.
~~~PAGE_BREAK_HERE~~~
Solar power is gaining traction in the state, according to David Bracht, director of the Nebraska Energy Office. "Solar panels cost about 25% of what they did seven or eight years ago," Bracht told the group. He likened solar power to the basis of agriculture in capturing sunlight energy and producing something crucial from that. "Solar captures energy for all of our benefits," Bracht said.
According to Shonka, solar arrays like those installed on the Jenkins Ranch are nearly maintenance free. "There are no moving parts and very low maintenance," Shonka said. "The panels will withstand winds of 90 miles per hour and golf ball sized hail with no impact and the product comes with a 20 to 25 year guarantee." He said that some local insurance agents may not have expertise at insuring solar arrays, but more information is becoming available as other states have dealt with insurance issues.
Jenkins' shop joins a similar solar array installed in 2013 that helps power a center pivot irrigation system on the Beller family farm near Lindsay as examples of recent solar applications for agriculture, Shonka said. That project was installed in the middle of irrigation season in July, but the Bellers still produced more energy than they used and received a check from the power company for the extra energy production.
You can learn more about solar agriculture applications by contacting Shonka at 402-590-5900 or by calling the Nebraska Energy Office at 402-471-2867.
Subscribe to receive top agriculture news
Be informed daily with these free e-newsletters
You May Also Like
---