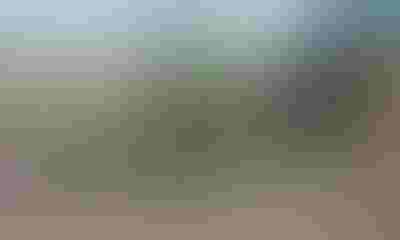 You likely won't attend a planter clinic in the next few weeks without hearing someone talking about the importance of leveling the planter., They will likely show slides of what happens if the planter hitch is too low or too high, shifting the way the row units run. It can impact how the seed openers operate. In theory, at least, it can affect how deep seed is placed.

WORTH CHECKING PLANTER SETTING? Bob Nielsen says it's worth taking time to make sure the planter is level, even though the 2015 trial showed no difference in yield whether it was lever or not.
We tested the theory in an exclusive Farm Progress/Purdue University trial last year. It was replicated three times with two hybrids, provided by Seed Consultants, Inc. Bob Nielsen, Purdue University Extension corn specialist, analyzed the data. There were no differences between the normal, pitched too high and pitched too low settings. Not only were they not significant, they literally were virtually the same, all in the 220 bushel per acre range.
Related: Preliminary results show no real yield difference from running planter level vs. not level
That set up this interview with Nielsen.
IPF: Why didn't we see a difference if we affected how planter units worked?
Nielsen: The main effect was likely on seed depth. If you stayed within 2 to 3 or even 1.5 to 3.5 inches for seed placement, what the data says is last year it didn't make any difference. Germination, emergence and performance were likely the same last year no matter whether the planter ran level or not.  What we can say for sure is that it did not affect yield or gross income.
Keeping the planter level is often a major topic at planter clinics. Does this mean it really isn't important?
Nielsen: No. What it is telling you is that you the consequences of poor planter adjustments don't always result in yield loss, even though the risk of yield loss is higher.
So can a farmer just ignore whether the planter is level or not?
Nielsen: Checking to make sure the planter is level is still a good management practice. What it says is that planting, like most other things in agriculture, are not black and white. Some years it won't make a difference, yet some years it might. Last year it didn't make a difference at the Throckmorton farm on the plot where you ran the trial. Since you didn't repeat the trial anywhere else, we only have data from one location for one year. It's always better to have data from multiple locations and multiple years before drawing major conclusions.
So does planter maintenance pay overall?
Nielsen: Doing anything you can related to seed metering definitely makes sense. Anything that influences dropping the seed properly is important, especially when operating at high speeds such as some of the newer planters are set to operate at. What you need is seed placed at a consistent depth where you want it to be, and you need closing wheels to close the slot properly. You want a set-up that does not smear the sidewalls, creating soil compaction that is difficult for young roots to grow through. Of course part of that has to do with planting when it is not too wet.
Subscribe to receive top agriculture news
Be informed daily with these free e-newsletters
You May Also Like
---