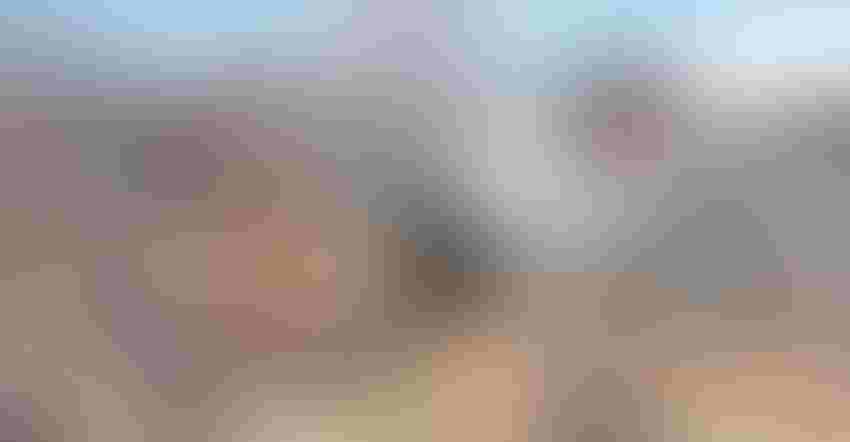 BIGGEST: Farmers love a big tractor. Check out Big Bud at the 2022 Farm Progress Show, in the Titan Tire lot.
Holly Spangler
Look for Big Bud, Cole the Cornstar at FPS
Titan International is bringing back two of the most popular attractions at the Farm Progress Show: the Big Bud tractor and Cole the Cornstar. FPS will be held in Boone, Iowa, Aug. 30 through Sept. 1.
Big Bud, owned by the Welker Farms family, will be parked in the Titan lot, fresh from the fields of Shelby, Mont. Welker Farms is a popular YouTube influencer and Titan brand ambassador. Welker family members will be at the booth periodically to meet fans.
Cole the Cornstar is another popular YouTuber who attracted throngs of fans at the 2021 Farm Progress Show. He'll be at the Titan booth, meeting with fans every day from 9 to 11 a.m. and from 2 to 4 p.m.
Cole will also serve as guest auctioneer of the FFA tire auction, which allows attendees to buy new Titan and Goodyear tires with 100% of the proceeds going to Iowa FFA. Titan has auctioned off more than $1 million worth of tires over the last 20 years, with proceeds supporting FFA chapters across the country.
You can also stop by the Titan booth for a $200 rebate certificate for the purchase of Titan or Goodyear farm tires.
Meet new commodity checkoff board winners
Three Illinois commodity organizations held elections for board seats in early July, and the Illinois Department of Agriculture has announced the winners. Newly elected board members serve three-year terms.
These boards oversee the checkoff dollars that come from assessments levied at the first point of sale. State law sets assessment for corn at 7/8 of 1 cent per bushel, soybeans at half of 1% of the market value, and wool at 3.5 cents per pound.
Here are the new board members and the counties they represent:
Illinois Corn Marketing Board
District 3: Rob Elliott (Henderson, Henry, Knox, Mercer, Rock Island, Warren)
District 6: Steve Fourez (Champaign, Ford, Iroquois, Vermillion)
District 9: Terry Smith (Adams, Brown, Hancock, Pike, Schuyler, McDonough)
District 12: Daniel Meyer (Clark, Coles, Crawford, Douglas, Edgar, Jasper, Cumberland)
District 15: Jeff Scates (Alexander, Franklin, Gallatin, Hamilton, Hardin, Jackson, Johnson, Massac, Perry, Pope, Pulaski, Randolph, Saline, Union, Williamson)
Illinois Soybean Program Operating Board
District 3: Dwayne Anderson (Henderson, Henry, Mercer, Rock Island, Stark, Warren, Whiteside)
District 4: Buck Hill (Bureau, Grundy, Kendall, LaSalle)
District 6: James Martin (Livingston, McLean, Woodford)
District 8: David Niekamp (Adams, Brown, Hancock, McDonough, Schuyler)
District 15: Jeff Parker (Clinton, Madison, Monroe, St. Clair)
District 18: Richard Rubenacker (Alexander, Franklin, Gallatin, Hamilton, Hardin, Johnson, Massac, Pope, Pulaski, Saline, Union, Williamson)
Sheep and Wool Marketing Board
District 3: To be appointed (Fulton, Hancock, Henderson, Knox, McDonough, Mercer, Rock Island, Warren, Henry)
District 6: To be appointed (Christian, DeWitt, Logan, Macon, Mason, McLean, Menard, Montgomery, Moultrie, Sangamon, Shelby)
Head to Wayne County for nutrient field day
Wayne County Farm Bureau is hosting the next in a series of nutrient stewardship field days on Aug. 24 from 5 to 7:30 p.m. They'll sponsor a Nutrient Loss Inhibitor Demonstration plot at Fred Blessing's farm just north of Fairfield, Ill., on Enterprise Road, with updates on the ongoing project. Trent Ford, Illinois state climatologist, will offer an update on weather and climate impacts on Illinois agriculture.
Dinner is included; please RSVP by calling 618-842-3342.
Check out new drainage news and tools
The Illinois Land Improvement Contractors Association and Illinois Extension are hosting a three-day workshop for drainage contractors, Aug. 16-18, at Richland Community College in Decatur.
Those in attendance will get a first look at Illini Drainage Tools, a new set of QGIS processing plug-ins developed at the University of Illinois Drainage Laboratory. They were developed to make data analysis easier and more available. Other workshops include:
Surveying Basics, Calculating Slopes, Understanding Soils

Drainage Coefficients, Lateral Spacings

Sizing Mains, System Layout, Outlets and Ditches

Principals of Subirrigation

Combination Drainage/Subirrigation Systems

ILICA Operator Skills 101

Introduction to Lidar and QGIS

Drainage Design With Lidar and QGIS, Illinois Drainage Tools
Cost is $65 for ILICA members and $85 for non-members; register online.
Subscribe to receive top agriculture news
Be informed daily with these free e-newsletters
You May Also Like
---