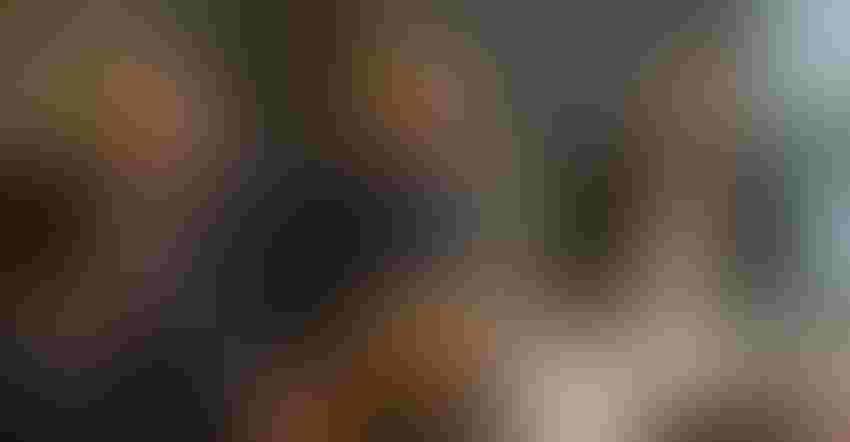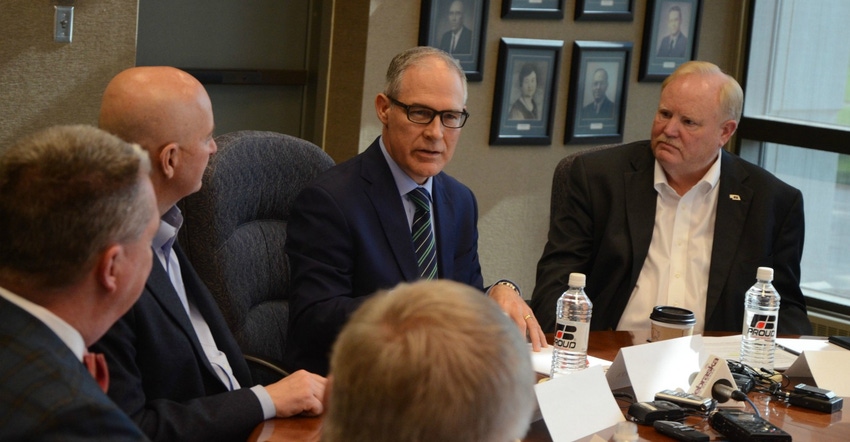 ROUNDTABLE: EPA Administrator Scott Pruitt visits with Nebraska Gov. Pete Ricketts (left), Nebraska Farm Bureau President Steve Nelson (right) and other members of Common Sense Nebraska.
In the last couple weeks, it's been hard to not read EPA Administrator Scott Pruitt's name in national news headlines. However, for farmers, agribusinesses and ag organizations in the Midwest, there are more pressing topics at hand than scandals relating to the use of taxpayer money — and those pressing topics include the 2015 Waters of the U.S. rule and biofuel mandates.
On June 14, in a recent stop on his tour of the Heartland at Nebraska Farm Bureau headquarters in Lincoln, Pruitt visited with a roundtable discussion with state officials and members of Common Sense Nebraska — a coalition of ag organizations and other stakeholders united in opposition to the WOTUS rule.
For members of the coalition, Pruitt delivered some welcome news that on June 15, EPA would send a proposed "Step 2" rule to redefine "Waters of the U.S." to the Office of Management and Budget for interagency review.
While Pruitt didn't provide specifics regarding what the proposed redefinition would include, he said it would "provide the clarity to farmers and ranchers and folks all over the country with respect to federal jurisdiction, where it begins and where it ends."
Pruitt said the proposed redefinition goes back to the basics of what the rule should be under the original text of the Clean Water Act.
"We've actually gone to the text of the statute, and looked at case law, and asked: What did Congress intend with respect to what a water of the United States is? I can tell you they didn't intend it to be a puddle, a dry creek bed or an ephemeral drainage ditch," Pruitt said.
"We're proposing that prairie potholes in North Dakota are not waters of the United States, and we're proposing that groundwater is not a water of the United States," he added.
Timeline uncertain
Pruitt noted it's hard to say what the timeline looks like for approval of the proposed redefinition. After OMB finishes the interagency review process, it will offer its comments to EPA, which will then release the proposal for a public comment period. Pruitt said the comment period will likely be at least 90 days.
The news surrounding WOTUS was welcome among ag groups in Nebraska, including Nebraska Farm Bureau.
"I think it's very good news that we heard as it relates to WOTUS and continues to confirm the fact that we're going to do away with the proposal that came from the previous administration to rewrite the laws related to the Waters of the U.S.," said Steve Nelson, Nebraska Farm Bureau president. "I think everyone wishes this would happen really quick and really easy, and it just goes away. But the administrator pointed out — I think really importantly — is their intention is to put in place a new rule that properly describes the situation and really protects people who use water and the land."
Year-round sale of E15?
As part of his visit to the Midwest, Pruitt also spoke with ethanol producers, farmers and other stakeholders on the Renewable Fuel Standard, including questions surrounding year-round sale of E15, or 15% ethanol blends. Current Reid vapor pressure (RVP) requirements limit the sale of E15 from June 1 through Sept. 15, and ethanol supporters are advocating for year-round sale of E15.
After President Donald Trump proposed to allow year-round E15 sales earlier this year, the proposal was put on hold in May, after concerns arose that the proposal would be accompanied by another rule, allowing ethanol and biofuel exports to count toward annual volume obligations. Ethanol industry leaders have said attaching renewable identification numbers (RINs) to exports would reduce ethanol demand by at least 1.4 billion gallons.
While it's hard to say how long it might take to allow for year-round sales, Pruitt was adamant in his support for E15. "I am for E15. I think it should occur. I think it makes no sense whatsoever for this country to face a situation where you can only sell a product nine months a year. You should be able to do it 12 months a year, and that's going to help volume obligations," he said.
Industry leaders have asked Pruitt to grant a waiver for the RVP requirement for E15, but Pruitt said the question remains whether or not EPA has the legal authority to grant such a waiver.
RIN stability needed
With multiple issues to be addressed, and multiple constituencies at the table, Pruitt noted E15 will likely not be permitted for summer use by the 2018 driving season.
One of the other issues is RIN price instability. High RIN prices are one of the reasons Pruitt said there have been more applications for small refinery exemptions — where refiners that produce 75,000 barrels or less per day can apply for exemption from RFS obligations if they can show compliance would create "disproportionate economic hardship."
However, if everything goes smoothly, E15 will hopefully be available for the 2019 driving season, although Pruitt said it could take as long as three years.
"The issue is, when will it actually penetrate the marketplace? There are many that think it will take three years," Pruitt said. "In that three-year period, you have some other issues to address with RIN instability. I think we need a stable RIN market. You don't want to see RIN prices spiking to 80 cents and then dropping. It's not good for anybody when that happens. It's in everybody's interest to get RIN stability so you can plan and allocate resources."
Pruitt also offered some positive news on proposed RFS final volume requirements for 2019: conventional ethanol will maintain its current level, while requirements for biobased diesel, cellulosic ethanol and advanced biofuels are going up.
Sorghum's future
In December 2017, EPA proposed a pathway for grain sorghum oil extracted from dry mill ethanol plants, and Pruitt also stated growers can expect action on a sorghum oil pathway by late June.
Pruitt's endorsement of E15 was met with positive response from ag organizations as well as Gov. Pete Ricketts, although those in attendance expressed a sense of urgency in permitting year-round sale of the ethanol blend as soon as possible.
"This is something that, as it gets phased in, could potentially mean another 2 billion more bushel demand for our corn, and that will help support our commodity prices," Ricketts said. "Especially now at the time when we're seeing corn prices being low. Farm income has been cut in half. This is something that could be a huge boost for our farmers and ranchers in our state."
About the Author(s) Tyler Harris is the editor for Wallaces Farmer. He started at Farm Progress as a field editor, covering Missouri, Kansas and Iowa. Before joining Farm Progress, Tyler got his feet wet covering agriculture and rural issues while attending the University of Iowa, taking any chance he could to get outside the city limits and get on to the farm. This included working for Kalona News, south of Iowa City in the town of Kalona, followed by an internship at Wallaces Farmer in Des Moines after graduation.
Coming from a farm family in southwest Iowa, Tyler is largely interested in how issues impact people at the producer level. True to the reason he started reporting, he loves getting out of town and meeting with producers on the farm, which also gives him a firsthand look at how agriculture and urban interact.
Subscribe to receive top agriculture news
Be informed daily with these free e-newsletters
You May Also Like
---