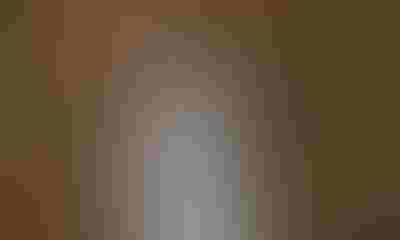 Editor's note: This story is part of a series exploring opportunities and issues facing potato growers across the region. This month we're featuring this story in two parts, check out part two.
Don Brown could have retired more than 15 years ago, but spuds said otherwise.
"I guess you could say I have a passion for potatoes," says Brown, who's been growing spuds on his family's southeast Wyoming farm since his high school FFA project in 1952.
"Over the last few years, I've been asking myself: 'Should I keep going at this? The answer always comes back 'Yes!' Plus, I just can't see myself sitting around the coffee shop."
SPUDMAN: Wyoming farmer Don Brown runs a diversified agricultural operation. Year-in, year-out, potatoes grown for seed are his most important crop.
Brown, 81, operates a diversified farming business near Pine Bluffs, Wyo., where he raises potatoes for seed, alfalfa, pinto beans, corn, oats, dryland wheat and cattle.
"I love farming, and I also enjoy running some cattle. They're kind of fun to work, but sometimes they can be a real pain in the butt."
The potato, Brown admits, is what keeps him returning to the fields each spring.
"I guess you can say they've gotten into my blood. They are certainly challenging to grow. You have to keep on top of diseases and insects. You have to pay very close attention to soil and nutrients. I've had crop failures, which make you work even harder," he says. "Potatoes aren't like going out and planting a dryland wheat crop, which is a piece of cake most years."
Simply put, Brown says, "I get a great deal of satisfaction seeing a nice, healthy field of potatoes."
Cowboy State seed
Wyoming certainly isn't a hotbed for potato production, but don't tell that to Brown and the few other growers along the Wyoming-Nebraska line.
"I would guess that 300 to 400 semi loads of seed potatoes leave Pine Bluffs every spring," he says. "They are trucked all over the country."
Brown raises about 100 to 150 acres of seed potatoes each year, averaging about 350 hundredweight per acre. The majority of the seed (Russet Norkotah along with several reds) goes to Colorado and Idaho, where it used by commercial growers who produce potatoes for fresh market. He also ships seed to Washington, California, Arizona, Texas and the Upper Midwest.
"I believe I've built a good reputation," Brown says. "That takes being able to supply a quality product. Bottom line, your seed has to do what you say it's going to do."
Though this day and age usually means signing carefully worded contracts between seller and buyer, Brown says much of his business is still based on a gentleman's handshake, whether in person or over the phone.
"I have many repeat customers year to year, and we often don't sign contracts," Brown says. "Our relationship is based on trust."
All his seed is certified by the Potato Certification Association of Nebraska, which represents a small number of growers in eastern Wyoming, western Nebraska and South Dakota.
Among them are Dan Thompson and son Joe, who relocated from North Dakota to western Nebraska in the mid-1990s to begin Thompson Seed Potatoes, which ships seed from coast-to-coast and into Canada.
"They run a good operation, they really do," Brown says. "They've built an excellent reputation in a short period of time, and I feel fortunate to have been able to develop a rapport with them."
As the Thompsons have grown their operation into eastern Wyoming, acquiring acreage near Lusk, Brown says that he is slowly scaling back because of age and physical limitations.
"I still drive a tractor, but I can't do much manual work anymore," he admits. "But as long as I can hire dependable help, I'm going to keep growing potatoes."
Before heading to one of his two seed storage buildings outside the small, quiet community of Pine Bluffs, he pauses, and then says, "I have cut way down on my acreage, but, yes, potatoes are still very much in my blood."
In part two, we'll explore the challenges Brown is facing in his operation and tips for managing psyllid.
Subscribe to receive top agriculture news
Be informed daily with these free e-newsletters
You May Also Like
---