Herb Fricke knows his trees and timber. From a farmstead located literally in the shadows of Cheyenne Buttes and Fort Robinson State Park in the Pine Ridge, Herb, his wife, Deb and their children have been recreating history with locally harvested logs. There aren't many folks in Nebraska who can honestly claim to be professional loggers, but Herb and his family have been logging the Pine Ridge for 26 years.
WORKING WITH WOOD: Herb Fricke, Crawford, and his family have the unique distinction of being professional Nebraska loggers.
When fire struck Herb's father-in-law's ranch in 1990, Fricke purchased his 230 Timberjack cable skidder to assist in the big job of salvaging the burned logs around the place. Since then, Fricke's most high profile logging and construction job has been the reconstruction of a 4500-square-foot replica of the 1874 Cavalry Barracks, better known as the Cheyenne Outbreak Barracks at Fort Robinson.
This is the building at the fort where members of the Cheyenne tribe who were being held and pressured to return to their southern reservation broke out of the barracks and made a run for it on the night of Jan. 9, 1879. Over the course of the next two weeks, 64 Native Americans and 11 soldiers lost their lives during a running battle that ensued. Only a few Cheyenne, including Chief Dull Knife and part of his family, eluded the pursuit entirely, seeking refuge with Red Cloud. The new version of the barracks where these historic events unfolded was rebuilt by the Fricke family beginning in 2002 and the structure was dedicated in 2003.
FAITHFUL MACHINE: Fricke demonstrates his portable Peterson sawmill.
When we accompanied Nebraska Forest Service Northwest District Forester, Doak Nickerson, on a visit with Fricke at his farm on a cold, rainy day in the Pine Ridge last fall, Fricke told us that the construction of the barracks as well as similar projects since have involved his entire family. Fricke's children, Shawn, Amy and Christopher, helped harvest local logs, peel and saw them for their projects.
~~~PAGE_BREAK_HERE~~~
During our visit, Fricke took time to demonstrate his portable Peterson Sawmill. This mill has been durable and efficient. "Fifteen years ago when I bought it, I initially looked at bandsaws, but decided on this circular saw because it would handle knots better at the time," Fricke says. "I used to move it around to a site, but because I work alone much of the time, I don't move it anymore."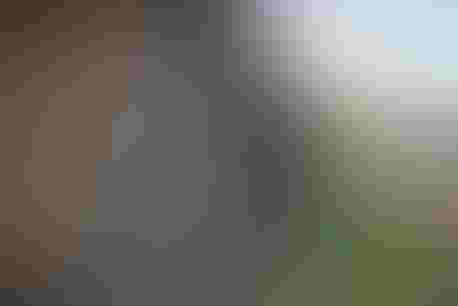 CHEYENNE BARRACKS: One of the first large-scale reconstruction projects taken on by Fricke's family was the reconstruction of the Cheyenne Outbreak Barracks at Fort Robinson State Park, dedicated in 2003.
Because of his background in cabin and log home construction, Fricke continues to enjoy the construction aspect of his business. "Your equipment and your body take a beating with logging," Fricke says. "With my family background in construction, that is much easier on my body." He recently completed an office at Harrison. The interior of the building was finished with dimensional lumber, but Fricke gapped the boards and chinked in between them to give it an historic, hand hewn log look. He is now working on tearing down another historic structure and salvaging 100-year-old hand hewn logs to build a cabin. He is also building furniture pieces from some of those same logs.
He continues to salvage burned Ponderosa pines, finding ways to give new life to the burned logs or historic logs from old structures.
You can learn more about Fricke's Timbercraft Construction business as well as construction techniques and projects by contacting him at 308-665-1424.
Driving the Pine Ridge timber industry
According to NFS Northwest Nebraska Forester, Doak Nickerson, the timber industry in the Pine Ridge has always been vibrant, but quite small. After the fires in 2012, it has been difficult to sustain the small lumber industries that are still going. "But we have some small family-owned operations like the Fricke family here that are very important to the area," he says. Some burned and blackened timber has been cut for rough logs and used on local ranches. "Timber could be a bigger industry here," Nickerson says. "If we have a bigger lumber industry and forest markets it could be a driver for use of trees in the future. This would drive more thinning. If you have forest markets, it is an important economic tool to manage to keep the forests more fireproof."
~~~PAGE_BREAK_HERE~~~
Fricke says that utilizing burned pine trees has been a mainstay of his construction business. He normally sees logs that are scorched or the bark has been burned off but he does not often run into logs that are actually burned, so the wood can usually be sawed into usable timber.
"Another market we have in the Pine Ridge for family owned operations is the post market," Nickerson says. "We grow a lot of small trees and the post market likes pines of a certain diameter. The timber is cut and peeled and sent to a processing plant for treatment." Nickerson notes that although they must be treated, Ponderosa pines make good posts because they are slow growing with tight growth rings, which translates into longevity.
"Farmers and ranchers can also always use one and two inch boards, so those are always in demand," Nickerson says. Besides posts and rough sawn dimensional lumber, Chadron State College burns woodchips for cooling and heat, so that contributes to a market for the local timber industry as well.
You can learn more about managing timber on the farm and ranch by contacting Nickerson at 308-432-3255. 
Subscribe to receive top agriculture news
Be informed daily with these free e-newsletters
You May Also Like
---