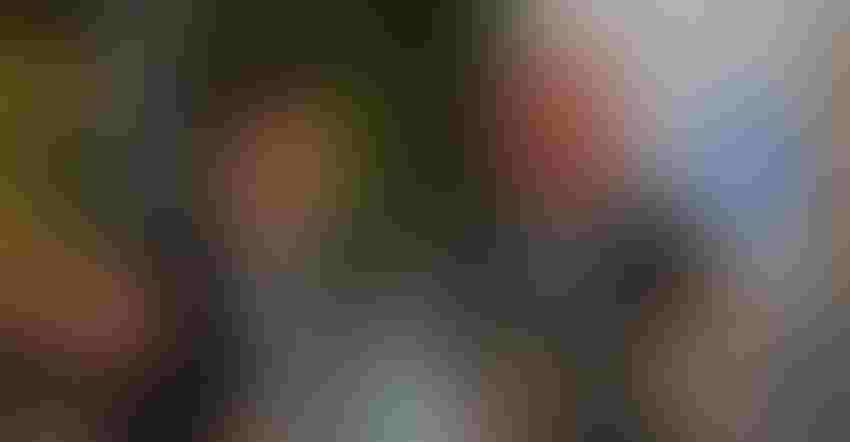 TRADE PACT NEEDED: Iowa Gov. Kim Reynolds and U.S. Ag Secretary Sonny Perdue are pushing for Congress to approve the USMCA trade agreement.
U.S. Secretary of Agriculture Sonny Perdue visited Iowa April 29 to talk to farmers and agribusiness people, reassuring them that these times of continued low commodity prices, difficult profit margins and declining farm income will eventually get better.
"Farming is a tough business right now," said Perdue, "we can't deny that. You've got six years of falling commodity prices. People like to blame declining farm income on tariff and trade disputes, but there's more involved. Prices have been declining for 6 years, and we're down to the bottom of the barrel. Particularly for younger and beginning farmers, it's a real problem. Many of the older, established farmers have equity and can ride out the tough times. But we are seeing working capital diminishing, as the bottom line isn't profitable."
Another round of MFP unlikely
At a press conference after touring Corteva Agriscience (formerly Pioneer Hi-Bred International) at Johnston, Perdue was asked about a story quoting White House economic adviser Larry Kudlow stating the Trump administration has allocated another round of emergency aid for farmers.
"The president and I haven't talked about that. Obviously, the president was very forthcoming last year with $12 billion in federal emergency aid," Perdue said.
Perdue downplayed the prospects of more federal farm assistance coming this year. "I'm afraid that's not accurate," he said. "Possibly there has been some miscommunication." Kudlow was reported to have said the Trump administration was ready to do more.
Financial stress in agriculture is something Perdue is watching closely. But he said the administration has no plans to offer additional government payments to farmers beyond what's already been provided by the Market Facilitation Program (MFP) to mitigate farmers' losses caused by trade disputes.
Trade war creating financial stress
Farmers have been slammed by ongoing U.S. trade wars with China, Canada, Mexico, Europe and other countries. As working capital diminishes for farmers, bottom lines aren't profitable, and assets are being eroded. "This creates financial stress and with it a lot of emotional stress, family stress, community stress," Perdue noted.
Asked if he had a timeline on trade talks regarding the United States-Mexico-Canada agreement and the ongoing negotiations with China, Japan and the European Union, Perdue said, "No, but we are all looking forward to getting a firm timeline soon, so all of these trade negotiations can move forward."
At the press conference, Perdue and Iowa Gov. Kim Reynolds both voiced support for Congress to approve the USMCA trade agreement. "It's vital to get that ratified," Perdue said.
Reynolds also said approval of USMCA is important for Iowa and U.S. farmers. "We need to provide some predictability for farmers with regard to export markets for U.S. produced crops and livestock products," she said.
There are serious doubts this agreement can get through Congress unless Trump eliminates U.S. tariffs on steel and aluminum imports. U.S. Sen. Charles Grassley, R-Iowa, recently issued a statement saying USMCA was "dead on arrival" in Congress, unless the tariffs on steel and aluminum are eliminated.
Need for USMCA
USMCA will provide certainty for farmers and manufacturers, said Reynolds, who along with Iowa Ag Secretary Mike Naig, accompanied Perdue on his visit to Iowa. In addition to touring Corteva and holding the press conference there, Perdue's visit also included a stop earlier in the day at Vermeer Manufacturing in Pella. Vermeer, a major equipment maker, buys and uses steel and aluminum.
Perdue said lifting the tariffs on steel and aluminum imports into the U.S. would help companies like Vermeer. Mary Andringa, chair of Vermeer's board of directors, said the tariffs make steel and aluminum more expensive and are hurting the bottom line. Vermeer uses slightly over 1 million pounds of steel each week making farm and construction equipment.
"I understand Sen. Grassley can say things more forcefully than I can," Perdue said. 'Hopefully, with the voice of Sen. Grassley and others involved, the president can be persuaded that the tariffs have had their effect and can soon be removed."
The U.S. tariffs on steel and aluminum have caused retaliatory Canadian and Mexican tariffs on U.S. products.
Push for open trade
Perdue supports Trump's efforts to push for better trade deals, as current agreements and situations have hurt prices for corn, soybeans, pork and other U.S. farm products. "The president wants a better deal, and that's what's been negotiated with USMCA," Perdue said. "Many people didn't think it could be done. I hope Congress will put politics aside and vote to ratify this agreement."
At Corteva, Perdue toured the Mendel Greenhouse and research facilities. He said the Trump administration's efforts to negotiate a new trade deal with China will help the seed company be better able to protect its intellectual property.
Perdue indicated both countries are in final stages of hammering out details to address U.S. concerns such as getting China to approve import of biotech traits in grain. Also, being addressed in the ongoing negotiations are intellectual property theft and forced technology transfer, which China requires as a condition of doing business in their country. An agreement that settles these matters would boost U.S. ag exports to China, such as soybeans, pork and other products.
USMCA ratification
Perdue and Reynolds met with company leaders at Corteva. Reynolds asked Perdue when farmers can begin to see improved trade. "I know the Trump administration's negotiating team is working on this diligently," Reynolds said. "It's important that our congressional delegates sign off on USMCA. This agreement would help our farmers."
Purdue added, "We received the International Trade Commission Report on the USMCA agreement last week, fulfilling the legal requirements for Congress to act." The USMCA trade agreement, often called NAFTA 2.0, would replace the 25-year-old North American Free Trade Agreement.
Naig thanked Perdue for visiting Iowa and said, "Corteva is a good place for Secretary Perdue to talk about trade issues and the need to remove non-trade barriers with China. Corteva does business in China and knows the biotech issues and improvements needed in how international trade should be conducted for the benefit of everyone involved."
Many farmers still support Trump
Perdue said he understands that farmers are financially strained after six years of declining prices and income. But he and Reynolds said farmers still stand with the president regarding his long-term "get tough" policy on trade with China and others.
"Farmers have been extremely supportive of our trade policy," said Perdue said. "They're long-term players. Farmers are patriots. But I've also told the president several times, farmers can't pay their bills with patriotism."
Subscribe to receive top agriculture news
Be informed daily with these free e-newsletters
You May Also Like
---