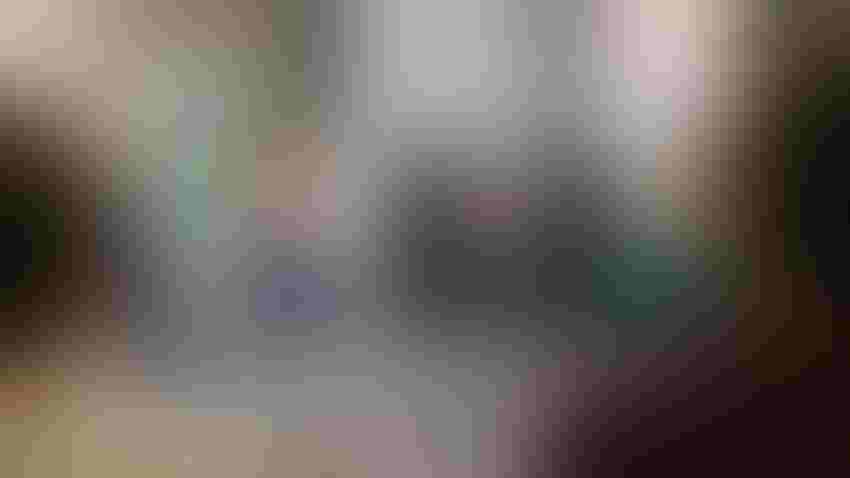 SHARING STORIES: A panel of women share their individual stories during the Rooted in Success Leadership session. Pictured are (from left) Madeline Schultz, Women in Ag Program manager, Iowa State University; Amber Roberts, market analyst, Ag West Farm Credit; Denise Jamerson, project manager, Legacy Taste of the Garden; Sam Schwoeppe, senior manager, Agri Food Engagement for Feeding America; and Erin Massey, business development manager, Bunge.
Mindy Ward
Ruth Hambleton's mom married into a farm family and found it was not always an easy life, so she created a program to help all women find their own path to success in agriculture.
"She had the same struggles that you hear women share today, like management, marketing and mental health," Hambleton said. "We have common problems, and it's not that we're fixing all of them, but we are helping to build the skills to navigate those challenges."
In the mid-1940s, Annie Fleck, Hambleton's mom, was finding her way as a farm wife in a small town in northern Illinois when her husband was forced to work off the farm to pay the mounting bills. She learned the entire farming operation from production to financials quickly. She learned to make decisions, keep records and change directions.
Modeled after those same principles, Hambleton created Annie's Project to educate and empower women in agriculture. This year, the program celebrated 20 years of building confidence, developing networks and creating lifelong learners among women farmers and ranchers at its annual conference in St. Louis. It is the first time since the COVID-19 pandemic that the group gathered face-to-face.
Annie's Project focuses on the five areas of risk management — financial, human resource, legal, market and production. "They are tied into farm business management all the way around because if you're not effectively managing risk, you'll soon lose your farm," said Doris Mold, co-chief operating officer with Annie's Project.
This year's breakout sessions focused on strengthening skills to sustain women in agriculture. Here are the top three takeaways from a few of the sessions:
1. Financials are changing. Farmers haven't paid much attention to overall farm costs because they've had good commodity prices to cover any increase and still remain profitable, said Glennis McClure, University of Nebraska Extension educator. "But with lower prices forecasted ahead, there is a focus on costs for ag inputs," she said.
UNL partners with the Rural and Farm Finance Policy Analysis Center based at the University of Missouri, which develops market outlooks. Its report shows costs for input categories such as fertilizer, fuel, chemicals and seed trending up for years to come.
UNL created a new budget and decision-making tool, the Agricultural Budget Calculator Program, which is free and allows women to download and modify budgets, project revenue, and create customizable farm, field or livestock reports.
2. Bring daughters into the discussion. Succession plans need to be talked about for young women. Discussion around passing down the farm typically centers around going to a male heir.
"If it's not the farmer's son, it's his nephew," said Colette DePhelps, University of Idaho Extension educator said. "The daughter disappears or is expected to marry a male farmer or rancher if she wants to stay in agriculture. We need to start talking and focusing on passing the farm on to our daughters and nieces."
3. Make time for mental health. Women need to build resiliency in their life, which is the ability to navigate adversity, grow and thrive from challenges. "Resilience is about setting up protective actors in our lives," said Monica McConkey, a farmer who's been working in rural mental health for the past 30 years and helps farmers through Eyes on the Horizon Consulting.
McConkey encouraged women to prioritize activities that feed their soul and provide hope during difficult times. It could be something religious, being in nature or serving others. Some say they don't have time.
"We actually need to flip our thoughts around to we don't have capacity to not cling to what gives us strength and gives us hope," she said. "We need to put the time and action into what feeds our soul to help us get through the period of adversity."
After two decades, Karisha Devlin, Annie's Project co-chief operating officer, said the program continues to provide timely information to farmers and ranchers.
"I believe attendees left reenergized and reinspired and took the lessons learned back to their states to help others," she said. "That is what the program does, empower women in agriculture."
Subscribe to receive top agriculture news
Be informed daily with these free e-newsletters
You May Also Like
---