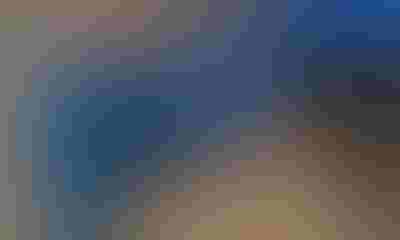 Western Kansas Manufacturers Association 2016 New Product of the Year Award for their new line of customized skid steer attachments. The award was presented to Frank and Greg Otter at WKMA's Annual Meeting.
Each year, WKMA solicits nominations from its members for the New Product of the Year Award. This award recognizes ingenuity and new product development by Western Kansas Manufacturers.
Marion Otter, the company founder, first built a tool carrier to help farmers haul their equipment to the field. A year later, he developed a customized angle dozer blade that could be mounted on almost any model tractor. Frank and Greg Otter are Marion's sons and have run the business together since 1997.

NEW PRODUCT: Versatile skid steer blades in sizes from small skid steers to big track machines earned the New Product of the Year Award the Western Kansas Manufacturer's Association.
"Until 1968, we actually had people driving in here on their tractor to have the blade mounted," Frank Otter said in a 2013 interview with Kansas Farmer. "Then, we bought a truck and started delivering the blades."
Otter's new product is a line of custom-width, heavy-built skid steer attachments focusing on use in land forming, construction, and cattle feedlots and pens.
This new product line-up consists of small and large attachments that can be used on machinery from a small skid steer or loader to big track machines.
The smaller versions utilize a 1/4 inch plate for the blade with 3 x 12 hydraulic cylinders for the angle. The larger versions utilize 3/8 inch material for the blade and 3 1/2 x 12 hydraulic cylinders for the angle. All blades have a hardened 4 inch cutting edge and skid pads, and the end of the mole board has a bolt pattern to adapt end traps.
With each blade built to the customer's specified width, this blade is very versatile and can be used for many functions, including snow removal in parking lots, landscaping, pushing dirt and material around livestock areas, trenching backfills and more.
Otter's still makes about 85 dozer blades a year and delivers them to farms within about 1,000-mile radius of the farm in north central Kansas.
The brothers also continue to operate a farming operation. Their manufacturing plant is located on the farm to make it easier to take care of both businesses.
"We thought about moving into town, but it was just too far away from the farm to be practical," he said.
For more information about Otter's, Inc., visit www.otterdozer.com.
For more information about WKMA or the 62nd Annual 3i SHOW to be held October 13, 14 and 15, 2016, visit www.3ishow.com, or call the WKMA office directly toll-free at 877-405-2883 or locally at 620-227-8082.
Subscribe to receive top agriculture news
Be informed daily with these free e-newsletters
You May Also Like
---