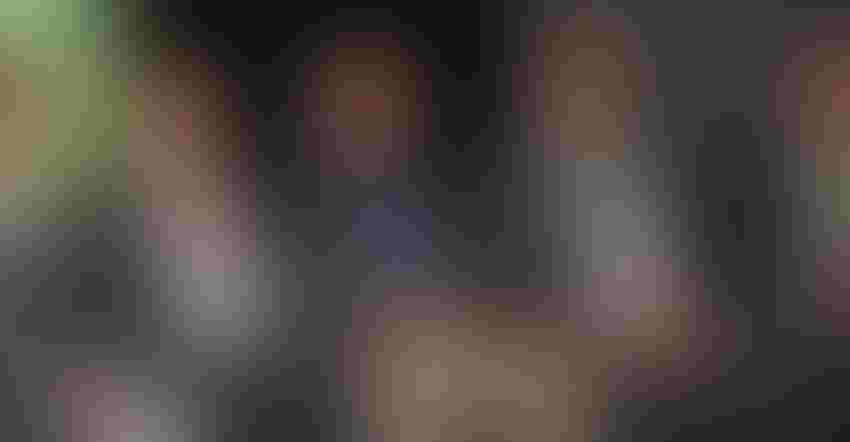 LEGISLATIVE PREVIEW: Minnesota legislators spoke during a panel discussion at the 37th annual Rural Forum on Dec. 5. Perry Aasness (left), vice president of legislative affairs for Compeer Financial, moderated. Panelists include state Reps. Fue Lee (left) and Dean Urdahl, and state Sens. Nick Frentz and Dave Senjem.
Janet Kubat Willette
On the same day that it was announced Minnesota has a $1.3 billion budget surplus, legislators instead focused on the bonding bill at the 37th annual Rural Forum in Mankato.
Four legislators participated Dec. 5 on the panel discussion about the 2020 legislative session.
The even year in a state legislative session is typically considered the bonding year, and state Sen. Dave Senjem, R-Rochester, who chairs the Senate Capital Investment Committee, said more than 400 project requests have already been received. The requests are worth more than $5 billion, which is unquestionably bigger than the final borrowing bill total, he said.
While the legislative session doesn't begin until Feb. 11, legislators on his committee have been touring the state to look at projects that have requested funding. The bonding bus tour gives lawmakers a time to bond, which is helpful when trying to reach consensus on the bill that requires bipartisan support. Putting the bonding bill together is an art, not a science, Senjem said. The bill must be fair and geographically balanced.
State Rep. Fue Lee, DFL-Minneapolis, vice chair of the House Capital Investment Division, said he's logged more than 3,000 miles and visited 110 cities to look at projects. They were on the road for 17 days looking at projects, added state Rep. Dean Urdahl, Grove City, lead Republican member of the House Capital Investment Division committee.
State Sen. Nick Frentz, DFL-North Mankato, said the state has the capacity to borrow for $1.5 billion to $1.7 billion, but that amount will be debated during the legislative session, with the governor, the House and the Senate putting forward their bonding priorities before working together to craft a final bill.
The legislators on stage at the GreenSeam event indicated support for water infrastructure projects, higher education asset preservation and basic infrastructure funding in the bonding bill.
Other topics
Transportation funding will likely be discussed again at the Capitol with lawmakers divided on how to pay for roads, bridges and transit.
Lee said his constituents are concerned about transit, while Senjem said lawmakers are supporting critical truck highway road projects through the bonding bill to get those projects done.
Frentz said he supports a small increase in the gas tax, while Urdahl called for creativity in road funding options. The gas tax produces less funding than it did 20 years ago, Frentz said. It's not a reliable funding source, Urdahl said. He is also concerned that rural residents pay more for gas tax because they drive more miles than their urban counterparts. Another looming issue is the adoption of electric vehicles and its impact on gas tax collections.
Legislators also expect to learn more and perhaps act on legislation concerning the lack of affordable housing, broadband access, child care availability, health care access and beginning farmers in the upcoming session. Senjem said he plans to work on a clean energy bill.
In its forecast released Dec. 5, the Minnesota Budget and Management division noted that the state budget and economic outlook had improved since the end of the 2019 legislative special session.
"A better than expected close to the last biennium, an improved revenue forecast and a small decrease to estimated spending create a forecast surplus of $1.332 billion in the FY 2020-21 biennium," the report stated. "The stable budget outlook allows for an automatic allocation to the budget reserve account, bringing the reserve balance to its statutory target level of $2.359 billion."
Kubat Willette is a Farm Progress digital content creator.
Subscribe to receive top agriculture news
Be informed daily with these free e-newsletters
You May Also Like
---