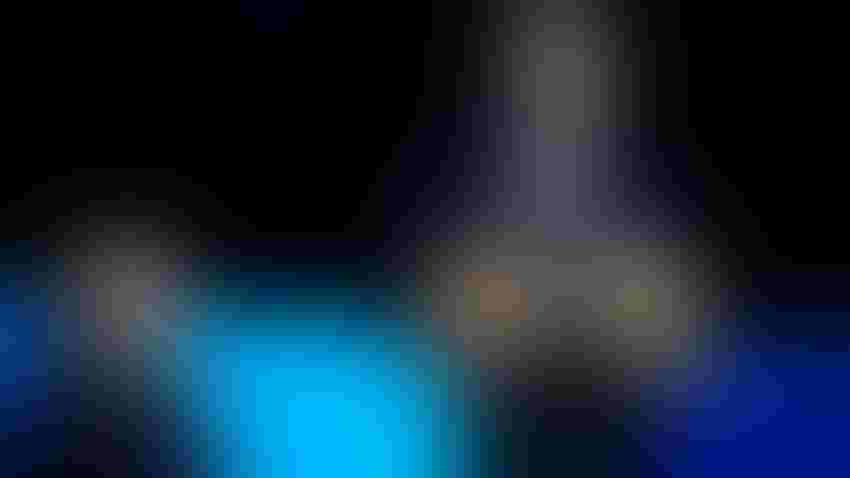 PRESTIGIOUS PAYDAY: Years of hard work and a lot of support paid off for Daniel Jossund when he was named American Star Farmer at the 2023 National FFA Convention in Indianapolis.
Courtesy of National FFA Organization
Standing on the stage at the National FFA Convention, having just being named the American Star Farmer, is the culmination of a journey that Daniel Jossund started when he was 14.
"Growing up on a diversified crop farm, I always wanted to farm, always knew that's what I wanted to do," says the 20-year-old Jossund. At 14, he bought his first small square baler to join his brother Andrew, who had been getting spending cash by baling a couple of thousand wheat straw bales a year.
The baling brothers made and sold about 6,000 to 8,000 square bales a year for a couple of years, and then Daniel bought a round baler. Andrew's interests changed, steering him into the auctioneering business, and Daniel bought out his older brother's portion of the business.
He purchased 150 acres, and rents another 300 acres where he grows soybeans, corn, wheat, sugarbeets and alfalfa. "My family had never grown alfalfa, so that was a little bit of a learning curve," he says. "It was a pretty tough start when I dealt with some pretty cheap equipment and a lot of breakdowns."
In addition to learning the hay and straw game, he also learned farm life lessons, such as maneuvering the Farm Service Agency's low-interest loan processes, allowing him to upgrade equipment. He also learned the goodness of neighbors willing to share their advice and knowledge.
With no livestock on the farm, the wheat as well as its straw and the alfalfa bales are all cash crops for the young farmer.
In the spring of 2022, he bought a big square baler, because of good timing. His own baler had broken down, and a neighbor called "to see if I was interested in squares, as a friend was selling his. I tried it out and loved it," he says, "so that's kind of my bread and butter now, the three-by-three squares."
Jossund trucks a lot of the hay and straw bales with his own semi, but he also sells bales through brokers. All of his hay is gone, but he has lots of straw left. "I've got a couple broker trucks a week that come and pick up loads, and I haul when I can," he says.
This year he put up 2,500 straw big squares, 1,000 straw round bales and 5,000 straw small squares in addition to 70 acres of alfalfa.
The young Jossund operates the hay business on his own, with one hired man, but he works with his parents John and Lorraine on the crops side.
The Ada-Borup-West High School graduate is a junior at North Dakota State University, which is about a half hour from the Jossund farm near Perley (Minn). Upon graduation with an agribusiness degree, he plans on returning to the farm, and the baling business is not going away. He knows his dad is not ready to retire, "and I don't think there would be enough to comfortably farm full time right away after college. … That's actually part of why I tried to build the baling business. It gives me another source of income, but keeps me on the farm and being in some extra cash."
With extra cash in mind, Jossund's familiarity with heavy equipment landed him a part-time job running a payloader to clear snow in Fargo, home of NDSU.
Start to Star Farmer
Jossund's inspiration to shoot for the American Star Farmer honor started when he attended the National FFA Convention as an eighth grader with the Norman County West FFA Chapter.
"We went to the session where they named the Stars, and I was just blown away by some of the businesses that these FFA kids had, and the amount of money that they had made, and the equipment that they own — and in just how they were farmers at such a young age just blew me away," he says. "And I thought 'That's super inspiring,' and to be on that stage would just be unreal."
Norman County West High School in Halstad closed after Jossund's freshman year, after which he started school at Ada-Borup-West High School.
Though he has done the work on the farm, that alone didn't earn him the Star Farmer award. It took guidance from his FFA advisors, past and present. Even though he was under Rita Olson's tutelage for just two years at NCWHS, she played a major role in encouraging Jossund down the path. Abbie Savage, FFA adviser at ABWHS, picked up when Jossund came in as a sophomore and further guided him.
Savage suggested that Jossund apply for the state Star Farmer honor (which he achieved in 2021), which is the first step toward qualifying for the American Star Farmer. Throughout that process, both Savage and Olson worked with him. "I would say that I had the passion for wanting that award for sure," he says of the American Star Farmer award. "But they helped me facilitate it to do what I needed to do to get there."
The four American Star Farmer finalists are each allowed to have two advisors on stage for the big announcement at the convention, and he so honored both Savage and Olson, who now teaches agriculture at Rothsay High School, since they each played integral roles in his achievement.
Subscribe to receive top agriculture news
Be informed daily with these free e-newsletters
You May Also Like
---