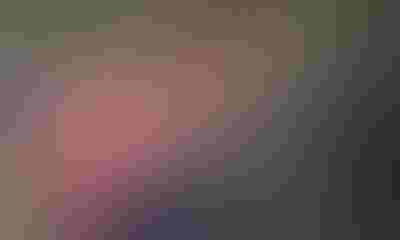 Loyd Ratts can't remember a time when he wasn't a farmer -- or a mechanic or an inventor.
Related: Age brings appreciation of safety, concern for others says 101-year-old inventor
"I was only four years old the first time my dad sent me to the elevator with a wagon load of grain," he said. "I was there behind the horses. Dad lined them up to the elevator and told them to go. I rode on the wagon. Then when I got to the elevator, the guys there would unload the wagon and give me the paperwork. I would sit down on it and they would turn the horses around and head them back to the farm. And I would ride behind them back to the farm and give the papers to dad."

IMPROVISED PRESS: Loyd Ratts modified the controls on his drill press so he could grab a handle from his shop chair to raise and lower the press. The 101-year-old mechanic has modified most of his work stations to enable him to work from his chair.
Ratts wasn't alone in that experience on the Kansas prairie when the 20th century was as young as the 21st is today. Now, at 101 years old, he marvels at how much things have changed.
Ratts has been out front and center embracing those changes at every turn of the road -- from horses to tractors, from threshing machines to combines, from open cabs to air conditioning, from self-propelled to GPS guided -- he has seen it all and loved it at every step of the way.
"I got into mechanics early on because I got a job in a mechanic shop to help the family," he said. "I learned a lot that I could put to use later."
Learning by experience
He said his knowledge was a product of experience, not education.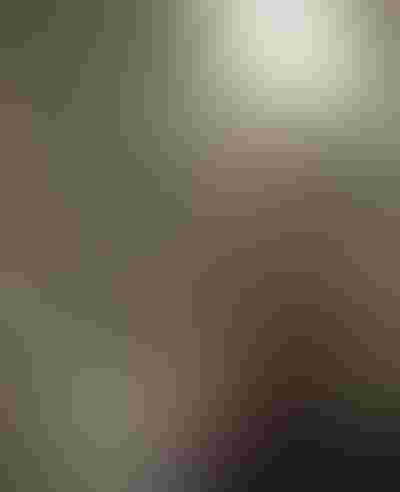 CUSTOM TOOL TABLE: Loyd Ratts removed one arm of his motorzied shop chair and replaced it with a customized tool table that allows him to keep his most-used tools within easy reach.
"Back in those days, if something broke, you figured out how to fix it; there's wasn't any such thing as a maintenance support system," he said. "If you needed a tool, you figured out how to build it or you did without. If something broke and you couldn't fix it, you didn't have that machine to use any longer. So you learned how to fix things and invent things."
The quarter-section of land where Ratts now lives was originally home to his mother's sister, Elizabeth, he said. His parents owned a quarter-section a few miles away and his father still farmed the 160 acres his dad homesteaded in 1911.
It was in 1927, when he was 12, when his aunt became so ill that she was unable to care for herself, let alone a 160-acre farm. She was alone with a 10-year-old son to raise after she was divorced, suffered a stroke and was paralyzed.
His family stepped up to help. There was a mortgage on his aunt's farm but his parents owned their two quarter-sections. They chose to mortgage those properties and pay off the mortgage on his aunt's farm and move in with her so his mother could be her full-time caregiver.
"Of course, at that time, my parents had no idea that the Great Depression was coming and that we would all have to scramble to pay off that debt and save our land," Ratts said.
"The First World War had ended and people came home from the War in Europe with a realization of the power of trading with the world. Stocks soared. It was a great time."
Remembering Depression, Dust Bowl
Until, that is, the stock market crash on "Black Friday" in 1929.
"Even then it was a lot like some other panics or recessions; not a disaster for us at first.  The problem was the government in power believed in weak federal government that didn't do much of anything to manage the economy and for three more years with a growing depression in the whole world, they did nothing to stop things from getting worse and worse. Finally, after Roosevelt was elected and began doing all the things they said they couldn't, things finally starting getting better."
Back then, he said, there was no unemployment compensation for people who had lost their jobs, no government programs like food stamps and no crop insurance or government price supports to help the farmers who had suddenly lost their markets in the spiraling depression.
The price of wheat dropped to 25 cents a bushel and young Loyd Ratts, who had dreamed of attending college, realized that was not to be. Instead, he felt very lucky that a shop in Radium was willing to hire him to work as a mechanic for $12.50 a week for a 60-hour work week and agreed to let him work whatever shifts he needed in order to be available to help on the farm when his dad needed him.
"At that point, we were just all struggling to hold on and not lose everything," he said.
Still, he said, he felt lucky be on the farm because, unlike people in the cities, they never went hungry.
Putting tires on tractors
It was during that time that another Stafford County native, Jesse Shields, invented the pressurized rubber tire for tractors. Shields was working as an engineer for Firestone and took his idea home to Radium to test it and demonstrate its value on the farm of his sister and her husband, Elsie and James Tanner.
Related: At 101, Loyd Ratts of St. John embraces technology changes
"I figured out how to cut down a steel wheel to use another recent invention, the drop-center rim," Ratts said. "I spent weeks and weeks cutting tractor wheels and putting those rims and rubber tires on," he said.
It was rubber tires that enabled his family to get in a crop on their homesteaded acres in Kearny County and Ratts vividly remembers the trip in 1932.
"By that time, we were facing not just the Depression and the low prices, but the drought and the Dust Bowl," he said. "We needed to get our tractor 85 miles west to the homestead land to try to plant that 160 acres and make enough to pay the mortgage on it. We had lost a lot of the crop the year before because the blowing dirt from the field south of us covered up our plants with dirt and suffocated them."
The Ratts family became well-known in dust blown western Kansas because, in spite of the odds, they did manage to harvest wheat in most of those Dust Bowl years.
"We invented a kind of early irrigation," he said. "I took some the wheel pieces from those cutdowns for tires and made paddles to drag behind the planter when we put the wheat in. It made trenches along the rows and when it did rain, those trenches would collect and hold water."
The word of their success at harvest grew and other farmers offered to rent them more and more land. By 1940, they were farming 2,500 acres of western Kansas land.
Learning hydraulics, electrical systems
Meanwhile back in Stafford County, hydraulics were an emerging technology, and his mechanic shop boss, impressed by Ratts' ability to cut down wheels for rubber tires, gave him the job of learning how to install hydraulic lines and electrical systems.
"I had to figure out how to get it to work, but I did and I continued to work for him and farm on the side until 1949 when he sold the shop. The new owner was a welder not a mechanic and he kept me on until 1954. By that time, I was farming too much and didn't have enough time, so I started Loyd's Repair here on the farm and I ran that from 1954 until 2000."
Ratts says he always had more work that he could get done while continuing to manage the family's farm operations.
"We had three townships that had road graders that we did all the work for," he said. "I remember that the door on one of the barracks building was too short for the equipment so we let all the air out of the tires to get them in to work on."
At the same time, he continued to work on inventions, creating a system of ropes and pulleys that could enable a single operator to open and close the lid on a grain bin while standing on the ground.
He installed mirrors in strategic places on combines, trucks and grain carts, enabling him be able to keep an eye on what was happening beside and behind him as well as in front. His latest mirror hook-up is on the "work station" he constructed on the side table next to his chair in the living room. It enables him to see outdoors without having to stand up or turn around.
Little pieces of history dot his home farmstead which includes his shop building, which he acquired when the World War II Army Air Field at Pratt shut down.
Inside the shop are artifacts from more than six decades of tool use and manufacture for agricultural use.
"I've been going through a lot of this stuff and trying to get it identified to save historically significant stuff and get rid of the stuff that's just junk," said Ratts' daughter-in-law and caregiver, Barbara Austin.
Related: Stafford County farmer, mechanic going strong at 101
She gets plenty of help from "Dad" as he continues to work in his shop, navigated between work stations in his specially modified motorized wheelchair.
"He's been teaching me how to do a lot of stuff to help him with his projects," she said. "I have learned a lot, but I am still in awe of how much he knows and how much he can do."
Subscribe to receive top agriculture news
Be informed daily with these free e-newsletters
You May Also Like
---